We're here to help you plan the best springtime vacation to Fort Collins with our week-long itinerary. Follow it day by day or pick and choose to form your own adventure from our selection of themed happenings and activities that you can enjoy in Fort Collins.
First: In the spirit of planning, book your stay as soon as you can!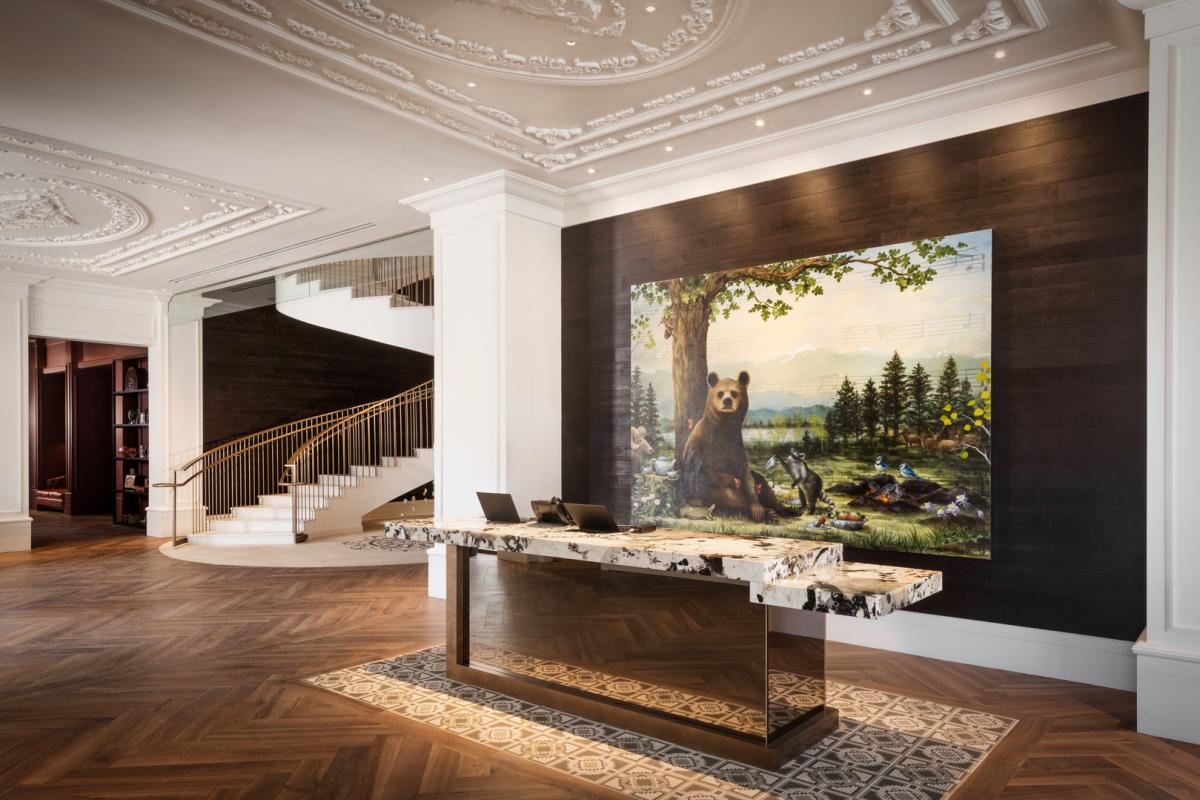 For a Downtown Fort Collins Stay:
The Armstrong Hotel "A historic Fort Collins icon with a storied past that was home to eager entrepreneurs, illustrious Professor's, and feisty farmers. Today, having just completed a thoughtful renovation that is classy yet relaxed and exudes all the charm and character of a boutique hotel in a vibrant and lively neighborhood."

The Elizabeth Hotel "For beer enthusiasts to business travelers and music lovers and mountaineers, The Elizabeth Hotel in Old Town Fort Collins is your destination for out-of-the-ordinary experiences. From music-themed amenities like an Instrument Lending LibraryAbout Music and a curated vinyl record collection to extravagant Signature Suites, The Elizabeth perfectly embodies Fort Collins' fun-loving, light-hearted personality."
​
For a Bed & Breakfast Experience:
Edwards House Boutique Inn "Experience a fusion of Victorian architecture and modern elegance in this historic boutique inn. Whether it's business or relaxation that brings you to Fort Collins, you'll make special memories during your unforgettable stay at the Edwards House."
For An Extended Stay Experience:
Day 1: Get a Lay of The Land and Experience Fort Collins Culture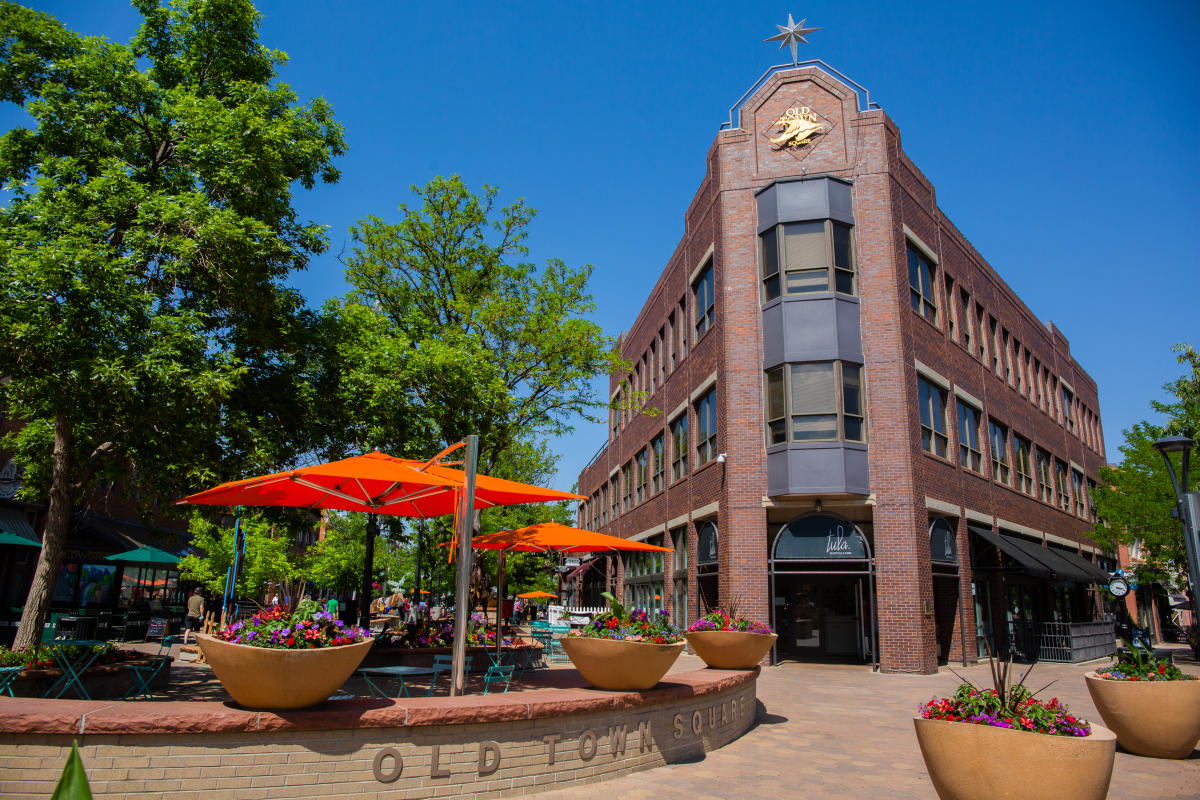 Breakfast & Brunch
 Start your day with a satisfying breakfast or brunch to fuel your Saturday activities at one of our suggested stops:
Ginger and Baker Pies, comfort foods, and farm-fresh locally sourced ingredients served in a stunning newly renovated historical building are what you can expect from breakfast at the Ginger and Baker cafe. 
Address: 359 Linden Street, Fort Collins, Colorado

 
Silver Grill Cafe The Silver Grill Cafe is the oldest restaurant in Northern Colorado, serving breakfast and lunch in the Fort Collins community since 1933 and with roots going all the way back to 1912. Enjoy traditional, hearty American breakfast fare, and treat yourself to a warm cinnamon roll after.
Address: 218 Walnut St, Fort Collins, CO 80524

 
Attend a Live Theater Afternoon Performance
Fort Collins theater thrives all year long! Enjoy live shows from our multiple theatre venues including Bas Bleu Theatre Co., The Lincoln Center, and the University Center for the Arts.
Insider's Tip: If you're hungry for a quick bite before dinner, grab a quick grab-and-go snack from Mountain Avenue Market.
Explore Downtown Fort Collins
The well-preserved downtown Fort Collins district includes over twenty restored historical buildings that are part of both national and local designated historic districts. While wandering about downtown you're likely to notice a strong resemblance to Disneyland's Main Street USA: we're proud to say that it is modeled after our own Downtown Fort Collins!  The alleys have been upgraded into European-style walkways with potted flowers, beautiful murals, and Tivoli lights making the journey to the next place a beautiful experience of its own.
Savor Dinner and Drinks at The Exchange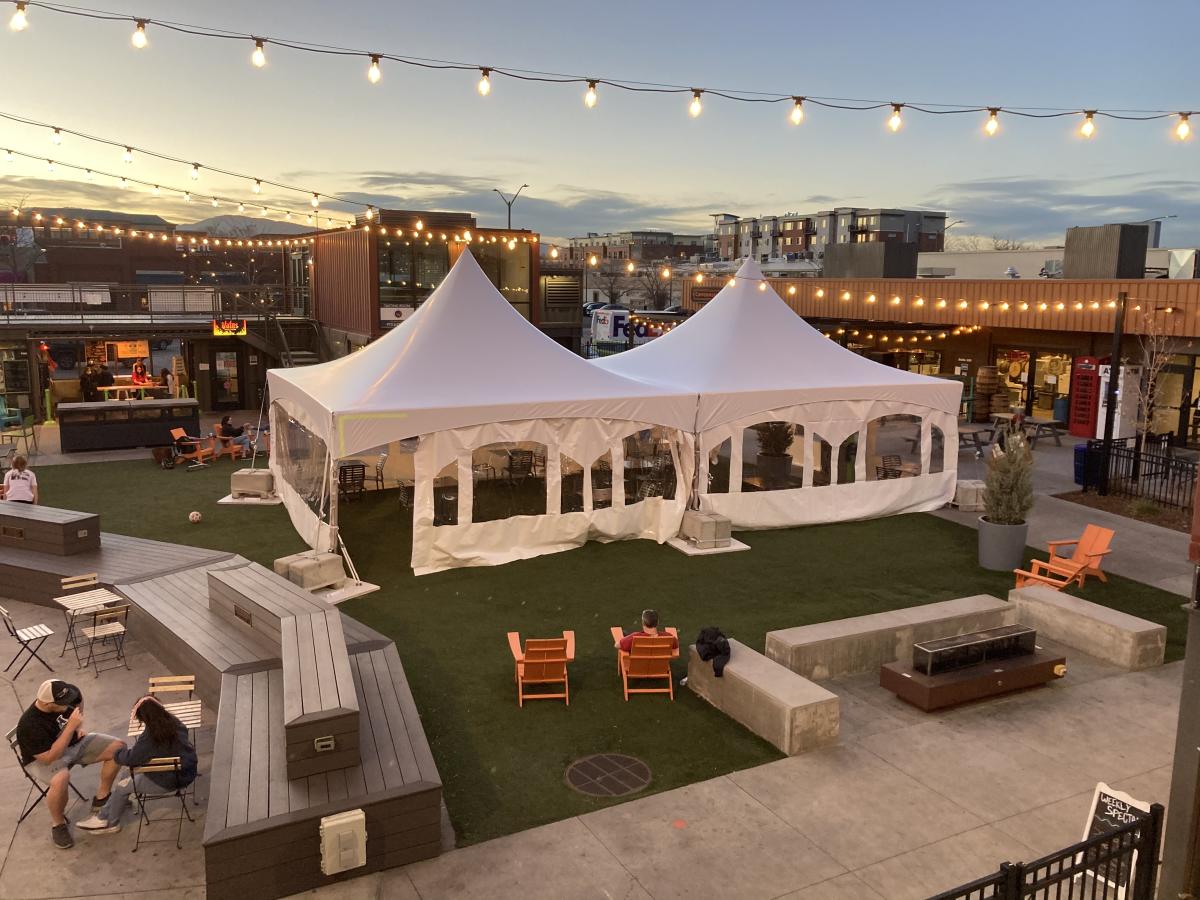 The Exchange is a spacious and lively plaza on N. College that includes food, beverage, and dessert offerings that can all be enjoyed by the fire or inside of a heated tent. You can even play some putt-putt golf at Old Town Putt.
We recommend having dinner at Penrose Taphouse and Eatery and following it up with a crafty cocktail at Coppermuse Distillery or a delicious artisan beer at The Crooked Stave.
Get a Taste of Fort Collins Nightlife
The nightlife in Fort Collins is vibrant with an eclectic bar scene and choices in live performance venues. The heart of nightlife in Fort Collins is in Downtown Fort Collins. Once you're downtown, you'll have access to a truly vast number of options to drink, dance, and have an exciting night. 
Where to Catch Live Music: Washington's, The Aggie, The Magic Rat, The Sunset Lounge, Ace Gillet's, Avogadro's Number, The Atrium at The Alley Cat, The Lyric
Unique Bar Recommendations: Social, an underground speakeasy, Elliot's Martini Bar, Ace Gillet's  
Day 2: Indulge in the Fort Collins Liquid Arts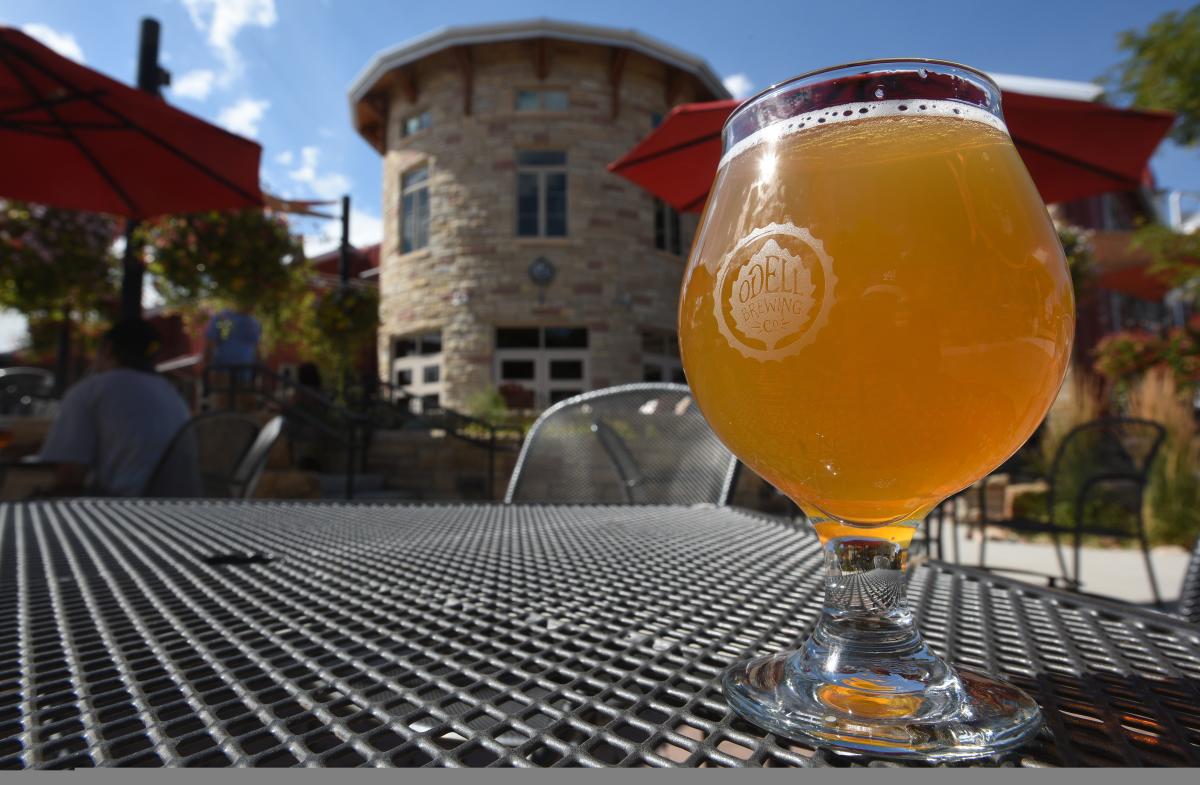 With an impressive number of craft breweries, cozy coffee shops, kombucha fermenters, and small-batch distillers, you can totally spend a whole day dedicated to exploring the Fort Collins liquid arts! Explore independently or take a Beer and Bike Tour for a fun guided day tour. 
Begin Your Day at Stodgy Brewing
Address: 1802 Laporte Ave, Fort Collins, CO 80521

Enjoy brunch every Sunday at Stodgy Brewing with beermosas and a rotating local food truck!
Breakfast pizza by Project Pizza Co.
Biscuits and gravy by Caupona
Seafood-inspired brunch by Shell on Wheels!
Pick from breweries, distilleries, fermenters, and more!
On the Northeast side of the city:
Insider's Tip: Most breweries allow for outside food to be brought in, so make sure to pack food or even order food while out at the various craft breweries!
Visit a Small Batch Distillery 
Make Your Way Back Downtown ​
Dinner at Ace Gillett's 
Located inside of The Armstrong Hotel, Ace Gillett's is a sophisticated underground bar offering eclectic small plates & mains, cocktails & live jazz music.
Day 3: Get Outdoors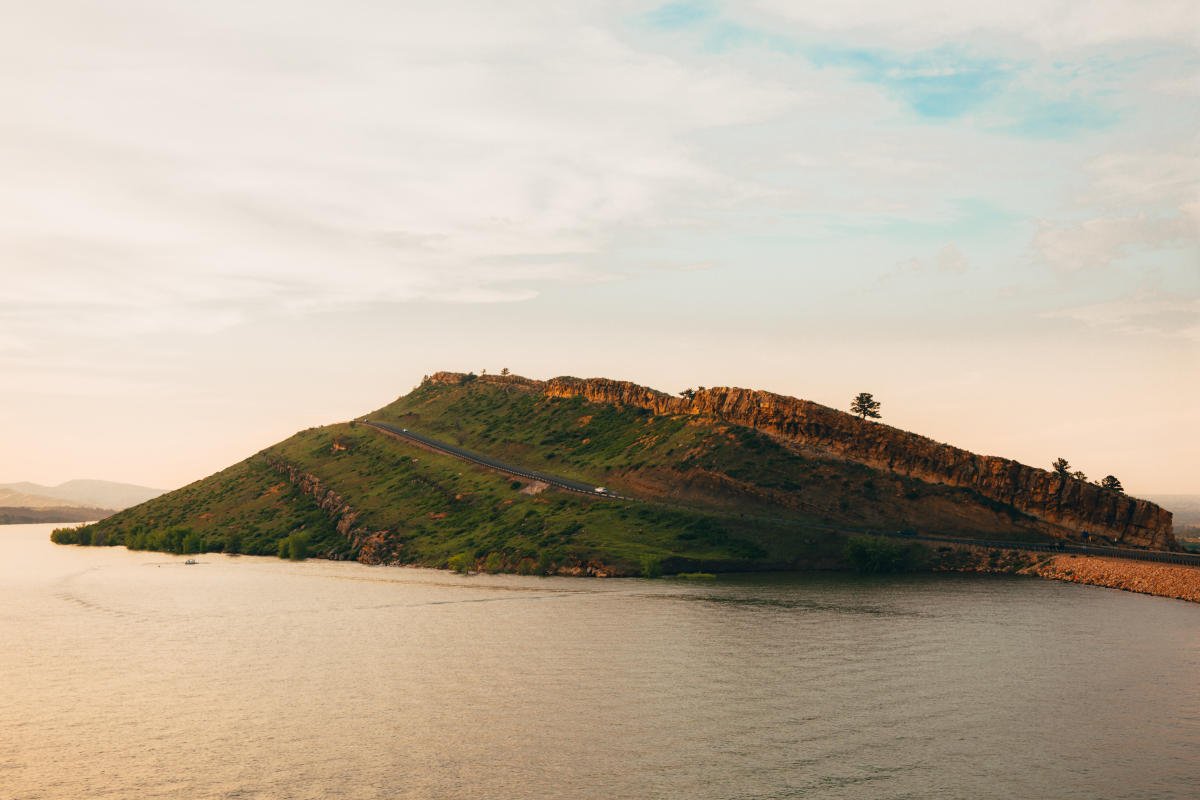 Day 4: Learn About Fort Collins
     Address: 11 Old Town Square UNIT 121, Fort Collins, CO 80524
Little Bird Bakeshop is a neighborhood bakery and coffee shop located in Old Town Square. They bake everything in house, from scratch, each morning. Little Bird's beverages are carefully crafted and the pastries change daily based on the season and the whim of the pastry chefs. Little Bird also offers breakfast and lunch items.
     Address: 408 Mason Ct, Fort Collins, CO 80524
Experience Northern Colorado's most interactive and immersive museum, dedicated to creating meaningful opportunities to learn, reflect and have fun. From the awe-inspiring 360° OtterBox Digital Dome Theater to exhibits designed to spark curiosity, visit The Museum of Discovery for hands-on and collections-based explorations in science, history, and culture. Adventure awaits!
Find a Good Read and Enjoy with Tea
Address: 232 Walnut St, Fort Collins, CO 80524
Old Firehouse Books is Northern Colorado's largest independent bookstore and offers a wide selection of great reading options to pick out and take over next door to read at Happy Lucky's Teahouse while sipping on tea.  The west wall of Old Firehouse Books showcases a large, beautiful mural that offers a fantastic photo opportunity! 

Lunch at Avogadro's Number
 Address: 605 S Mason St, Fort Collins, CO 80524
Enjoy lunch at Avogadro's Number, or Avo's as the locals call it, which offers vegetarian menu options as well as pizza, tempeh or beef burgers, and a variety of vegan and gluten-free choices.
The Avery House was built in 1879 by Franklin Avery who is responsible for the design of our wide streets around Fort Collins and he also was the founder of our local First National Bank and instrumental in developing many of our early water projects that enable agriculture to flourish in Northern Colorado. This house is now listed in the National Register of Historic Places and is available to tour on Saturdays and Sundays from 1-4 pm.
328 W Mountain Ave 
(970) 221-0533
www.poudrelandmarks.org
Day 5: Northern Colorado Adventures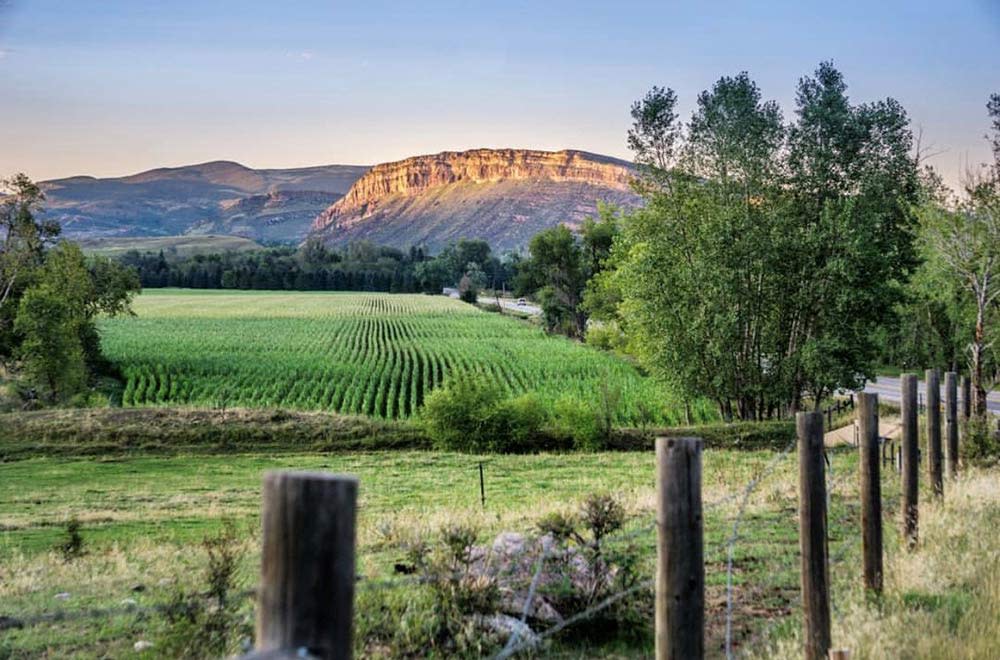 Fort Collins is surrounded by beautiful and unique cities and small towns each providing unique offerings. We recommend checking out The NoCo Creative Road Trip for an art-led exploration of Northern Colorado or the NoCo Road Trip. We recommend checking out these surrounding towns to make a day out of touring.
Day 6: Discover The Creative Community of Fort Collins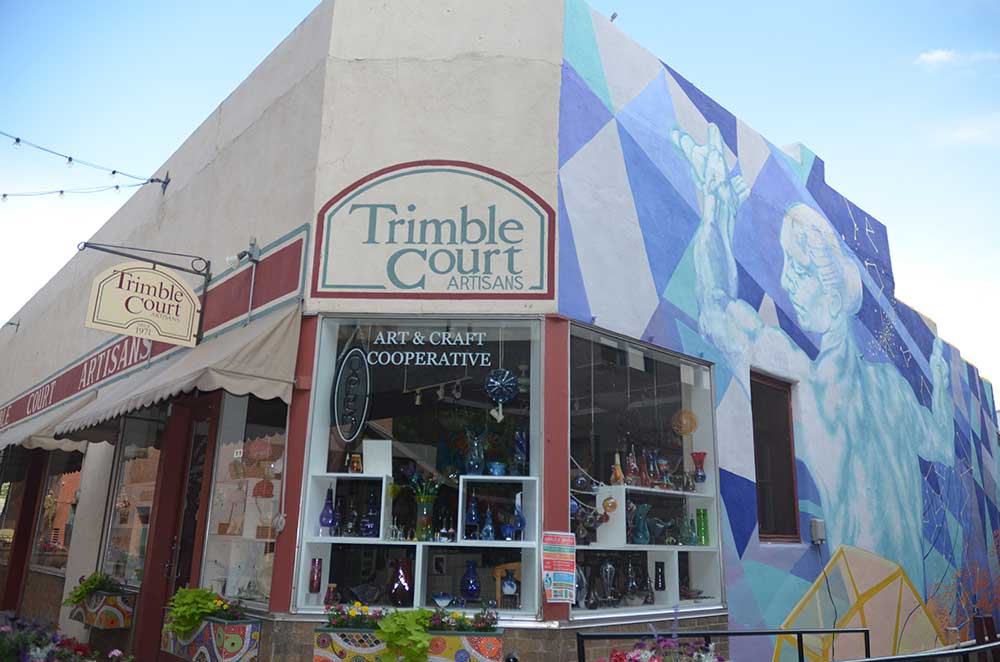 Address: 2601 S Lemay Ave #31, Fort Collins, CO 80525  

"RISE! opened its doors on June 17 2014 bringing a casual fun creative twist to the "most important meal of the day". The owners, The Daggetts', philosophy has always been to offer fresh wholesome foods prepared from scratch in a warm inviting atmosphere."

 

Address: 1957 Jessup Dr, Fort Collins, CO 80525  

The farms part of Jessup Farms is not just a mere name but is tied to the entire property's history. Where Jessup Farms Artisan Village sits today is originally a 140-year-old farm. The beautifully restored buildings have been refurbished with care to maintain the charm of the original condition of the farm structures.
Grab freshly roasted coffee and housemade pastries at Bindle
Sip on a craft beer or cocktail at The Barrel House and enjoy the setting of a beautifully restored farmhouse building 
Visit The Farmhouse for farm-to-fork lunch options and handcrafted cocktails 
Shop Small and Support Local Creatives:
Find Handmade Artisan Goods at Makerfolk, Trimble Court Artisans, and Dandelion and Rust

Unique Finds, Books, and Records at Firehouse Books, Little Horse Vintage, and All Sales Vinyl

Find Stylin' Vintage and Trendy Wearables at Akinz, Kansas City Kitty, Wear It Again Sam, Blue Harvest, Tula, Cira

Shop the Flavors of Fort Collins: The Cupboard, Rocky Mountain Olive Oil, Old Town Spice Shop, Savory Spice Shop
Take The Fort Collins Foodie Walk
Every 3rd Friday of each month, The Fort Collins Foodie Walk takes place! This is a monthly self-guided walking tour from 5 – 8 pm on the third Friday of each month and celebrates the culinary culture and thriving foodie scene in Downtown Fort Collins.
Grab a Unique Bite at The Welsh Rabbit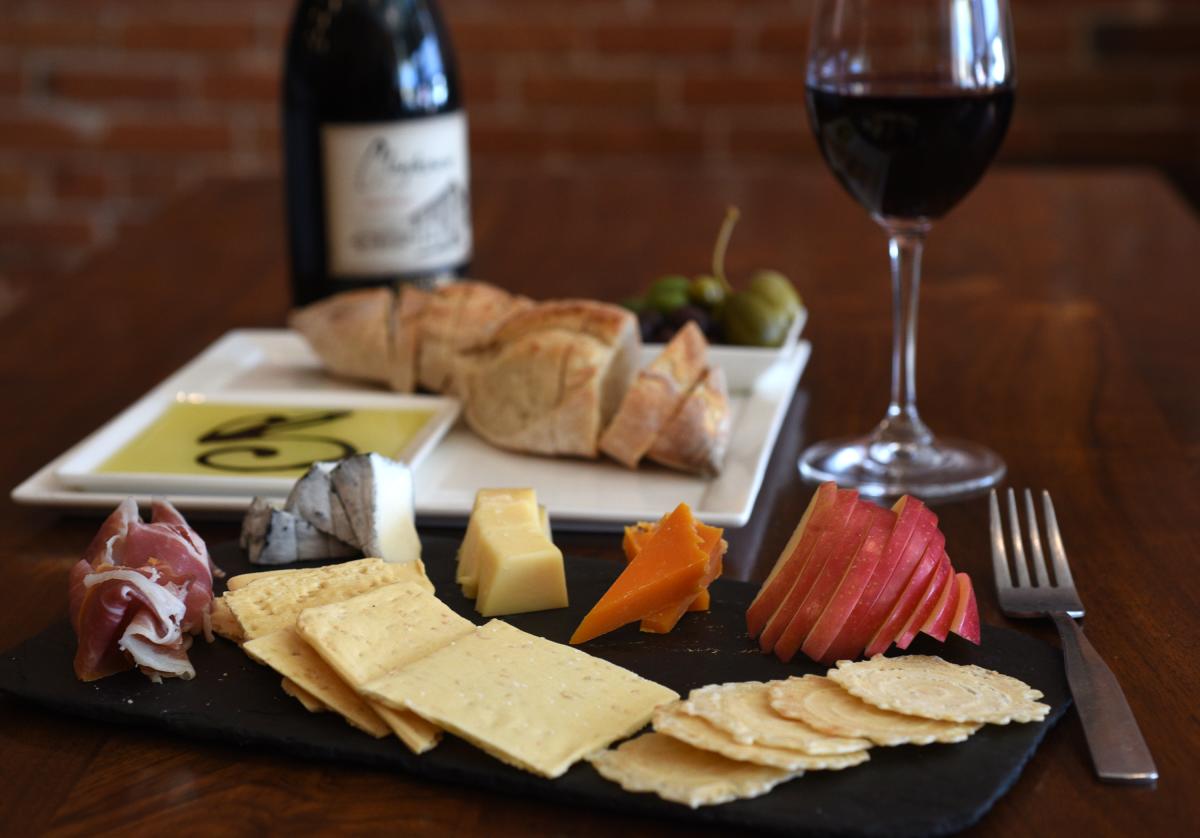 The Welsh Rabbit Cheese Shop and Bistro offer unique experiences highlighting the creative nature of the Fort Collins community. Linger in The Bistro to enjoy small bites, cheeses, charcuteries, wines, and beers, then make your way to the Cheese Shop to pick out cheese and other handcrafted bites to-go from the vast selection of artisan and farmstead offerings. 
Enjoy Handcrafted Single Origin Chocolate at Nuance Chocolate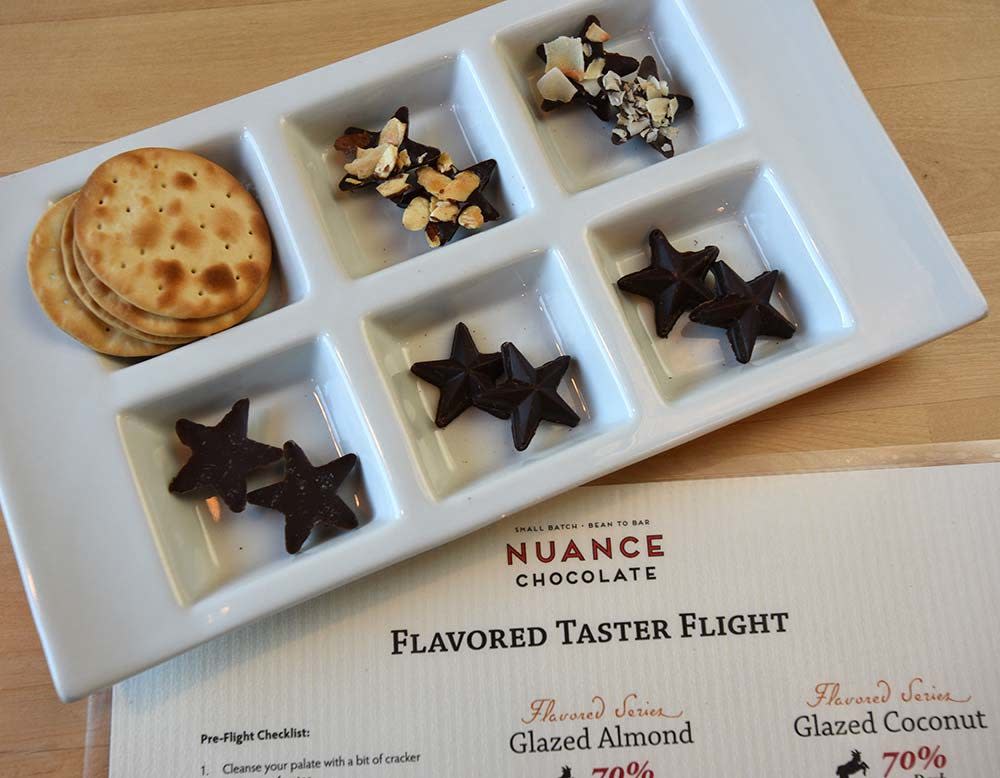 Address: 214 Pine St, Fort Collins, CO 80524  

A true bean-to-bar chocolate maker, Nuance Chocolate makes authentic, honest, spirited chocolate. Stop by for a sampler flight, a cup of French-style hot chocolate,  or a box of truffles.

 
Catch a Comedy Show
Address:167 N College Ave, Fort Collins, CO 80524
The Comedy Fort is Fort Collins' dedicated comedy club attracting headlines from all over the country. Check their calendar of events here and grab your tickets to an upcoming show to lighten up your spirits.
Day 7:  Sight Seeing Along The Poudre Canyon and River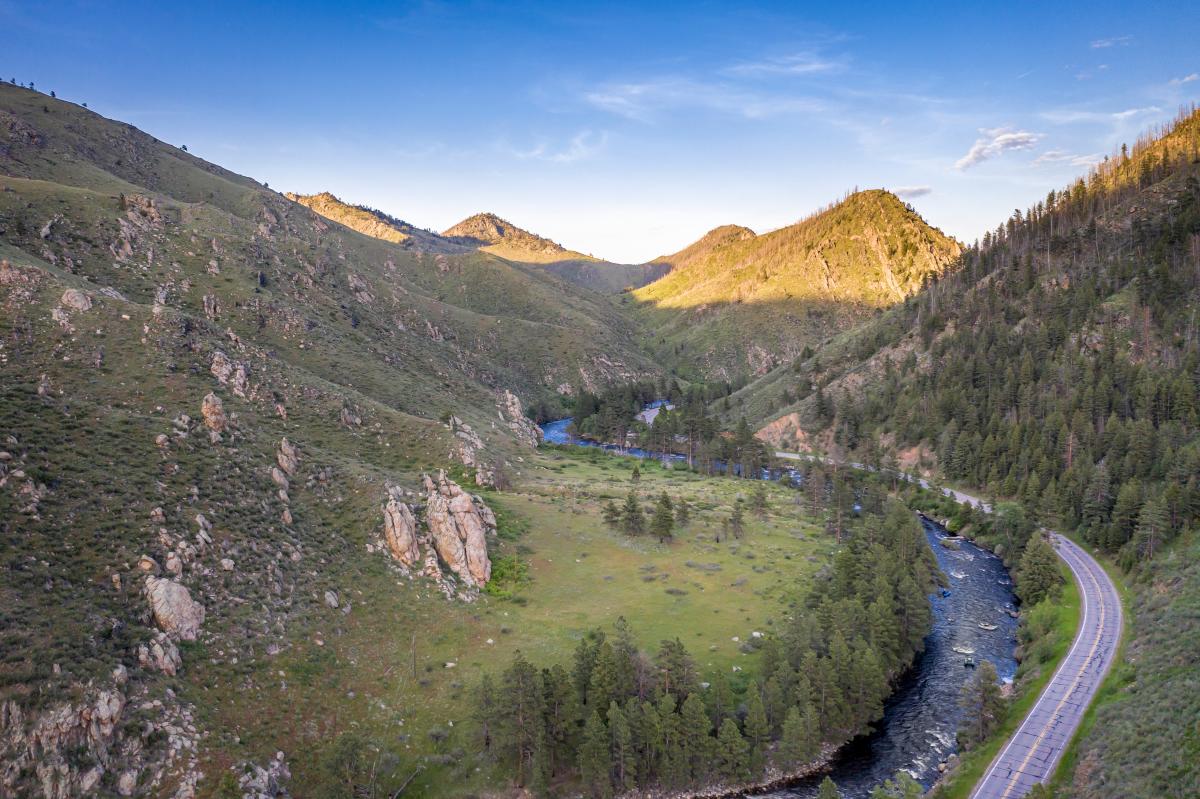 The Cache La Poudre River is an extremely important natural feature that is intimately linked to sustaining the development and growth of Fort Collins. Its hydrologic, recreation and scenic features earned the upper stretch of the river an official designation under the Wild and Scenic Rivers Act. We recommend a day of exploring the glorious Poudre Canyon and appreciating the river. 
Begin Your Day with Grab-and-Go Breakfast at The Butterfly Cafe
The Butterfly Cafe is a small and quaint cafe on the north side of Old Town that offers breakfast items like sandwiches, breakfast burritos, avocado toast, pastries, and coffeehouse staples like espresso, lattes, and teas. 

Address: 212 Laporte Ave #2725, Fort Collins, CO 80521

 

 

The Poudre River Park located north of Old Town Fort Collins connects Downtown with the Poudre River. The park offers riverbank access, an overlook plaza, and a pedestrian bridge that leads to the Poudre Trail. Take a walk along the river and take in the sights and sounds of the treasured Poudre River.

Address: 201 East Vine Drive, Fort Collins, CO 80524

 
Lunch at Howling Cow Café
On your way out of the city heading west, stop by Howling Cow Cafe in Bellvue for a grab-and-go sandwich and smoothie or cafe drink. The Howling Cow Café is located right on the Morning Fresh Dairy Farm with an outside patio, surrounding walking paths, and green space in the country. If you're interested in a guided tour of the farm, check out the tours offered by Morning Fresh.

Address: 5821 W Co Rd 54E, Bellvue, CO 80512

 
Hike a Scenic Poudre Canyon Trail
Hewlett Gulch, in Colorado's Roosevelt National Forest, is a moderate-difficulty hike and one of many hikes just off Highway 14. The trail follows the Cache la Poudre River and is 8 miles roundtrip. We recommend this trail for incredible views of Poudre Canyon, stream crossings, as well as walking you through a bit of the regional history with visibility to the remains of cabins built by homesteaders. 
Fly Fishing in The Poudre River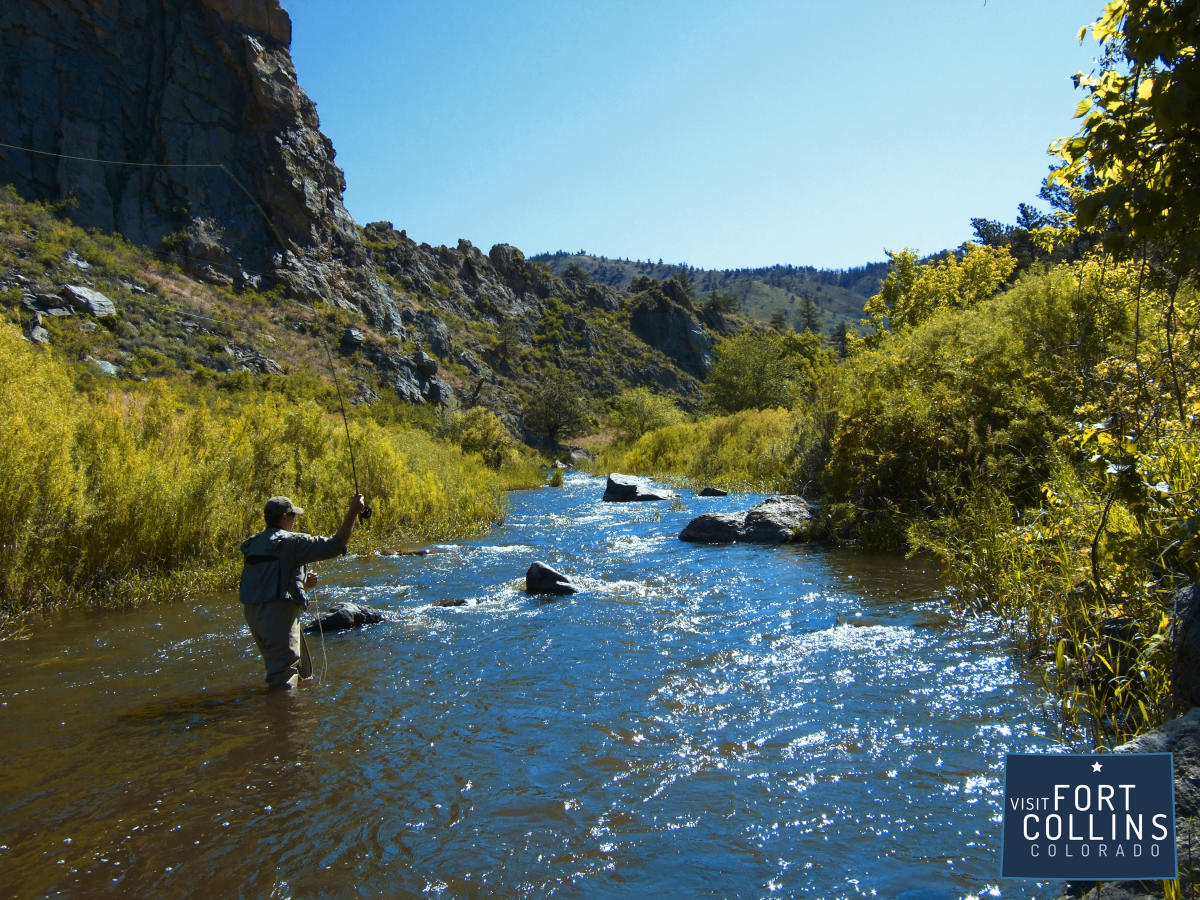 While it may still be chilly outside, fly fishing is not strictly a summertime activity in Northern Colorado. Stop by St. Peter's Fly Shop for your gear and even consider taking one of their informative classes beforehand. 
Find a useful map, rules, and regulations regarding fishing the Poudre River here. 
The Mishawaka is a music venue, bar, and restaurant in the Poudre Canyon that is open year-round with fantastic views and beautiful sounds of the flowing river to be enjoyed. The venue is roomy with indoor seating as well as a large patio that even includes plastic domes overlooking the Poudre River. These outdoor bubble tents are equipped with heaters and lights, making for a magical outdoor dining experience. The bubbles are available on a first-come, first-served basis with reservations. Make sure to make your reservation to guarantee your spot to dine inside on a bubble along the Cache La Poudre River.
Address: 13714 Poudre Canyon Rd, Bellvue, CO 80512
Book your stay at one of the many beautiful and unique lodging options found in Fort Collins, Colorado. From boutique hotels to scenic B&B's, there is an overnight accommodation choice to suit all of your needs.
Learn More