Performing Arts and Live Theater
Fort Collins breathes life into the arts in the form of theatre, musical performances, dance, public art, galleries, photography and more. From the innovative to the classic, explore the unique and diverse cultural arts scene Fort Collins has become accustomed to. 
First Friday Art Walk: Art galleries and museums flourish in Old Town Fort Collins! And on the first Friday of every month, many of them extend their hours of operation and fling wide their doors during the evening hours, so you have time to wander and let your heart grow fonder of the local, regional, national and international art on display downtown. Experience paintings, sculptures, exhibits, photos, and more, with many of the gallery owners on hand to share their expertise (and sometimes, a snack!) with the crowds that stroll the city streets on self-guided gallery tours.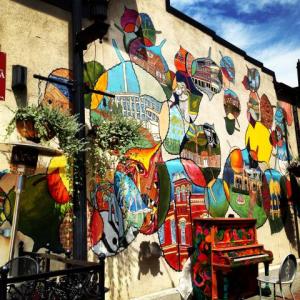 Art in Public Spaces: Without ever stepping into a gallery you can experience the art culture of Fort Collins. Discover art sculptures throughout Old Town, painted transformer boxes, romantic walkways and alleys, and beautiful murals painted on the historic brick walls. Pianos about town art placed throughout Fort Collins, painted by local artists, being played by a passerby. Find the Rearing to Go Horse Sculptures, each one painted with a different theme, and discover history and local culture.
Fort Collins Museum of Discovery: The Fort Collins Museum of Discovery is focused on creating meaningful opportunities for people of all ages by mixing science, history and discovery together into one 16,000 sq ft. interactive exhibit. Bring the whole family, spend a couple hours or the whole day and DISCOVER! 
Fort Collins Museum of Art: The Fort Collins Museum of Art presents an exciting annual program of exhibitions that engage the community and contribute to lifelong learning. Enjoy multiple exhibitions throughout the year from well-known artists like Andy Warhol, and discover the talent of newer artists.
Center for Fine Art Photography: The center promotes established and emerging photographers from around the globe and photographic works of inspiring and culturally inviting art.
University Center for the Arts: Colorado State University Department of Music, Theatre and Dance offers world-class performances by students, faculty, and guest artists in state-of-the-art venues.
The Lincoln Center & Lincoln Center Art Gallery: The Lincoln Center is Northern Colorado's largest presenter of professional performing arts. It presents nationally-touring Broadway shows, concerts, comedy, dance, children's theater and so much more. The Lincoln Center Art Gallery features national juried competitions, curated contemporary artists from around the country and traveling art exhibitions. Opening Receptions and Gallery Talks, presentations by featured exhibiting artists, are free and open to the public.
Global Village Museum of Arts & Cultures: The Global Village Museum of Arts and Culture and Intercultural Resource Center is dedicated to showcasing international folk art. Exhibits are created to engage and inspire visitors to learn more about world cultures, people, art, and history in order to promote world understanding and foster peace.
Illustrated Light Gallery: The only gallery in Northern Colorado dedicated to fine art photography. Featuring pottery, wood turnings, blown glass, and the work of award-winning nature photographer, David Clack.
Pinots Palette: Fort Collins Pinot's Palette is an upscale "Paint. Drink. Have Fun." establishment in Old Town where anyone can be an artist! It offers a fine selection of wine and beer and no art experience is required. In two or three hours you can create any number of festive, whimsical, and abstract paintings in the studio or celebrate Girls' Night Out, Birthday Parties, Date Night, Bachelorettes, or Anniversaries in the Private Party Studio.
Trimble Court Artisans: Since 1971 Trimble Court Artisans has offered exceptional arts and crafts from local artists in a turn-of-the-century building tucked away in Old Town.
The Gregory Allicar Museum of Art: Located in the Visual Arts Building at Colorado State University, the museum is dedicated to the enrichment of the cultural and intellectual life of Colorado through the presentation of artwork that is stimulating, relevant and of the highest quality.
Theater
Between CSU's world-class performing arts center, acting troupes, traveling Broadway shows, venues devoted to musical theatre (with and without dinner), children's theaters companies, and summer performances under the stars, it's no wonder Fort Collins boasts more opportunities to see live theater than anywhere else in Northern Colorado.
Fort Collins richly deserves its reputation as the cultural capital of Northern Colorado. With a half-dozen live theater stages in production throughout the year, a symphony orchestra, ballet and opera companies as well as several choral ensembles, Fort Collins exhibits hundreds of live theater and performance art shows each year. Although production seasons vary, shows take place predominately September through April. Fort Collins theatrical facilities accommodate a wide range of performances from national touring shows, more intimate settings, state of the art performance halls and music halls with state-of-the-art acoustics. Some companies are known for offering comedy, musical theater, dance, more challenging subject matter, a nationally renown Beckett Theatre, as well as family-friendly material. Whatever your taste, there is always a show to be seen!
Local Favorites
Authentic to Fort Collins