Relocation
Do you find yourself not wanting to leave? Here is some relocation information about Fort Collins to feed your curiosity.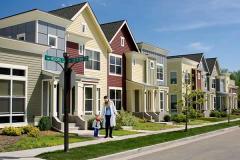 If you've fallen head over heels for Fort Collins don't worry because you're not the only one. Over the years Fort Collins has been named best place to live, best place to raise a family, and best college town for a vacation. In addition to being a wonderful destination to visit, Fort Collins is also an amazing place to call home. With many major employers, hundreds of miles of trails, an award-winning public school system, a thriving dining and nightlife scene, and higher education options, Fort Collins is easily a community you'll want to be part of!
Demographics
County:

Larimer

Population:

164,207 and growing (taken in 2005)

Altitude:

5,003 ft.

Location:

60.3 miles North of Denver, CO and 46 miles South of Cheyenne, WY

City Nicknames:

The Choice City, Fort Fun

Growth Rate:

Approximately 3% per year

University:

Colorado State University

Average Median Family Income:

$76,341/year

Major Employers:

Colorado State University, Poudre School District, Hewlett Packard, UC Health, Banner Health, Larimer County, Agilent Technologies, City of Fort Collins, Woodward and Advanced Energy.
Recreation:
50 Parks within the City
35 miles of trails, that includes paved and unpaved walking and bike trails.
3 city golf courses
Two marathons are held here each year
Fort Collins is located just minutes from the Cache la Poudre River Canyon which provides great hiking, mountain biking, horseback riding, kayaking, fishing and whitewater rafting opportunities.
Local Favorites
Authentic to Fort Collins