Brewery Tour Itinerary 
in Fort Collins
Every town has a certain something that makes it special. For Fort Collins, that's craft beer and the culture that has grown around it.
Located just 60 minutes north of Denver, Fort Collins produces 70% of the craft beer made in Colorado, which is ranked 4th in the nation for the number of microbreweries per capita. It's no wonder that people call Fort Collins "The Craft Beer Capital of Colorado." 
Each of the 20-plus breweries in Fort Collins offers its own ambiance and a unique experience for your palate. Whether you fancy yourself a seasoned connoisseur or are brand new to sampling craft beer, you'll find something to suit your tastes.
You can explore and experience the breweries in many ways – pedal off on two wheels with Beer and Bike Tours or simply head out on a self-guided tour via bike or with a designated driver.
Old Town Tour
You can make your own walking tour in Old Town thanks to the close proximity of a few breweries.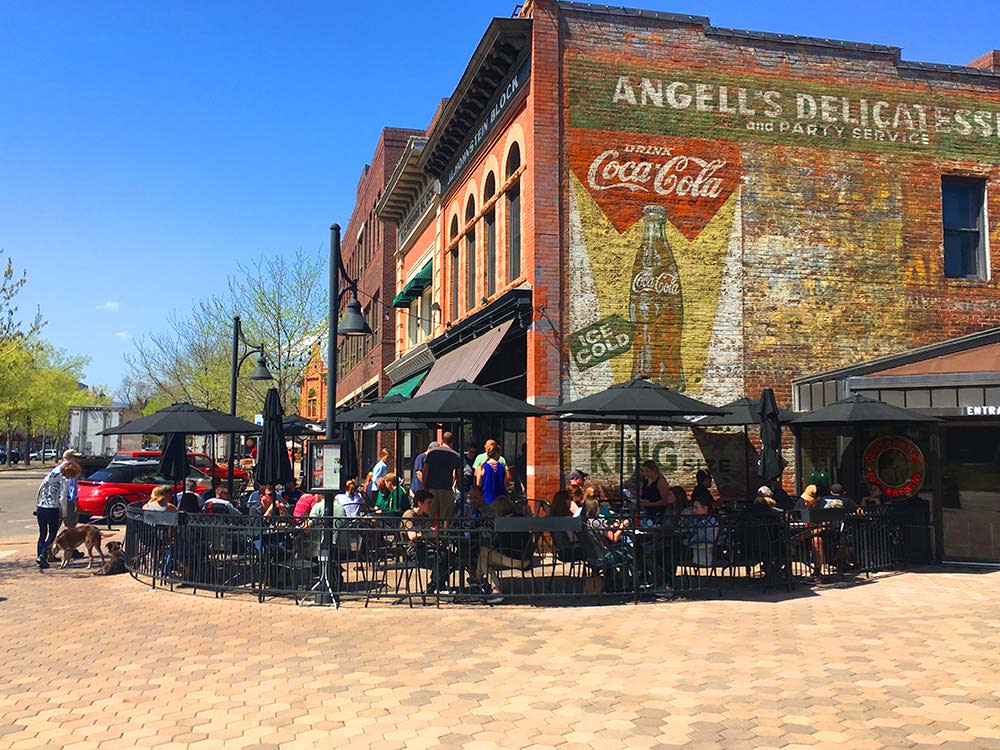 Take a step back into history as you stroll into Fort Collins very first and longest operating brewpub, having opened its doors in 1989. Coopersmith's always has something tasty on tap including, Not Brown Ale, Poudre Pale and Horsetooth Stout. Looking for something with a kick? Try a Sigda's Green Chili. Coopersmith's is also a great place for lunch to provide the fuel you'll need for the rest of your beer tasting adventure. Pints from $6.
Crooked Stave came back home to Fort Collins in early 2019. The brewery first started in the Choice City and then decided to move it's operation to Denver in 2010. Alas, Crooked Stave decided to open its second location in its original home of Fort Collins. The brewery is a modern artisan brewery that has a quality driven focus on producing great beer through science, art and passion. Crooked Stave can be found in The Exchange, which is a hip, creative plaza in north, downtown Fort Collins that houses businesses in shipping container cars.
Next, take a hop, skip and jump on your way across historic Mountain Ave. to Equinox Brewing and sample some of their staple brews. Enjoy live music every Friday and Saturday and on sunny days, Equinox has one of the finest Beer Gardens in town, allowing you to relax and sip on a pint. Also, don't forget to sneak a peak at the Bootlegger which is a tricycle made for delivering kegs around town. 
The Gilded Goat is a small, family-owned and operated neighborhood brewery in the heart of Fort Collins next door to Trader Joe's. They serve a mix of classic styles, experimental batches, and sour beers in a very comfortable taproom. Stop by and check out the club-level seating so you can see the brewhouse in action or, if you prefer, stay for a guided tasting session. 
Hello Brew Co. is a brewery-taproom located in a 120-year-old home in the Fort Collins River District.  This small taproom offers a minimalist yet homey environment. Hello Brew Co. is focused on providing contemporary IPAs and Czech-style Pilsners.
Salt Road Brewing sources high-quality Colorado ingredients to create unique, classic, innovative styles of beer. Our downtown Fort Collins location provides a gathering space for the community to bond while sipping on delicious beer made from local malts, hops, yeast, and pure Rocky Mountain water. Join us in our taproom where you can view local artwork or relax on our patio around a cozy fire pit surrounded by hops. Local just tastes better!
Brewery Row Tour
Situated just a few blocks from each other, New Belgium Brewing and Odell Brewing Co. are the largest craft breweries in town and both are heavyweights in the world of craft beer.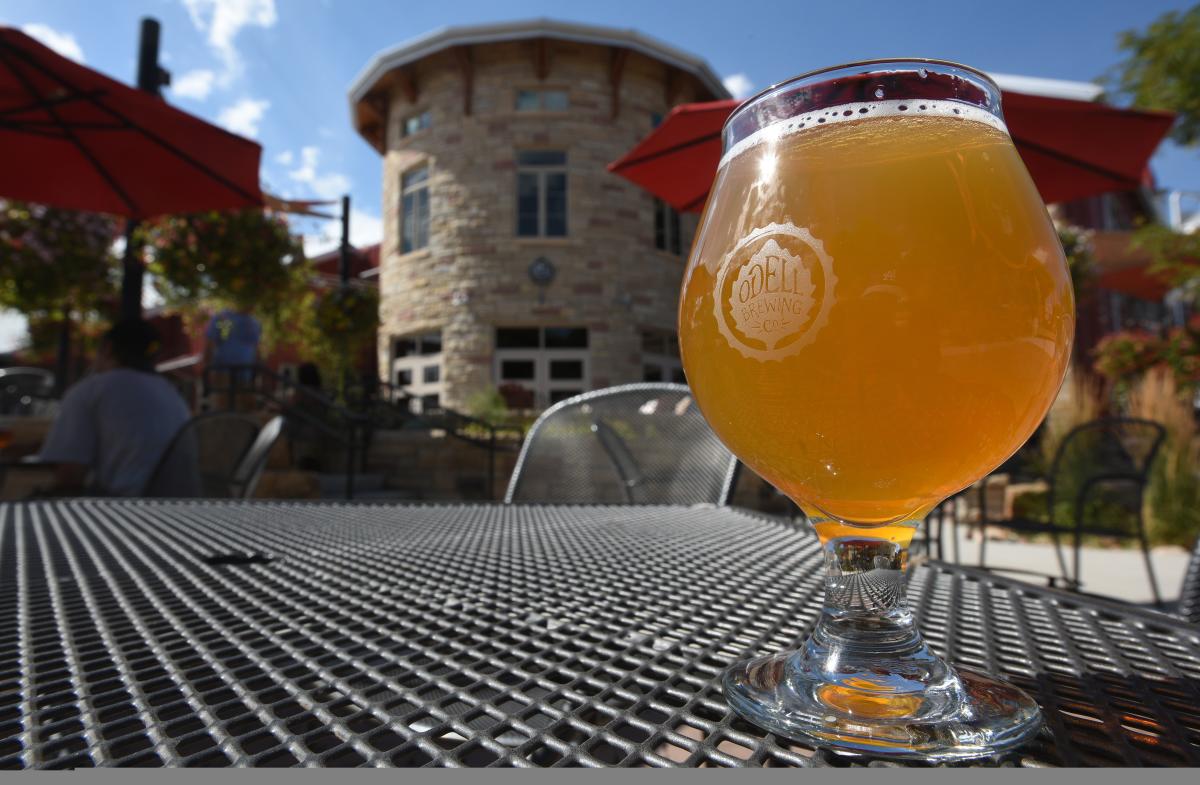 Makers of Fat Tire Amber Ale and Abbey, New Belgium promotes biking nearly as much as it does beer. From the Tour de Fat every year, to Bike-In Cinema each summer, New Belgium is the trendsetter for beer and bike culture. New Belgium is also known as the trendsetter in perfecting sour beer. Take a walk through "Cache La Foeder" and get a peek at the dozens upon dozens of giant old wooden wine barrels and you'll see why New Belgium is known for its sour beers. Tours fill up fast, so book ahead to make sure you get a spot. 
Makers of flagship brew 90 Shilling and a full range of flavorful beers from the light, crisp Easy Street Wheat to the dark, roasty Cutthroat Porter, Odell Brewing is a Fort Collins favorite amongst locals and visitors alike. Some also say Odell has perfected the taste of an IPA, which is one of their most popular selling beers. Equipped with one of the best patios in all of Fort Collins, Odell is so much more than just a brewery. It's a place to hang out with close friends where you can enjoy live music and local food trucks while basking in the Colorado sun. 
Just a short bike ride down Lincoln Ave., you will find a slew of smaller breweries that pack a punch when it comes to crafting a tasty brew.
A departure from the traditional brewery, Snowbank Brewing focuses on innovation and a passion for the Colorado lifestyle. Beers are named for the wonderful Colorado landscape and made from Colorado snowmelt. 
Funkwerks focuses primarily on Saisons, with fruity aromas, and often offers drier profiles which become wonderful summer beers made by the masters. Funkwerks has won many medals over the years, and in 2012 The Great American Beer Festival named them "Small Brewing Company of the Year". Their Saison was awarded a gold medal in 2017 at the Great American Beer Festival. Refreshing and award-winning, Funkwerks is a must stop along your tour. 
Horse and Dragon is a Fort Collins' local favorite. This family-owned and run, independent microbrewery's motto is "work & family, hops & malt, Horse & Dragon." They craft high-quality, great-tasting beers sustainably while building community in the heart of Northern Colorado. Horse and Dragon is famous for their Sad Panda, an American-style coffee stout, that is definitely a must try. 
Peculier Brewing Co. is a distinguished craft brewery that prides itself on its unique blend of tradition and innovation. Nestled within an industrial brewhouse, the company has managed to carve out a niche for itself in the competitive Fort Collins brewing scene. The company's ethos: "Beer Set Apart", is perfectly encapsulated by every beer's unique creativity, set apart by its flavor, texture, and the craftsmanship that goes into its brewing. (1831 E Mulberry St.)
Embark on a comprehensive tour of the Budweiser brewing and bottling process, visit the world-famous Clydesdale horses, pick up some souvenirs in the extensive gift shop and take a little time to lounge in the outdoor Biergarten. 
Midtown Tour
In the middle swath of Fort Collins, you'll find several distinct breweries. These breweries are sprinkled throughout the area, but all are worth a visit.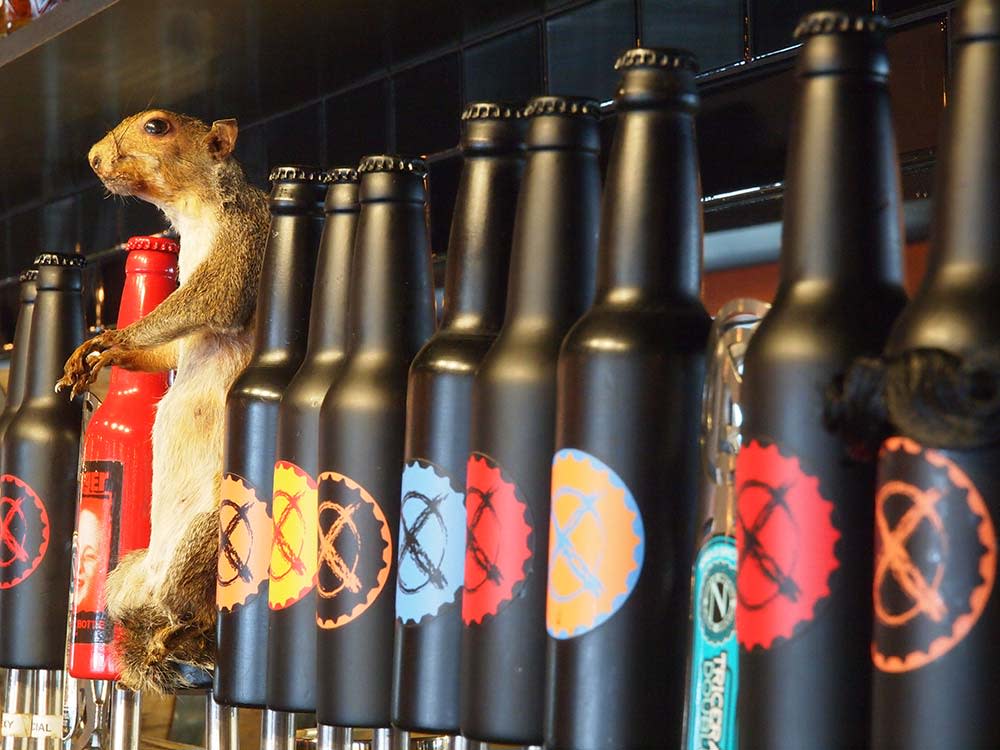 Black Bottle is a former home brewing operation turned successful brewery with beers like "Hipster" and "The Last Unicorn", making this taproom a Midtown hub of great tastes and cool culture. Offering a wide selection of seasonal and cellar beers as well as its flagship brews, Black Bottle has something for everyone, including a full bar and fantastic food menu. 
Prost is one of the first companies/breweries in Fort Collins to have an alley entrance for patrons, making it quite unique. This alleyway taproom is a homecoming of sorts for the Denver-based craft brewery thanks in part to Prost Brewing having an ownership team composed of multiple CSU alumnus. The Gold-medal-winning brewery makes German-style lagers exclusively and serves them in a Bavarian-themed taproom. Prost will only be serving its own beers at the Fort Collins satellite location, and for the time being, every beer will be brewed at the Denver location and delivered to Fort Collins.
In town since 2015, Rally King has since become a favorite neighborhood brewery for Midtown locals and other craft beer lovers. Located right off of the Spring Creek Trail, this family run brewery with a 7 barrel system, is kid, dog, and bike friendly and offers a variety of brews from European style Ales to IPA's to sours. Releasing new beers 2-3 times per month, Rally King offers delicious one of a kind beers to please any palate. 
This brewery has a commitment to quality malts, hops, water, and yeast that matches their passion for brewing enticing beer. Maxline has a focus on supporting the community, as each member of the company dedicates six hours every month volunteering at local non-profits and sustainable farms. The brewery has a cozy feel, equipped with expansive community tables and fermenters labeled with chalkboard titles to let guests know what beers they can expect next. This Midtown brewery is known for its great tasting beer and sense of community. 
The Gilded Goat is a small, family-owned and operated neighborhood brewery in the heart of Fort Collins next door to Trader Joe's. They serve a mix of classic styles, experimental batches, and sour beers in a very comfortable taproom. Stop by and check out the club-level seating so you can see the brewhouse in action or, if you prefer, stay for a guided tasting session. 
The Barrel House is extremely unique thanks in part to the brewery being housed in a 133-year-old, 3,000 square-foot restored barn that sits on the 13-acre Jessup Farm Artisan Village. The Barrel House is known for blending beers with barrels used for wine, bourbon and other specialty barrel-aged beer in order to create intricate flavors derived from the attributes of those barrels. 
Westside Tour
"Go West, young man." Head just west of Shields street and you'll come across some unique, great tasting craft breweries.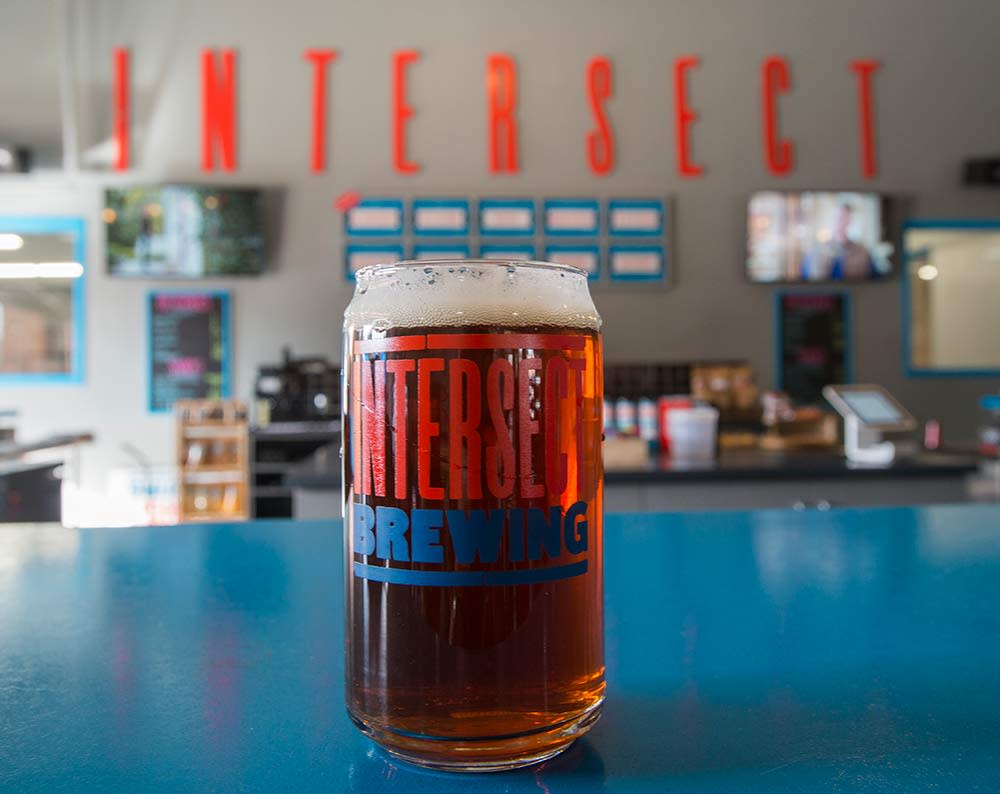 We are a brewery and taproom in northwest Fort Collins, here to offer our neighbors and extended community members a gathering space where people can connect and relax around great beer. We have a spacious outdoor patio, and lots of cozy indoor seating! Friendly dogs welcome inside and out.
Intersect is a local, neighborhood-focused craft brewery. Family, bike, and dog friendly, with a taproom and beer garden. Quick access to the Spring Creek trail at Drake and Taft Hill. Craft beer brewed in High Fidelity. 
Mythmaker Brewing believes the Craft Beer Industry is undergoing constant evolution. The mission at Mythmaker is to brew craft beer in both traditional and experimental ways and to mesh old traditions and new experiences together in a local, community driven, hospitality focused environment. Their small batch brew system ensures a constantly changing beer list for your exploratory palate.
South FoCo Tour
The south side of Fort Collins is where a lot of new restaurants, hotels and businesses are popping up all over the place. Oh, and did we mention the south side is also home to some amazing breweries? The area provides big city amenities while keeping its small town charm. 

Zwei is focused on German beers and the great heritage of Old World brewing. These ideals and passions have helped inspire their flagship beer line as well as their rotating taps. Embracing key German styles have led to lots of exciting beers at Zwei Brewing! 
Formerly known as 1933 Brewing, Purpose Brewing was created by Zach and Laura Wilson, who paired with longtime New Belgium brewmaster Peter Bouckaert and his wife Frezi to start the venture. Purpose Brewing and Cellars has introduced a new concept to the Fort Collins brewing scene where beers change weekly and are never repeated. 
The brewery was named after Daniel Chessman Oakes who was one of the earliest settlers in Colorado. This brewery pays homage to Oakes' pioneering spirit by emulating his tireless work ethic through the passion of making hand-crafted beer. DC Oakes also serves up great tasting food, along with classic cocktails, wine and other local beers on tap as well as their own. 
Envy Brewing joined the Fort Collins community in February of 2019, adding to the craft beer presence on the south end of town. In addition to beer, Envy also has a full kitchen and offers select Colorado-made spirits. Envy considers itself a community-centric brewery that welcomes collaboration with local microbreweries and home brewers alike.
Local Favorites
Authentic to Fort Collins