Fort Collins Breweries
Fort Collins is home to more than 20 craft breweries, including the fourth largest craft brewer in the U.S., New Belgium Brewing Co. With new Fort Collins' breweries popping up all over the city, there is always something fun to enjoy. On any given day, tourists and locals alike flock to the craft breweries to enjoy a cold and frothy craft beer and some quality down time. Adding to the craft scene are craft cideries, which also happen to be gathering a big following in the Fort Collins community. So, if you find yourself in need of quenching your thirst, make your way on out to explore the range of craft beverage offerings in Fort Collins.
Co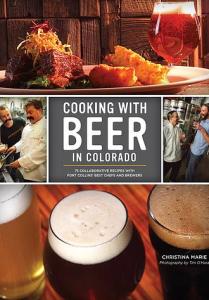 oking with Beer in Colorado includes 75 beerlicious collaborative recipes from the best chefs and brewers of Fort Collins, the "Craft Beer Capital of Colorado. Author Christina Marie is a collaborator and culinary entrepreneur with a Ph.D. in Culinary Tourism from Colorado State University. Her current research is focused on commercial service experience applied to both breweries and restaurants.
From the local cookbook, Cooking with Beer in Colorado. Photos by Tim O'Hara.
Get to know Fort Collins' Breweries
Embark on a comprehensive tour of the Budweiser brewing and bottling process, visit the world-famous Clydesdale horses, pick up some souvenirs in the extensive gift shop and take a little time to lounge in the outdoor Biergarten. (2351 Busch Dr. – North of Fort Collins)
This brewery is a place where home brewing turned successful brewery with beers like "Hipster" and "The Last Unicorn" making this taproom a midtown hub of great tastes and cool culture. Offering a wide selection of seasonal and cellar beers as well as four flagship brews, Black Bottle has something for everyone.  (1611 South College Ave. #1609)
This is the perfect place for a bite to eat with your brews. CooperSmith's is the longest operating brewery in Fort Collins, opening just two weeks before Odell Brewing Co., Nov. 1989, and is an anchor business in historic downtown.  Their specialty beers such as Albert Damm Bitter and Punjabi India Ale are served in the English tradition, dispensed from hand-drawn "Beer Engines" that pull in nitrogen from the atmosphere to give the beer a nice creamy head. (#5 Old Town Square)
Crooked Stave came back home to Fort Collins in early 2019. The brewery first started in the Choice City and then decided to move it's operation to Denver in 2010. Alas, Crooked Stave decided to open its second location in its original home of Fort Collins. The brewery is a modern artisan brewery that has a quality driven focus on producing great beer through science, art and passion. Crooked Stave can be found in The Exchange, which is a hip, creative plaza in north, downtown Fort Collins that houses businesses in shipping container cars.
DC Oakes was named after Daniel Chessman Oakes who was one of the earliest settlers in Colorado. This brewery pays homage to Oakes' pioneering spirit by emulating his tireless work ethic through the passion of making hand-crafted beer. DC Oakes also serves up great tasting food, along with classic cocktails, wine and other local beers on tap as well as their own. (3581 E Harmony Rd #110)
Envy Brewing joined the Fort Collins community in February of 2019, adding to the craft beer presence on the south end of town. In addition to beer, Envy also has a full kitchen and offers select Colorado-made spirits. Envy considers itself a community-centric brewery that welcomes collaboration with local microbreweries and home brewers alike.
Equinox is inspired by the balance and intrigue of the equinox and the changing of seasons, which brings a dynamic twist to their beers. Traditional styles, innovation and honoring history all while respecting each distinctive ingredient is Equinox's approach to the brewing creative process.  A cozy outdoor patio that is always buzzing, live music and very tasty brews makes this a must stop. Enjoy many rotating selections and special firkin tapping every Thursday (133 Remington St.)
This brewery focuses primarily on Saisons, with fruity aromas, and often offers drier profiles which become wonderful summer beers made by the masters. Funkwerks has won many medals in the past 5 years, and in 2012 The Great American Beer Festival named them "Small Brewing Company of the Year". Their "Deceit", Belgian-Style Golden Strong beer was awarded a silver medal in 2014 at the World Beer Cup. Refreshing and award-winning, a must stop along your tour. (1900 East Lincoln Ave)
This is a small, family-owned and operated neighborhood brewery in the heart of Fort Collins next door to Trader Joe's. They serve a mix of classic styles, experimental batches, and sour beers in a very comfortable taproom. Stop by and check out the club-level seating so you can see the brewhouse in action or, if you prefer, stay for a guided tasting session. (3500 S College Ave #194)
Horse and Dragon is a local Fort Collins' favorite that includes a skilled master brewer and owners with years of beer industry experience. Their motto is: work & family, hops & malt, Horse & Dragon. They craft high-quality, great-tasting beers sustainably while building community in the heart of Northern Colorado. (124 Racquette Dr.)
Intersect is a local, neighborhood-focused craft brewery. Family, bike, and dog friendly, with a taproom and beer garden. Quick access to the Spring Creek trail at Drake and Taft Hill. Craft beer brewed in High Fidelity. (2160 W. DRAKE RD. A-1)
This brewery is extremely unique thanks in part to the brewery being housed in a 133-year-old, 3,000 square-foot restored barn that sits on the 13-acre Jessup Farm Artisan Village. The Barrel House is known for blending beers with barrels used for wine, bourbon and other specialty barrel-aged beer in order to create intricate flavors derived from the attributes of those barrels. (1921 Jessup Dr.)
Maxline has a commitment to quality malts, hops, water, and yeast that matches their passion for brewing enticing beer. This brewery has a focus on supporting the community, as each member of the company dedicates six hours each month volunteering at local non-profits and sustainable farms. (2701 S. College Ave. Suite 190)
McClellan's is a brewery in Fort Collins that turns its focus to "creamier, smoother" European cask-style ales. These non-carbonated ales are "similar to nitrogen fed beer" like Guinness. (1035 South Taft Hill Rd.)
Born on a bike, New Belgium Brewing is recognized as a leader in sustainability and social responsibility. Founded in 1991 by a homebrewer and social worker in Fort Collins, Colorado, New Belgium Brewing believes in the true idea of craft, a set of skills honed over time.  The company expanded to Asheville, North Carolina in 2016 and Denver, Colorado in 2018 and is now the 4th largest craft brewery in the U.S. Dedicated to proving that business can be a force for good, New Belgium is a Certified B Corp and was the first brewery to join 1% for the Planet. The brewery has donated over $26 million to charitable causes since 1991. New Belgium is famous for its flagship beer, Fat Tire Amber Ale, along with year-round favorites like Voodoo Ranger IPA, Mural Agua Fresca Cerveza, and La Folie Sour Brown Ale; as well as an award-winning wood-aged sour program and innovative limited release beers. To learn more about the full product lineup and New Belgium's Human Powered Business model, visit NewBelgium.com. (500 Linden St.)
One of Fort Collins' newest brewery additions, Obstacle was started with the intention of raising money to support great causes all while providing great eats and drinks. The brewery serves up their own flagship selection of beers while also featuring beers from other local breweries as well as wine. The brewery doubles as a restaurant and offers appetizers, toasted sandwiches, burgers, and salads.
Odell has the honor of being the first 'packaging craft brewery' in Fort Collins after opening its doors just two weeks after CooperSmith's Brew Pub, the first brewery pub in Fort Collins.  Home brewer Doug Odell opened his craft brewery in November 1989.  In addition to their original 90 Shilling, a rich amber ale, Odell's popular brews include Easy Street Wheat, a Gold Medal Winner at the 2005 Great American Beer Festival; 5 Barrel Pale Ale; Levity Golden Amber and Isolation Ale, available from November to March. A go-to brewery for locals and visitors, this taproom has been expanded to keep up with demand. Live music, food trucks and a warm fire pit also make the Odell patio a regional destination. (800 East Lincoln Ave.)
Prost is one of the first companies/breweries in Fort Collins to have an alley entrance for patrons, making it quite unique. This alleyway taproom is a homecoming of sorts for the Denver-based craft brewery thanks in part to Prost Brewing having an ownership team composed of multiple CSU alumnus. The Gold-medal-winning brewery makes German-style lagers exclusively and serves them in a Bavarian-themed taproom. Prost will only be serving its own beers at the Fort Collins satellite location, and for the time being, every beer will be brewed at the Denver location and delivered to Fort Collins. (321 Old Firehouse Alley, behind Illegal Pete's)
Former 1933 Brewing owners, Zach and Laura Wilson, Purpose Brewing paired with longtime New Belgium brewmaster Peter Bouckaert and his wife Frezi to launch Purpose Brewing and Cellars. Purpose has introduced a new concept to the Fort Collins brewing scene where beers change weekly and are never repeated. "We believe that everything in life has a purpose. Our purpose is to use a thoughtful, artistic, collaborative and authentic approach to craft one-of-a-kind coffees and beers. Our mission at Purpose Brewing and Cellars is to inspire creativity, promote craftsmanship, and support our local community." (4025 S Mason St Unit C)
This brewery opened its doors in 2015, Rally King has since become a favorite neighborhood brewery for Midtown locals and other craft beer lovers. Located right off of the Spring Creek Trail, this family run brewery with a 7 barrel system, is kid, dog, and bike friendly and offers a variety of brews from European style Ales to IPA's to sours. Releasing new beers 2-3 times per month, Rally King offers delicious one of a kind beers to please any palate! (1624 S Lemay Ave #4)
Opening in 2020, Stodgy Brewing is one of the newest breweries here in town! Stodgy Brewing is a casual neighborhood gathering space in northwest Fort Collins, where people can connect and relax around great beer. Founded by a brewer and a landscaper, the owners take pride in the brewery that they have created in a local landmark. With a large outdoor patio and cozy indoor spaces to drink beer, Stodgy is the perfect place to relax and have a wonderful end to your day exploring Fort Collins.
Colorado State University's on -campus brewery includes a full scale brewing operation for students of the Fermentation Science and Technology Program. Ramskeller has a 264-gallon brewing system, making it the largest housed system at any university in the country. Students brew for class and tap those beers at the Ramskeller campus bar. Stop by for a beer today, enjoy live music and a feeling of those old college days! (Lory Student Center First Floor, CSU Campus)
A departure from the traditional brewery, Snowbank Brewing focuses on innovation and a passion for the Colorado lifestyle. Beers are named for the wonderful Colorado landscape and made from Colorado snowmelt.  (225 North Lemay Ave #1)
Zwei is focused on German beers and the great heritage of Old World brewing. These ideals and passions have helped inspire their flagship beer line as well as their rotating taps. Embracing key German styles have led to lots of exciting beers at Zwei Brewing. (4612 South Mason St. #120)
Local Favorites
Authentic to Fort Collins