The legendary Mishawaka Amphitheatre is celebrating its 100th anniversary this year by pushing two constant themes, music and community, which have helped shape what the venue has become today.
Just a short drive up the Poudre River Canyon, The Mishawaka has served as a memorable gathering spot for locals and visitors alike, providing music, food, libations and incredible natural scenery during the past century.
The Mishawaka plans to celebrate its 100th anniversary by hosting a number of events, specials, community-minded collaborations and concerts that will last from February through September 2016. These series of events will be connected to the historical happenings of the Mishawaka.
The kickoff begins in February starting with a season-long special restaurant offer. In February of 1916 Walter S. Thompson paid a just $18 for the original property homestead application fee for the Mishawaka property. In honor of that, the restaurant is offering a dinner special that includes a steak, an appetizer and a draft beer for only $18. This special will last from February through September of 2016.
"We looked at significant dates in 1916 and planned related celebrations," general manager Dani Grant explained. "It is our intention to honor Mishawaka and her fans with each special event, all of which will maintain the music and community focus. It is such an honor to invite everyone to enjoy this incredible authentic place and its history. We are all very excited about commemorating the upcoming 100th year."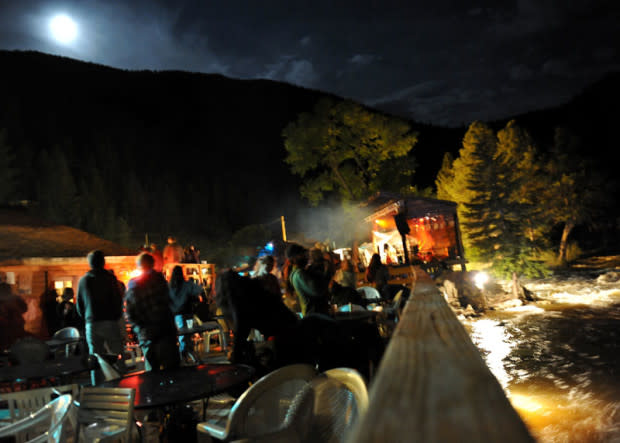 The Mishawaka Ampitheater
The 100th anniversary will include deals and discounts at the restaurant, VIP parties, building with Habitat for Humanity, a video premier, the release of Mishawaka Ale (a 2016 signature Odell Brewing Co. beer), a commissioned original art release and a gallery show featuring local artist Chris Bates, plus more.
The icing on the cake will be a special 100th anniversary concert featuring a surprise national act to be announced with the 2016 season lineup.
More details such as dates and times will be released as 2016 rolls along. There is also a chance more events will come to fruition. For more information you can visit the Mishawaka website or check back here at Visit Fort Collins as announcements are made.
Below is a tentative schedule of the 100th anniversary happenings provided by Mishawaka:
100th Anniversary Celebration (current schedule of events)
Steak Your Claim: February through September 2016
Mishawaka wants to treat customers and the community to a hearty dinner special including a steak, an appetizer and a draft beer -- all for $18. Available February through September 2016.
Sleep-out at The Mish + Chris Bates Original Mishawaka 100 Art Reveal: March 2016
In March of 1916, the Thompson family had their first overnight at the property. On March 25th, the Mish will host a sleepover party with musical entertainment for customers. That musical entertainment has been dubbed The Velvet Rope Dance Party, featuring none other than The Velvet Rope. The sleepover will be preceded by a gallery exhibit revealing the Mishawaka 100th anniversary art piece commissioned from local artist Chris Bates. The gallery exhibit will take place at the Downtown Artery on the same date at 6 p.m. with musical entertainment provided by Jus Sayin. For more details on the art release, concert and sleepover please click HERE. 
Season Lineup Video Premier at Fort Collins Museum of Discovery OtterBox Digital Dome: April 2016
Join us to find out what the 2016 season line up has to offer and see the 2016 Mishawaka video filmed by Koi-Fly Productions in the OtterBox Digital Dome Theater at Fort Collins Museum of Discovery. Additionally, see the museum's exhibit on the High Park Fire and learn more about the survivors and the horrific event that caused so much strife in the canyon. This event will be free and open to the public, but will require RSVP as space will be very limited. RSVP access for the season lineup and video viewing will be released March 1.
Odell Brewing Company will release a signature seasonal beer dubbed Mishawaka Ale. The first opportunity for the public to try it will be at our annual season kickoff concert, Head for the Hills "Pickin' on the Poudre" on May 14. Tickets will be available when the season opens in April of 2016.
Habitat for Humanity and Mishawaka Partner to Raise Roofs: June 2016
In June of 1916, Walter S. Thompson began to build the famous dance hall. In order to get it done, he relied on the mental and physical support of extended family and friends. Mishawaka values the help of family and community to make dreams come true, so we partnered with Habitat for Humanity to raise funds for their organization and celebrate community spirit. Join us in June 2016 for a Habitat for Humanity building event that includes musical entertainment and refreshments by Mishawaka. Details will be announced in April 2016.
Unveiling the Historical Chronicle and Exhibit at Mishawaka Amphitheatre: August 2016
There are many artifacts and media pieces that have been collected over the years by fans and friends of Mishawaka. We are creating a permanent display of these items for the public to enjoy. The details will be released for this event in July 2016. If you have any Mishawaka artifacts or memorabilia to share with us, please contact us at info@themishawaka.com.