There's perhaps no better spot in Colorado to take an art tour via your bike than the Choice City. Fort Collins is a Platinum-rated Bicycle Friendly Community and maintains more than 200 miles of dedicated bike lanes and 50 miles of marked or signed bike routes. What's even better is the city is home to a plethora of public art, from colorful pianos awaiting passersby nimble fingers to sculptures, murals, and even play structures that double as art. Explore and learn about Fort Collins' family-friendly bikeways, parks, natural areas, neighborhoods, and public art by visiting some of the impressive art displays detailed below. Make it a game and download your very own Bikeway Bingo cards.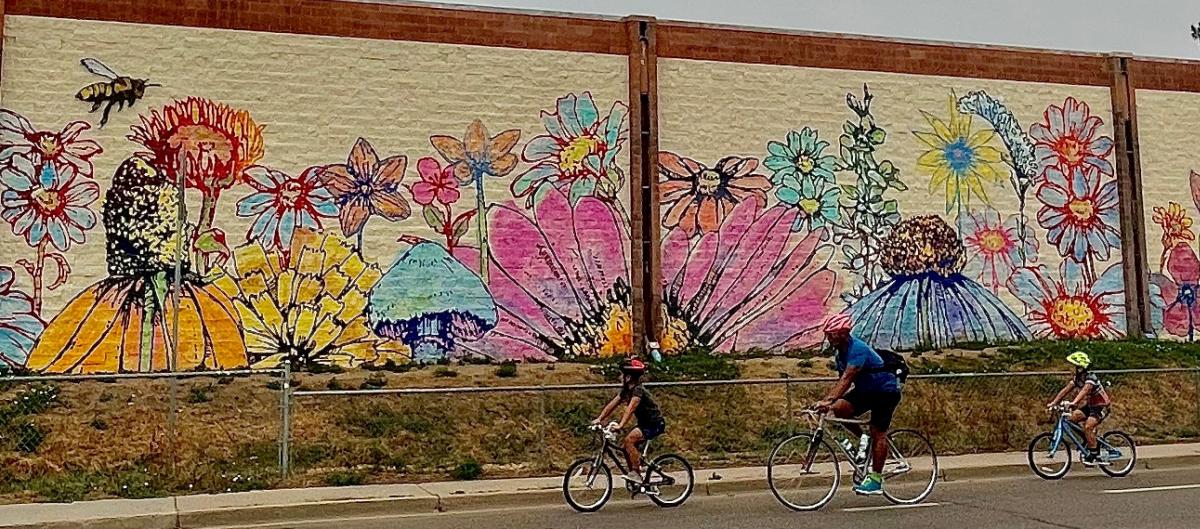 If you need a bike for your adventure, check to see if your hotel offers cruiser or e-bikes for guest use (yes, some do!) or consider renting a bike from: 
• Gearage, a used outdoor gear and bike shop near Old Town Square in Downtown Fort Collins;
• Recycled Cycles, which features two locations in Fort Collins;
• Or Spin, a new e-bike and e-scooter share program that launched in Fort Collins in July 2021. 
Don't forget to download bike maps for your adventure. Here are 16 stand-out art installations to bike to in Fort Collins: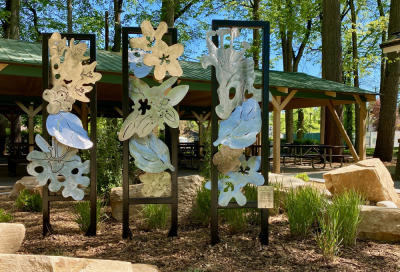 Location: 211 South Bryan Avenue 
Installed in 2021, this three-paneled metal sculpture by Fort Collins artist Lisa Cameron Russell is inspired by shapes that celebrate the native vegetation seen throughout the gardens in City Park. See it near the new restrooms in City Park.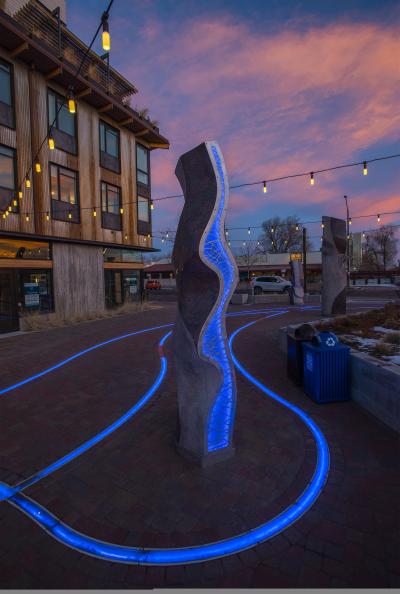 Location: Willow Street Plaza, corner of Linden and Willow streets
Four undulating granite columns feature relief carvings of the plants, animals, insects and landforms found around, within and below the Cache la Poudre River. Together, these columns celebrate the elements of a healthy river ecosystem.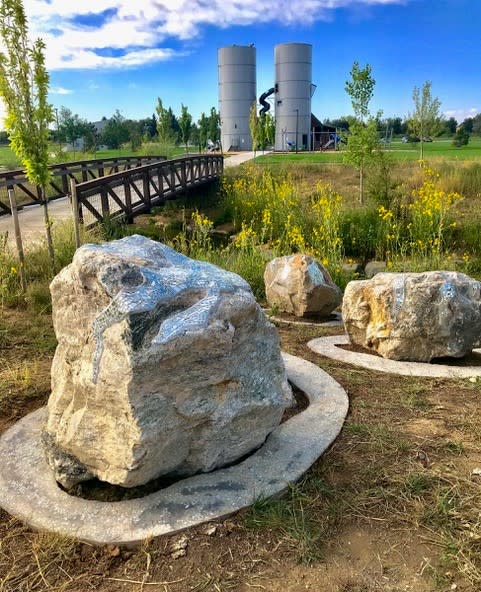 Location: Twin Silo Park
The blue sky and clouds are reflected in this grouping of boulders that feature a mirror mosaic. At the base of the boulders are photo luminescent stones embedded in cement in flows like water toward the creek. This artwork illustrates the source and movement of water.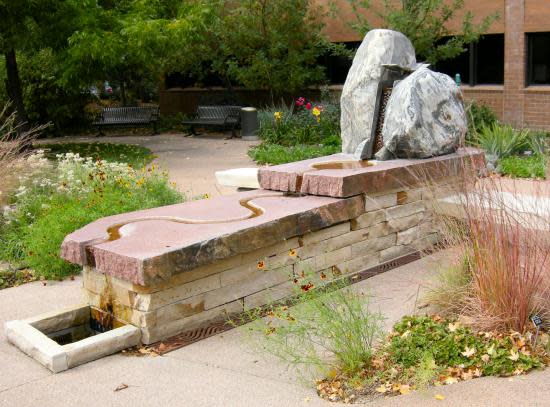 Location: Xeriscape Demonstration Garden at 300 Laporte Avenue
With only 15 inches of rainfall annually, treated water is a carefully manufactured supply that arrives to Fort Collins citizens only after completing the continuum illustrated in this environmental art piece. Using local materials Hansen's use of water invites contact by the visitor while utilizing low flows appropriate to the xeriscape garden concept.

Location: Wakerobin Lane, east of Regency Drive near Webber Middle School
This interactive public artwork includes a Map Stone, which illustrates how stormwater travels through the neighborhood drain system and into the pond area. The map is activated by pouring water over the stone where it can flow through drains, channels, and into the basin. 
Location: Sugar Beet Park, 9th Street, and Vine Drive
This iconic beet-shaped play structure pays homage to the park's location, near the historic site of the Great Western Sugar Factory, where sugar beets were processed. 
Location: Red Fox Meadows, southeast of Prospect and Taft Hill Roads intersection.
The artist hand-carved clay panels using patterns of water, wetland plants, and birds to create this beautiful compilation. Form liners were created from the carved clay panels and the molds were used to create the relief walls onsite, featuring a unified yet diverse collection of art that serves as landmarks within the natural area.

Location: Cottonwood Glen Park
An ode to Fort Collins' farming history, these two larger-than-life steel pieces invite you to touch them and interact with them.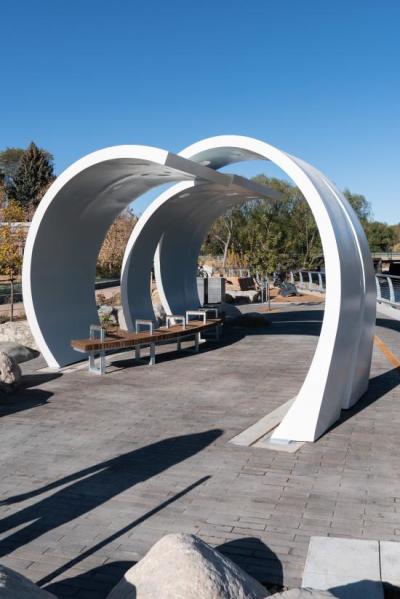 Location: Poudre River Whitewater Park
Located in the overlook plaza on the river's south bank, this curving "wave" shaped structure mimics the waves of water in the rapids of the Cache la Poudre River below. 
Location: Fossil Creek Trail, west of College Avenue
This 8-foot diameter flagstone sculpture draws from the natural color palette of the area and plays off the scale of the nearby tunnel. A brick factory was located in the area from 1902-1952. Search the sculpture to find a historic brick. 
Location: Northeast corner of Mulberry and Riverside
Inspired by sandstone cliffs in the valley where Highway 14 splits from 287, artist Robert Tully made these towering sculptures using 140 tons of local sandstone combined with metal accents. The piece lights up at night. Mulberry Street (State Highway 14) is part of the Scenic Byway leading up to the Poudre Canyon. 

Location: Westfield Park
This sculpture, which feels like a tree straight out of a Dr. Seuss story, is located at Westfield Park. The artist hoped it would inspire introspection on the part of the viewer.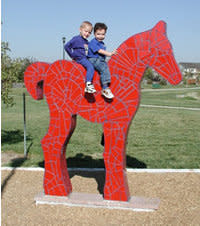 Location: English Ranch Park
This playful red tile mosaic pony sculpture commemorates the history of the park, which was once owned by the English family and used as a thoroughbred horse ranch. 
Location: Remington Bikeway near Remington and Lake by the School of the Arts, CSU
Yes, the king of pop art, Andy Warhol, really did sign this giant Tomato Soup can when he visited the CSU campus in 1981. In fact, he signed three soup cans, all created in collaboration with Warhol for the visit, though only one is on display today. 
Location: Avery Park (located on the restroom at the park, 1101 Castlerock Dr. 
The artist used the imagery of Franklin Avery's 1872 "New Town" plat to create this grid pattern architectural piece. In 1872, the Larimer County Land Improvement Company purchased and incorporated 3,000 acres of land outside the original town plan. Unlike the Old Town plat built off the Poudre River, Avery's 1872 New Town survey established a grid based on the compass points, creating a contrasting intersection of old and new streets still present today.
Location: Steward Case Park
Reflecting light and movement, this series of three stainless steel sculptures embody a sense of water through vertical waveforms to create a focal point at the small on-site lake at the park.