The 4th of July celebration in Fort Collins is quite the spectacle. There are a ton of events happening all over town, giving you a number of opportunities to celebrate the festivities on the day of and the rest of the weekend after. Here is a guide on how to spend your 4th of July in Fort Collins.
4th of July Parade 
One of the main highlights of the day and one of the most popular Fort Collins traditions happens on Mountain Ave. with the 4th of July Parade! Sit in awe as you watch incredible floats, firetrucks and even tractors go down historic Mountain Ave. This is the perfect family-friendly activity and a great way to celebrate the 4th of July while taking in Old Town Fort Collins and all its splendor. The Independence Day parade will begin promptly at 10:00 a.m. It will travel west on Mountain Ave., starting at Meldrum St. and ending at Jackson Ave. Please note that there will be street closures in the area of the parade and parking may be limited in some areas. 
Live Music and Fireworks 
The celebration continues in the evening at City Park with live music and fireworks. Local bands will take the stage from 4:15 p.m. until 7:00 p.m. The Fort Collins Symphony is set to play from 8:15 p.m. until the fireworks are scheduled to begin around 9:35 p.m. The fireworks display is scheduled to begin at 9:35 p.m., depending on wind and weather conditions. 
FireKracker 5K
Start the big celebration off with the 19th annual Firecracker 5k at 7:30 am. Enjoy a flat, fast 5k course that runs through City Park and Old Town streets before finishing up at Sheldon Lake. All ages and abilities are welcome; you can walk, jog, run or race. Kids can also join in on the fun during the kids' fun run  Start your Fourth of July festivities with the 19th annual FireKracker 5k at 7:30 a.m. in City Park. Visit http://firekracker5k.com for more information.
Golf Tournament at City Park Nine Golf Course
Tee off and enjoy this two person best ball tournament. What better way to enjoy the 4th of July that taking in a fun round of golf on Fort Collins' beautiful downtown course? Built in 1940 and located next to historic City Park and Grandview Cemetery, the course features smooth fairways, small greens, and mature trees. The tournament has a shotgun start at 8:00 a.m. Please call 970.221.6650 for details.
All American BBQ
Nothing goes together more with the 4th of July than an All American BBQ. You can expect to feast on homemade BBQ, indulge in an apple pie baking contest, listen to great musical entertainment, and more! Visit fcgov.com/seniorcenter for more information.
The Avery House
Celebrate an old-fashioned 4th of July at the Avery House. Admission is free and will be fun for all ages. This event coincides with the July 4th Parade that runs east on Mountain Ave. from Jackson Ave., finishing at Meldrum St. in front of the Avery House. The Old-Fashioned Fourth of July at the Avery House will last from 10:00 am -2:00 pm on the Avery House lawn. Admission and the activities are free. Please visit poudrelandmarks.org/old-fashioned-4th-of-july/ or call 970.221.6650 for details.
City Park Pool
Enjoy the park surroundings and Sheldon Lake for fishing and an outdoor pool at City Park Pool, located in City Park. This pool is the best place to be during a hot 4th of July. And don't forget, City Park Pool provides a water park experience. The pool will be open from 10:00 a.m. to 5:30 p.m.; admission is $3 for everyone on the 4th of July. Call 970.221.6655 for more information.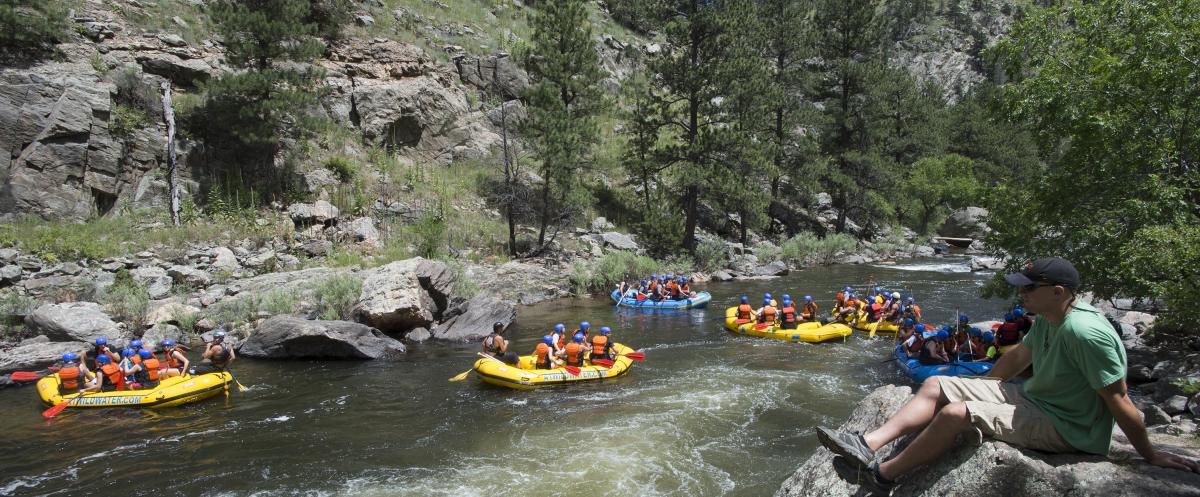 Activity Ideas for the long weekend
The winter snow is melting and the rapids are active in the Cache la Poudre River Canyon. Spending your 4th of July weekend in Fort Collins makes for the perfect time to bring the family out for a whitewater adventure. Check out one of our many whitewater rafting companies and book your trip today. The Poudre Canyon is one of the few spots across the state of Colorado that still hit its 100 percent accumulation levels over the winter, meaning the river is screaming for excitement. So grab your wet suit and a paddle and enjoy your adventure on the Poudre River. If it's your first time rafting feel free to check out our blog - A First Timer's Guide to Whitewater Rafting in Fort Collins.
With a long weekend in the palm of your hand it's the perfect time to get out and enjoy the great outdoors. Favorite camping spots include Horsetooth Reservoir and the multiple campgrounds along the Poudre River. If you're looking to get a little further from the hustle and bustle, check out the approximately 650,000 acres of back country near Arapaho and Roosevelt National Forests and CSU Mountain Campus. Let's also not forget the numerous amount of streams and bodies of water that offer ample fishing opportunities. Camping and fishing go hand-in-hand when visiting Fort Collins and the surrounding areas.
Horsetooth is always a popular spot during the long weekend. Not only do boats start gliding across the waters, but so do Stand up Paddle Boarders and Kayakers. If it's not quite warm enough for you to enjoy water recreation just yet, then we suggest taking in the view from one of the numerous hiking trails scattered throughout Horsetooth Mountain. These incredible hikes range from hour-long to half-day trips across the open space.
When thinking of what a classic summer evening in Fort Collins looks like, catching a movie at the Holiday Twin Drive In is something that always comes to mind. With new movies each weekend, this two screen outdoor drive-in theater is the perfect way to kick back and relax for an evening. Not to mention the Holiday Twin is one of just six drive in movie lots left in Colorado and one of only about 300 left in the entire country. So, open up your car hatch, pile in the blankets and pillows and grab your popcorn for a cozy evening at the Drive-In.
Don't be shy and hitch a ride on the only original restored city streetcar operating in the western U.S. today! If you're near City Park during the 4th of July weekend or any other weekend this summer, be sure to grab a ride to Old Town on Birney Car 21. Take a trip back in history while enjoying an experience you and your family won't soon forget.