"Given our travels and our own priorities, we have always appreciated breweries that are committed to and involved in their communities. It is magical, the way this product we love can be used to bring people together, and thus it's natural to support the work that so many amazing non-profits and community organizations do to make our community stronger."
-Carol, Co-Owner of Horse & Dragon Brewing Company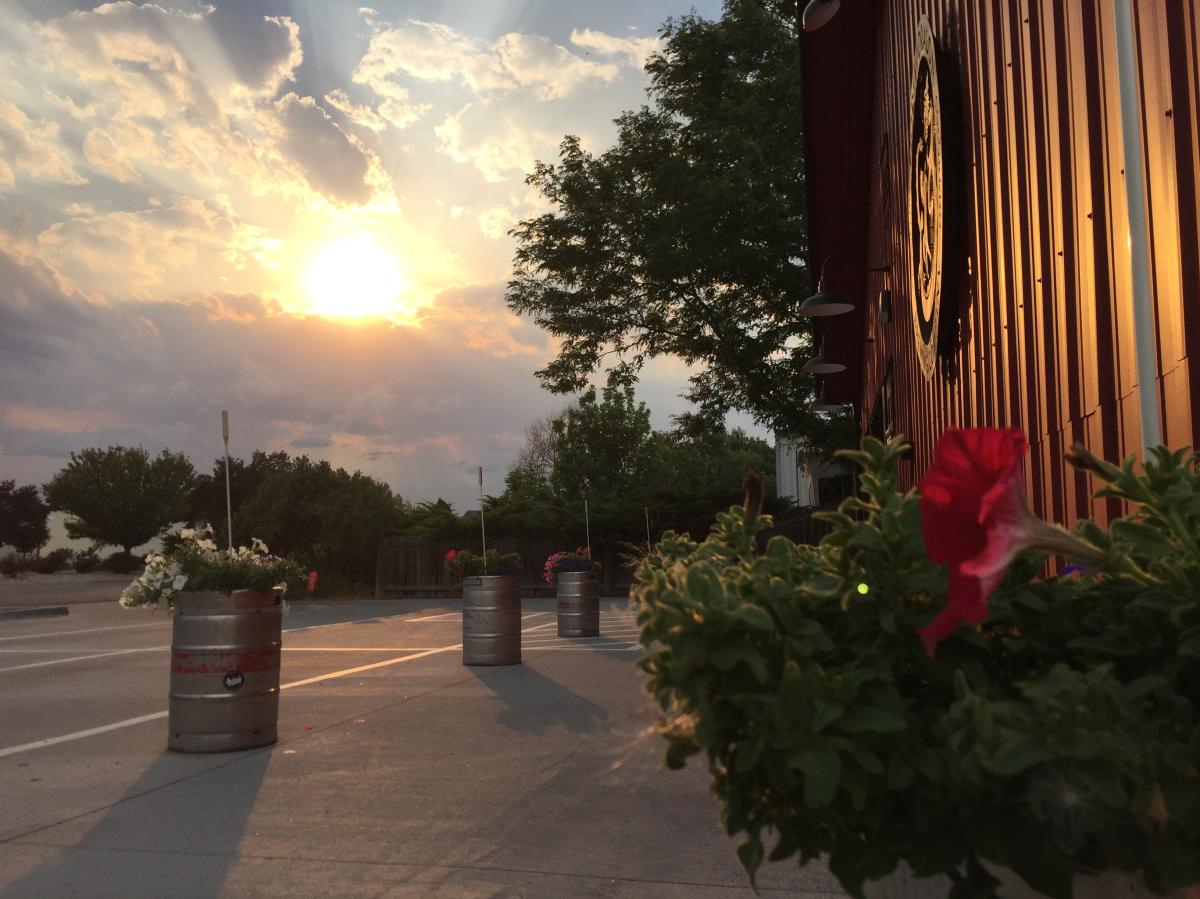 What makes  Horse & Dragon Brewing Company  "Horse & Dragon Brewing Company"?
Our small brewery is family-owned and run, and definitely operates as a family as well -- you'll get that vibe any time you stop in. We focus on making tasty beers that you want a second pint of, and we love beer that pairs well with food at home or out at one of FoCo's many terrific local restaurants. We run this brewery with a lot of heart for beer and for our community, doing as much as we can to support the many great local initiatives and groups that make Fort Collins special, and we welcome all comers!
Why should people visit Horse & Dragon Brewing Company?
You should come visit us because you love beer and we love people!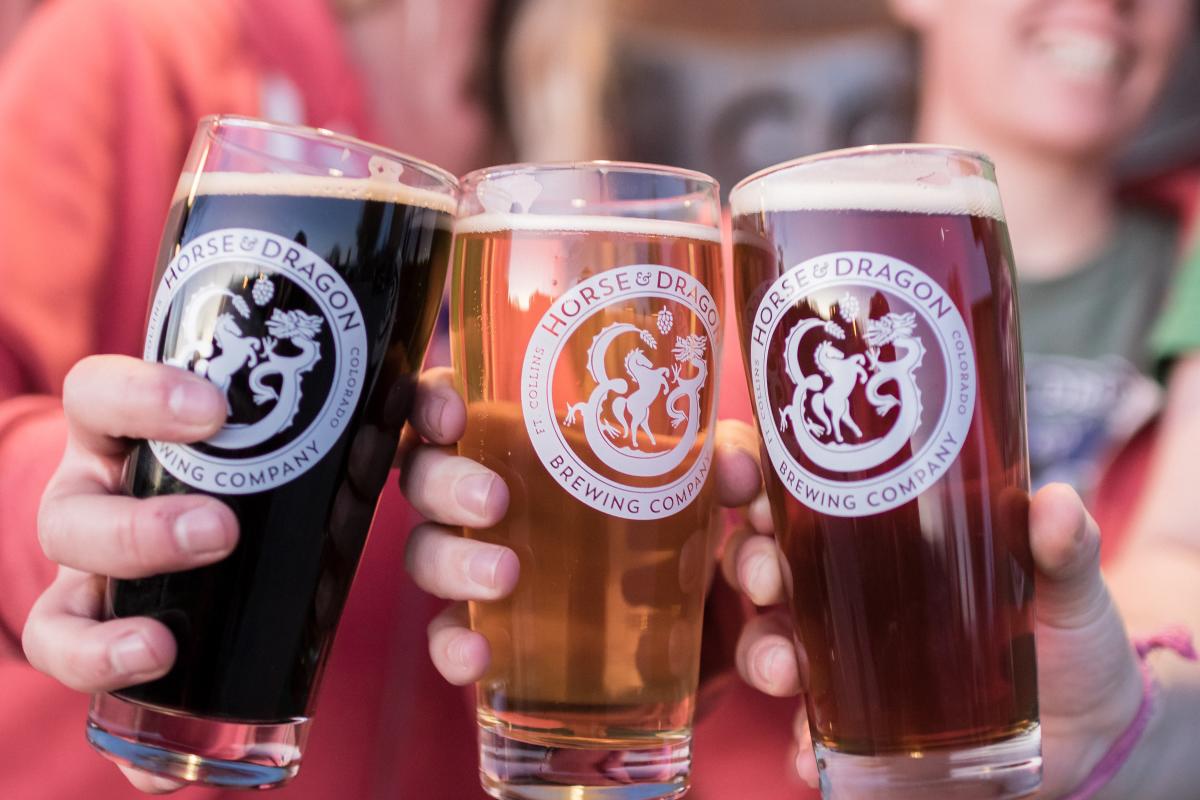 Describe the perfect visitor experience for somebody visiting Horse & Dragon Brewing Company.
We hope you'll walk up and feel instantly at home, whether you choose to sit outside on our "Aprés Ski" [sunny parking lot] area, the side patio, "The Beach" in back (COVID-era) or indoors in the tasting room. On the weekends, you have the chance to enjoy a beer back by the fermenters as well. One or more of our team will come chat with you about beer, Colorado, Fort Collins, or all three. Here you can sample up to 12 of our beers in flights, or enjoy a pint with a friend, have a snack of locally-made crackers and beer cheese, and truly relax. We have a constantly rotating selection of fresh, tasty craft beers, so there's usually something new to try. If you'd like to chat with an owner, just ask -- if we're there, we'll chat! If you'd like a tour of our brewing space, ditto. We love meeting folks from all over and hearing why you're here in Fort Collins and what you love about craft beer!

What is the story behind how you started Horse & Dragon Brewing Company?
We (Tim and Carol) met in college and married soon after graduation. We honeymooned in Napa Valley (where, folks say, great wine abounds). After the first evening of wine tasting at the hotel where we were staying, we asked where the nearest brewery was and spent the rest of our evenings there. We've lived in various places around the world and the US, seeking out craft beer in every location. In 2014, after 22 years of dreaming and saving and talking about opening our own brewery, we finally made that a reality by moving back to Colorado and opening Horse & Dragon. We feel doubly lucky that our daughters, who both grew up listening to these dreams and touring breweries with us, were here to help us start the business and now work full-time with us building it.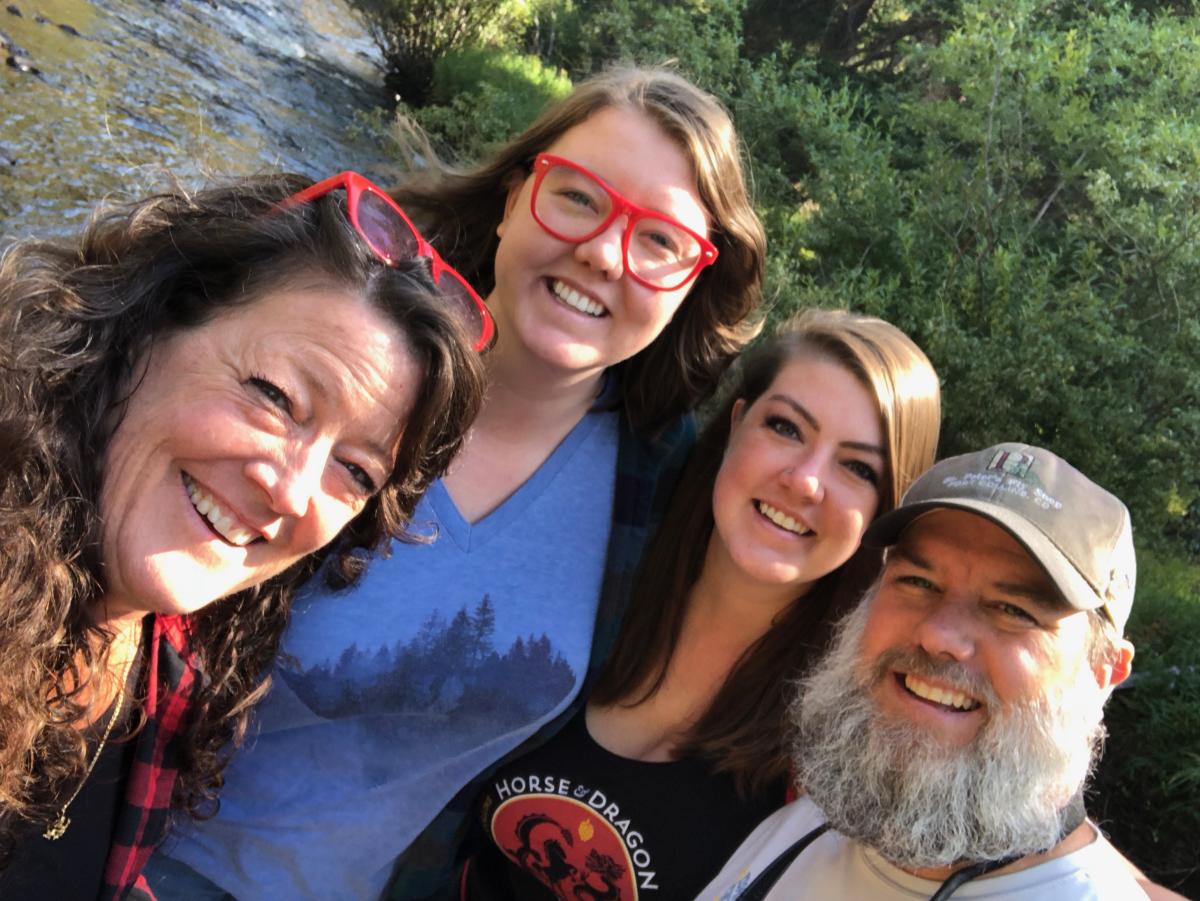 What is your backgrounds? Tell us  about yourselves  leading up to this point in your lives. 
I (Carol) grew up in Boulder and my grandparents worked for CSU, so I had been visiting Fort Collins my whole life. With a family cabin up the Poudre Canyon, even after I met and married Tim and we moved overseas, we always returned to Fort Collins and the canyon as often as we could. We loved the beer culture here and watched it grow each time we returned.
Tim worked for a large multinational brewing company for 16 years. I worked in writing, education, and with various community groups each place we lived. Although Tim homebrewed ages ago, both of us are far from a professionally trained brewer. We knew that making great beer was the only foundation on which we could build a craft brewing company. So we hired a head brewer to lead the charge on making great beer at H&D. Currently Tanner Hulse is ably heading up brewing operations, and he is training Alison Koziol as his assistant. Tanner was born and raised in Greeley, but came to us from Deschutes Brewing, and before that worked for Maui Brewing. He's implementing some great changes for us and we have confidence he's going to continue a tradition of making beers you want a second pint of!
At any rate, given our travels and our own priorities, we have always appreciated breweries that are committed to and involved in their communities. It is magical, the way this product we love can be used to bring people together, and thus it's natural to support the work that so many amazing non-profits and community organizations do to make our community stronger.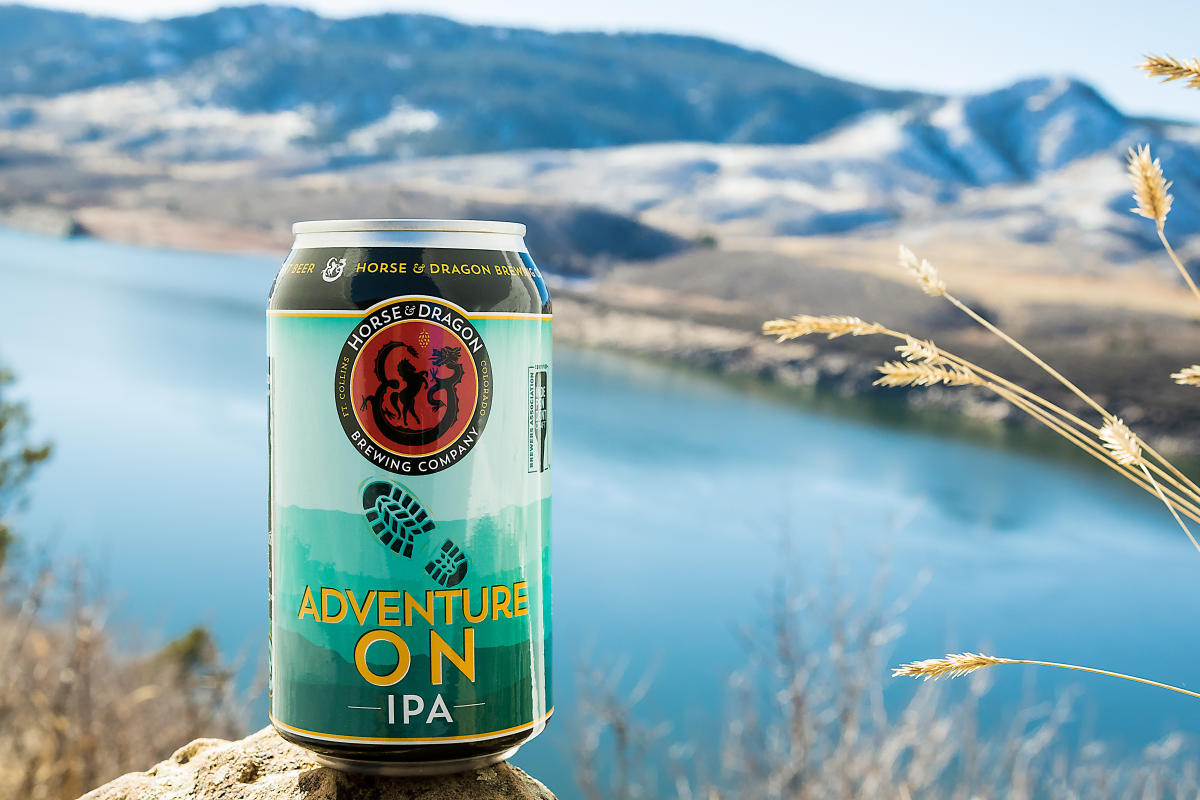 In what ways are you implementing sustainable practices into your business? Environmental stewardship is extremely important to Fort Collins,  how are you  partaking in these practices to better our  community?
Horse & Dragon is constantly working with a triple-bottom-line mentality.
We are, of course, in a water-intensive industry in an arid climate, which is of constant concern to us. We have several water conservation efforts ranging from an oversized tank to recoup and reuse all of our chill water, to a bucket placed under a steam-release pipe to capture drips we use to water the trees. We meet quarterly with other breweries interested in water conservation – our group is called BreWater -- and learn from them and watershed/water experts who agree to speak with us at these meetings. And we hand out packets of drought-resistant native wildflower seeds every Earth Day. :-)
When we repurposed the old airplane hanger that is home to Horse & Dragon, we upgraded the insulation and installed all LED lighting and skylights to take advantage of natural lighting when possible. We buy wind offsets for our energy use (and we hope to convert to solar eventually).
We work with local farmers to reuse our organic waste wherever possible (as do all other breweries we know in NoCO!). We work with Waste-Not in Johnstown to recycle any of our supply-side packaging possible, and talk with our suppliers about ways to reduce or improve packaging. We're trying to help our customers understand how better to recycle our packaging (e.g., the #unzipwithme campaign to raise awareness that aluminum cans – and even plastic bottles -- should be "stripped" of any labeling before being put into the recycling).
Back in the day when we could host private events at the tasting room, we worked with people using H&D's space to minimize their waste – for example, we have 80 sets of plates, bowls, flatware, and bandanas (for napkins) that any party can use rather than bringing in disposables.
We also work on social sustainability and recognize the difficulty a small manufacturer producing fast-moving consumer goods has in being truly a sustainable business. We provide our full-time employees with several benefits (some of which are almost cripplingly expensive, like health insurance). We're involved locally and nationally in a few organizations to try to make our voice heard on social, community, and environmental issues. And as much as we can we use craft beer to raise awareness and/or money for local and national causes that our team deems important. This is exhausting for a small team, but some of the work non-profit partners are doing is both more important and more exhausting than what we do, so we keep it as a priority.
We have a pretty long wish list of things still to do on the sustainability front, as well – we are not yet where we want to be. But we're always working on it!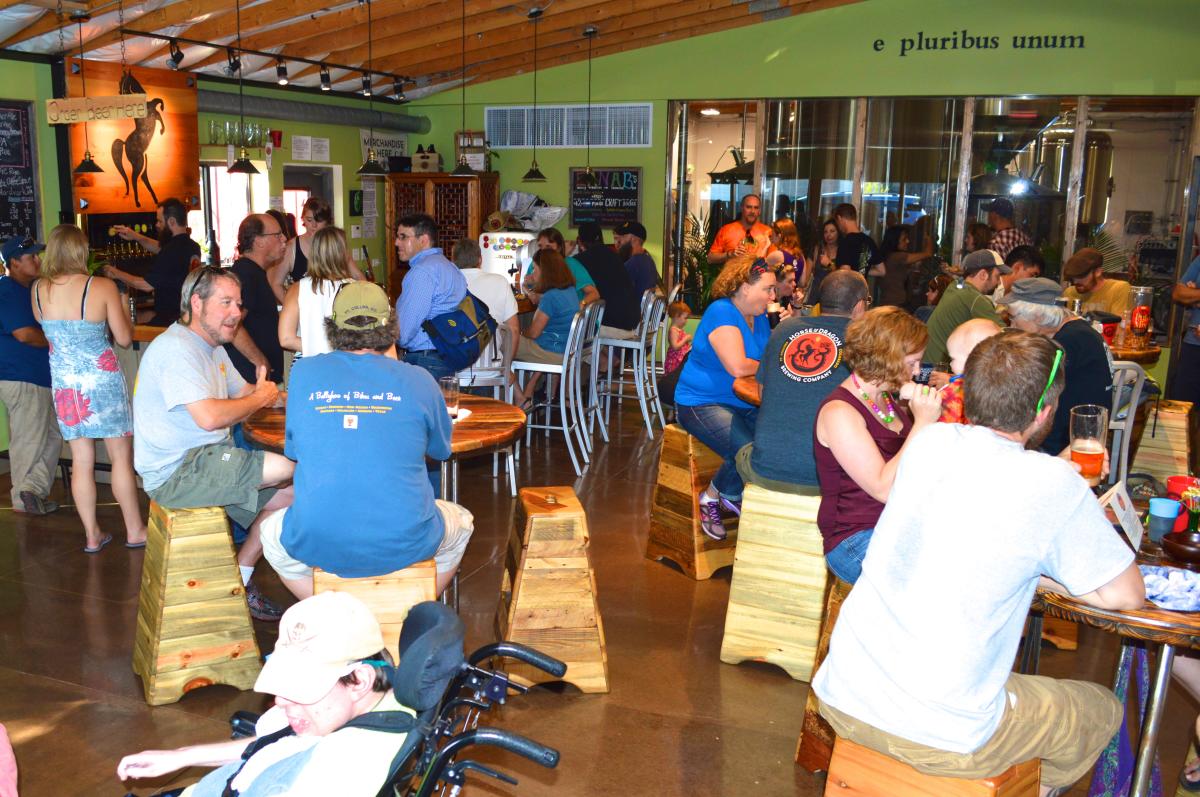 What challenges has  your businesses had to overcome in relation to COVID-19? When presented with these challenges, how did your business remain resilient through these trying times?
Our main business was celebrating community in gathering spaces and at events, and supplying bars and restaurants with beer in kegs. That business shut down overnight in March of 2020. It has been a really tough year for us, but has been much harder for our restaurant and bar partners and we have watched them with a combination of admiration and worry. We have been able to decrease our production dramatically and put the majority of the beer we've produced into cans instead of kegs, but buying cans at our size is a challenge, both supply- and cost-wise, and continuing with this ratio of kegs to cans is untenable for us in the long run. We continue to look for ways to make this new model work and are working to support our friends in the hospitality industry as they reopen safely. And we're immensely grateful for the great folks who continue to come out for a socially distanced beer or order for curbside pickup out at the brewery. We had to cut back on our brewing staff and also laid off one of our 3 sales people and our entire tasting room team when we closed in March, which was the lowest point, emotionally, that we'd experienced in our business. The rest of our team, and the tasting room members who rejoined us when we reopened in June, have worked so hard and stuck with all the changes and roller-coastering over this past 9 months. They are amazing. Because of their hard work and great attitudes, Horse & Dragon has been able to provide many people a tiny bit of safe respite during this very stressful time.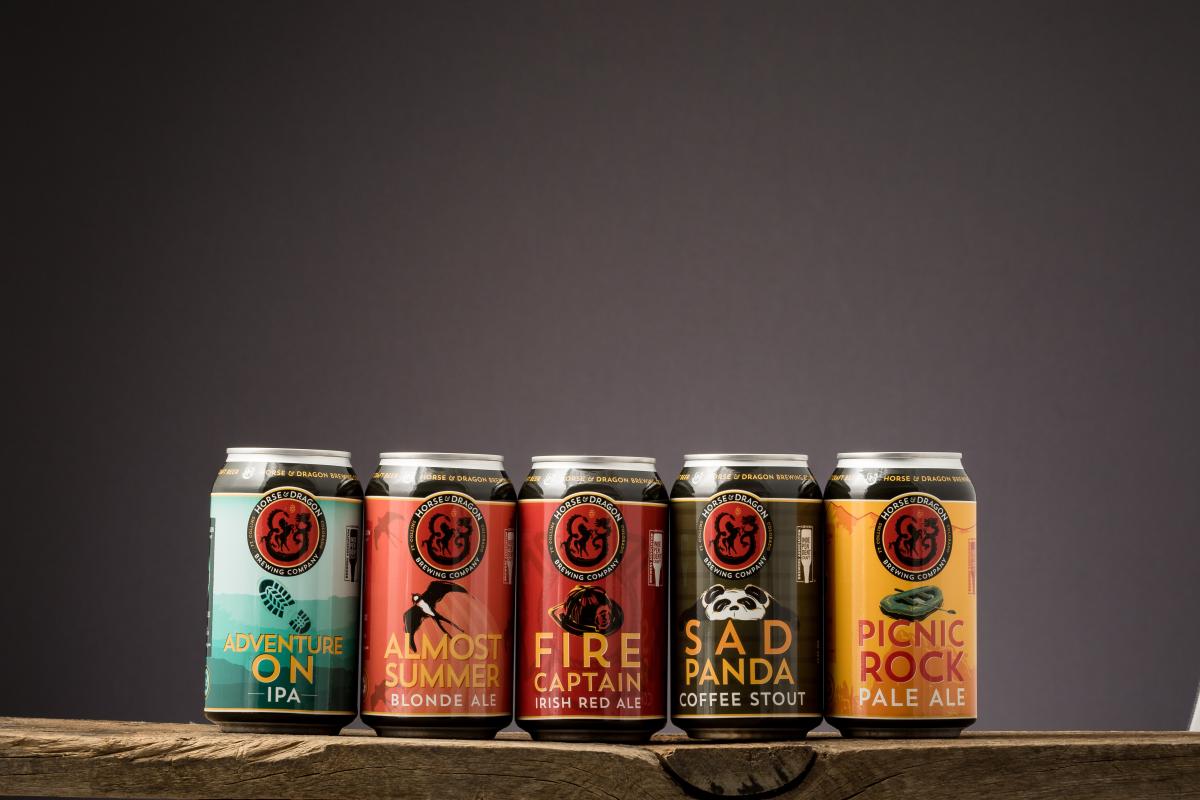 What do you love about the Fort Collins community?
Fort Collins has a fantastic climate, makes the mountains and the great outdoors very accessible for people of widely varied adventure thresholds, and is chock full of friendly and welcoming people. As well, if you are a craft beer fan, a foodie, a live music devotee, or a bike rider, it's nirvana. And I love the way so many people still say, "Hello!" and strike up a conversation with strangers (who then often become friends).
What is your message to the Fort Collins community?
THANK YOU for being you, for being here, and for working together to constantly make our community a better place for all. (As ever, it's a work in progress!)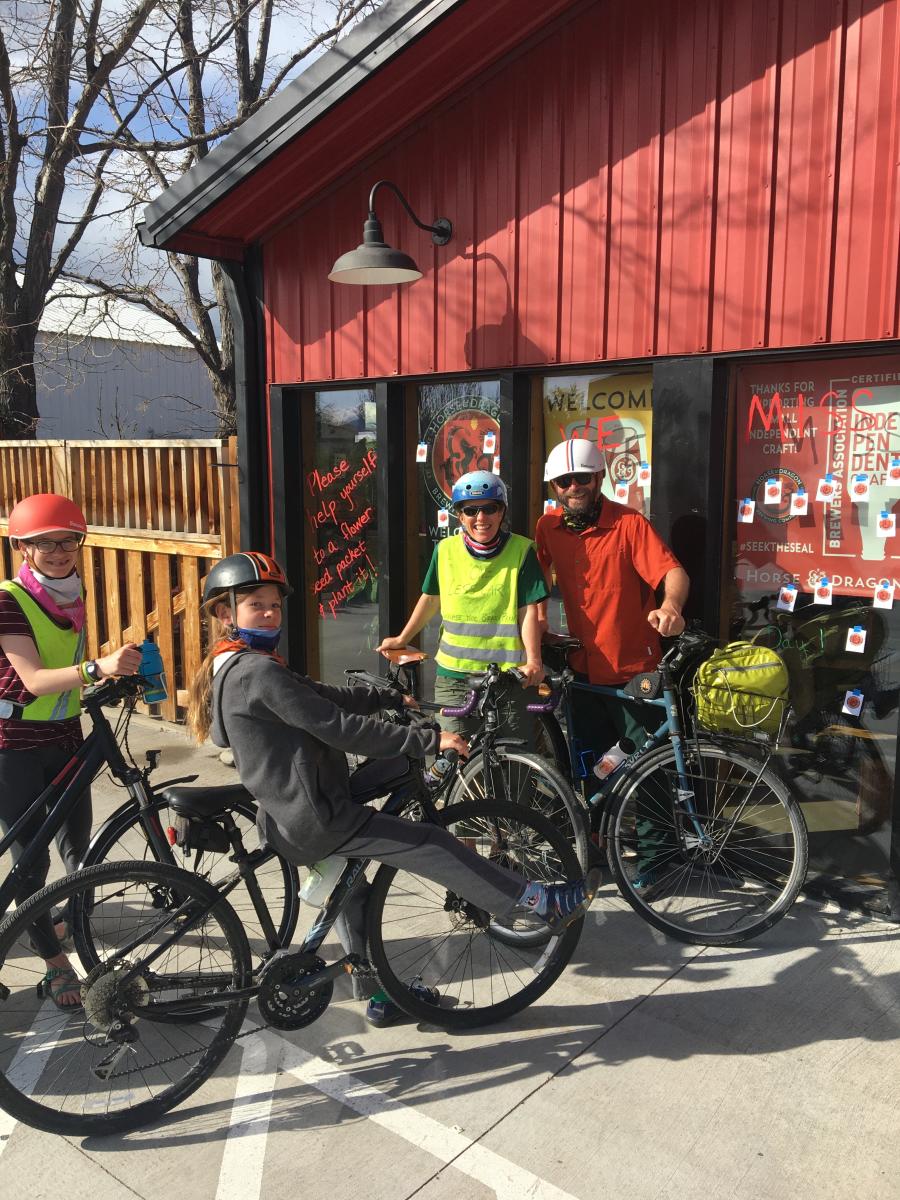 Horse & Dragon Brewing Company
Address: 124 Racquette Drive, Fort Collins, CO 80524
Phone: (970) 689-8848
Hours of Operation: Wed-Thurs 1-6pm, Fri-Sun 12-6pm
Website: www.horseanddragonbrewing.com
Instagram: @horsedragonbrew
Facebook: @horsedragonbrew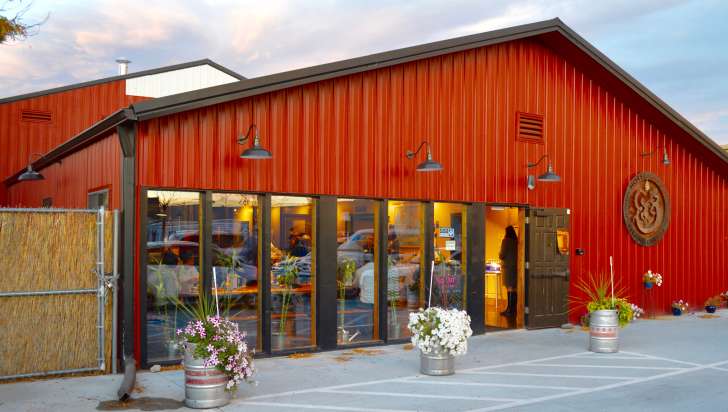 Horse & Dragon Brewing Company
...because beer brings people together. Horse & Dragon is a small, family-run brewery that opened in 2014. We focus on creating excellent craft beers and supporting our Fort Collins and Colorado communities in as many ways as possible. Join us at the...
Read More