Featured Holiday Events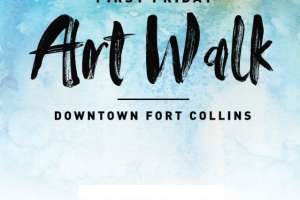 First Friday Art Walk
Fort Collins First Friday Art Walk in Historic Downtown Fort Collins is home to a vibrant art community! Each month, these fine and "folk" art galleries display new showings and open their doors for...
Learn More
Itinerary DAY 1
Mugs is locally owned and operated. The coffee lounge also always tries to locally source when possible. Mugs is rumored to have the best breakfast burritos around and the coffee is superb. They truly believe coffee shops very well may be one of the last remaining daytime social gathering spots in most communities.
306 W Laurel St.
(970) 449-2265
www.mugscoffeelounge.com
Just because there is snow on the ground doesn't mean you can't enjoy one of the best outdoor recreation sports Fort Collins has to offer…Mountain Biking. Fat Tire bikes allow for you to cycle through the snow on the same trails that you love during the summer. Take a tour with Front Range Ride Guides and leave the stress of research and rentals behind.
www.frontrangerideguides.com
This local city butcher and deli offers the perfect after-recreation meal with high quality ingredients and tasty craft beer. Enjoy a relaxed lunch after your morning of Fat Tire Biking and get the fuel you'll need.
104 W Olive St
Fort Collins, CO 80524
(970) 490-2489
www.choicecitybutcher.com
Fort Collins is home to over a dozen craft breweries including nationally recognized New Belgium Brewery and Odell Brewing Co. Enjoy an afternoon at one of our local breweries small or large and wind down after your outdoor adventure.
Fort Collins breweries
As the Welsh Rabbit Cheese Shop's accompanying bistro, here you can come in, sit down, and enjoy flights of cheese paired with wines and beers that have been crafted both near and far.
216 Pine St.
(970) 232-9521
www.thewelshrabbit.com
Fort Collins is home to around 50 natural areas including 100 miles of trail and over 40,000 acres of preserved and protected habitat. These areas are perfect for your next recreational outing. Enjoy activities such as fishing, mountain biking, hiking and more as you take a step into nature. These Natural Areas are open the public and conveniently located at different areas all over town for that perfect mid-day getaway.
www.fcgov.com/naturalareas
The Kitchen Fort Collins is a community bistro located in the heart of historic Old Town, open seven days a week at 11am. The menu focuses on rustic, organic plates sourced from local farmers and purveyors. The atmosphere and service reflects The Kitchen's philosophy: community through food.
100 North College Ave
(970) 568-8869
www.thekitchenbistros.com
Social is the place in Fort Collins for properly crafted cocktails, sommelier selected wines, and charcuterie. Located underneath an Old Town shop, at the entrance into Old Town Square, Social is designed with a soft modern/industrial decor as to keep the focus on what they are best at...quality food and beverage.
1 Old Town Sq
(970) 449-5606
www.socialfortcollins.com
Itinerary DAY 2
The Rainbow is a family owned restaurant specializing in vegetarian breakfasts, lunch and dinners for the past 38 years. Rainbow guests come for the great fresh taste and personal touches that are the hallmarks of the local establishment. The Rainbow also offers non vegetarian options for guests who prefer to eat chicken, turkey or breakfast meats such as ham, Canadian bacon or bacon.
212 W Laurel Street
970-221-2664
rainbowfoco.com
The Poudre Canyon offers beautiful views during the winter season. Rent your gear in town and head up the way to a snowshoeing adventure of choice.
Mineral Spring Gulch: Located in the Poudre Canyon this trail is great for a short, mid-winter excursion. It is 4 miles long, an out-and-back trail and great for beginners. 
Directions: 149-211 Crown Point Road, Roosevelt National Forest, Bellvue, CO 80512, USA
Little Beaver Creek Trail: Located in the Poudre Canyon this trail is great for early season snow and is moderate in skill level. It is 2 miles long, out-and-back and gains 1,500 ft. in elevation.
Directions: 7311 North County Road 63E, Roosevelt National Forest, Bellvue, CO 80512, USA
Big South Trail: This 6 miles trail is located within the upper reaches of the Poudre Canyon and offers stunning views of frozen waterfalls. It is an out-and-back trail with moderate difficulty and gains 560ft in elevation.
Directions: 48924 Poudre Canyon Highway, Roosevelt National Forest, Bellvue, CO 80512, USA
Green Ridge Road: Located in the upper reaches of the Poudre Canyon, this moderate difficulty trail offers great views from and of several frozen lakes and travels through the rolling forest. At only 3 miles long this snowshoeing trip is perfect for a quick out-and-back trip.
Directions: 51561 Poudre Canyon Highway, Roosevelt National Forest, Bellvue, CO 80512, USA
Blue Lake:  As one of the most popular snowshoeing spots in the upper reaches of Poudre Canyon, this trail offers an easier short, round-trip excursions or a more challenging, all-day adventure. This trail is 4.75 miles one-way and offers beautiful views of Blue Lake surrounded by towering mountains.
Directions: 51561 Poudre Canyon Highway, Roosevelt National Forest, Bellvue, CO 80512, USA
Trap Park: Located in the upper reaches of the Poudre Canyon this moderately difficult trail follows a small canyon for 11.5 miles and offers beautiful views of the Neota Wilderness and beautiful riparian area.
Directions: 51561 Poudre Canyon Highway, Roosevelt National Forest, Bellvue, CO 80512, USA
JAX Mercantile is a local Fort Collins sportsman shop that sells gear for all your local outdoor adventures. Rent your snowshoeing gear here before you head up the canyon and you'll be sure  to get expert advice and fitting from the staff.
1200 N. College Ave
www.jaxmercantile.com/rentals             
This local restaurant features a diverse European-inspired menu created by local chefs. Here you can explore your most discerning tastes in a casual-yet-classy setting, where the ingredients are the finest available and local or organic whenever possible. Try their tapas inspired menu for a small bite or their full menu for plates sure to fill your belly and please your taste buds.
1200 South College Ave
(970)-212-3399
www.cafevino.com
Horse and Carriage rides can be booked almost every night in Old Town. This is a chance to take in the beautiful scenery of Historic Old Town Fort Collins in a more intimate setting under the beautiful Holiday Lights, and maybe some light snow fall to make the experience ever more memorable. Envision you and that special someone cuddled up underneath a blanket while rolling along the historic streets of Old Town, soaking up that romantic moment. It doesn't get much better than that.
This local restaurant serves contemporary southwestern cuisine in a unique setting. Enjoy their large, house made margarita selection; house infused tequilas, and homemade sangria along with a made-from-scratch kitchen serving fresh cuisine for dinner and lunch. Enjoy their outdoor patio accompanied by fire pits which surrounds the historic art museum in Old Town Fort Collins.
201 S. College Ave.
(970) 631-8076
Blueagavegrillcolorado.com