Fort Collins is one of those cities known for its natural beauty and charm - from the front range of the Rocky Mountains to a downtown so eye popping that Disneyland Main Street USA used it for inspiration, there's no area you won't be in awe of in this city. So, we invite you to grab your suitcase and come on out for your weekend getaway to Fort Collins. We have even provided you a list of great things to do on your trip.
The beautiful scenery enjoyed just minutes outside of town often makes one forget that they're in urban Fort Collins. Just outside of the city limits, you'll find renowned hikes and spectacular scenery. Everything from 'lunch break' hiking to day-long hikes, or multi-day hikes are just a short drive from the heart of town.
Horsetooth Falls -  One of the most family-friendly hikes in Fort Collins at a little less than 2.5 miles roundtrip.
Arthur's Rock - Offers some of the most magnificent views of Horsetooth Reservoir and the city of Fort Collins.
Horsetooth Rock - One of the more unique rock formations you'll ever come across and offers views upon views.
Greyrock - Resides in Cache la Poudre River Canyon less than 20 minutes from Old Town while offering outstanding 360 degree views of the Canyon.
 
Lory State Park - Offers tons of trails with beautiful views and ranging difficulty levels.
Horsetooth Mountain Open Space - One of Fort Collins greatest outdoor playgrounds and it is open year round.
Cache la Poudre River Canyon - Offers excellent winter recreation even when there is no snow on the ground, but when there is snow on the ground be sure to enjoy beautiful views of the backcountry blanketed by snow.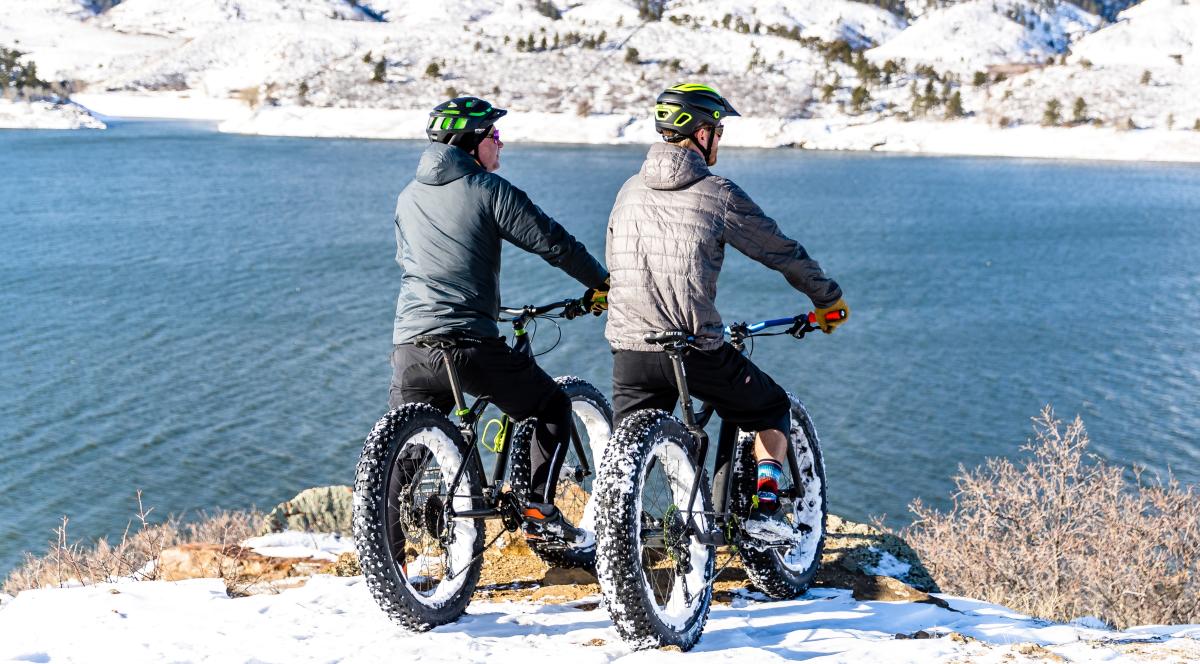 Photo Credit Josiah Roe
If you're yearning for the incredible scenery of the backcountry, you need to look no further than nearby Cameron Pass or Lory State Park. Both offer amazing opportunities to experience riding a Fat Bike. Our friends at Front Range Ride Guides are more than willing to take you out for an awesome adventure. 
The preferred method of transportation in Fort Collins is by bike. With multiple bike shops around town offering bike rentals and Spin, the city's Bike Share Program, it's very easy to find the perfect bike for your adventure. Fort Collins is a Platinum Level Bicycle Friendly Community (1 of only 4 in the nation) and offers 285+ miles of biking trails, paved and unpaved, to fit your biking desires. Popular city bike trails include the Spring Creek Trail and the Poudre River Trail, and don't forget brewery bike trips are also a fun option.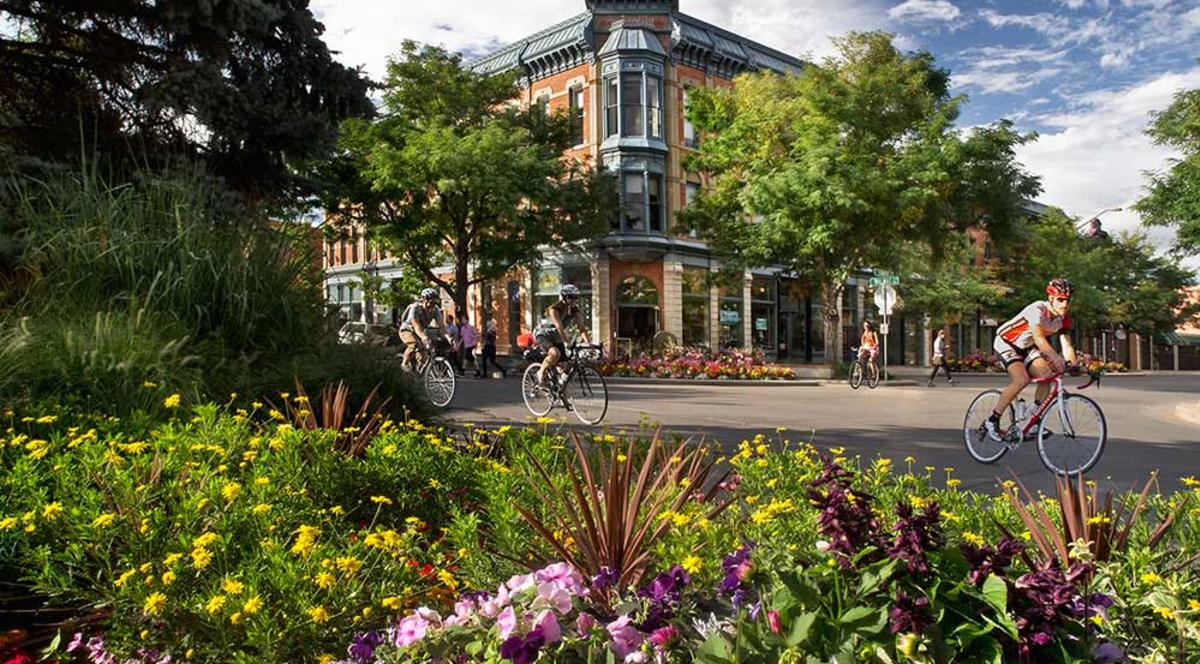 We are very proud of our well-preserved Old Town, which is designated both a national and local-historic district with 28 historical buildings. You'll likely notice a strong resemblance to Disneyland's Main Street USA: we're proud to say that it was modeled after our own downtown Fort Collins! Old Town Fort Collins is lined with local boutiques, cafes, antique shops, retail stores, and candy and confectionery shops.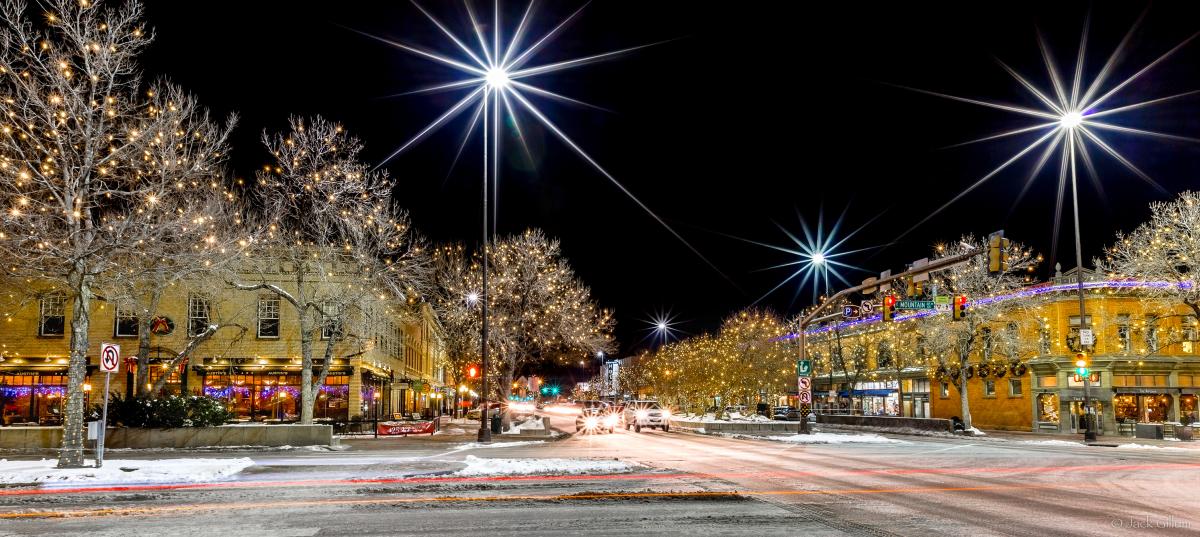 As it always has, Historic Old Town Fort Collins will be lit up with thousands of strands of holiday lights that illuminate the streets throughout all of beautiful downtown starting the first Friday in November. The stunning display of low energy/sustainable LED lights spans seven blocks, lighting Old Town's trees, European-inspired alleyways and beautiful storefronts. You can experience the downtown lights every night up until the last night which is Valentine's Day, February 14. 

Every town has an identity, a way of life, a certain aura-something that specifically defines why the town is special. For Fort Collins, that certain something, is craft beer and the culture that has grown around it.
There are numerous ways to explore each of the 20-plus breweries in Fort Collins. You can go on a beer and bike tour or indulge in a self-guided tour. There are so many unique ways for everyone of age to experience the incredible beer that resides in Colorado's craft beer capital.
 
Social - This locally-owned speakeasy takes you back in time, giving you the rebellious feeling that our elders once had when they enjoyed drinks at illicit establishments during the prohibition era.
Ace Gillette's - Since we are on the subject of speakeasies, we have to mention the speakeasy that serves as the epitome of elegance and grandeur, Ace Gillette's.
The Fox and the Crow - One of only two cheese shops and bistros in Fort Collins. Located in Scotch Pines Village, The Fox and the Crow has a fantastic central, mid-town location right next door to Sprouts.
Otto Pint - A locally-owned (same owner as Domenic's Bistro and Vincent Heavenly Pies & Pasta) casual restaurant that serves up pizzas and craft beers, but what sets it apart is the fact it was converted from an old gas station.

Fort Collins holds artistic and colorful art around each corner waiting to be experienced and appreciated. Thanks to a community commitment to Art in Public Places and talented artists, Fort Collins hosts many beautiful art projects that the public can enjoy freely as they walk along the streets or through alleyways.
Plan a self-guided tour of the city's Transformer Cabinet Murals and Pedestrian Sidewalk Pavers. Pianos About Town has more than a dozen pianos painted each year by local artists and placed throughout town in public spaces for budding musicians to play.
Placed throughout Old Town Fort Collins are ghost signs created in the past and preserved into modern day. Pick up a Fort Collins Visitors Guide to find a list of all 10 Old Town Ghost Signs and explore the area while discovering its history through these signs.
Visit historic buildings that have been beautifully preserved through the years and learn what their function was in the past. From historic hospitals to the city's oldest restaurant, this tour will show you a whole new side to Old Town. 

Fort Collins Ghost Tour
Fort Collins Tours will take you on a thrilling trip through Old Town where you will learn the history of Fort Collins and it's bone chilling past. One of the tours they offer is the Fort Collins Ghost Tour where you will not only learn about the history of Old Town but you will also get a chance to explore the haunted sites around town. If you're ready for a bone-chilling historic experience, Fort Collins Tours is definitely the way to go.

The Avery House was built in 1879 by Franklin Avery who is responsible for the design of our wide streets around Fort Collins and he also was the founder of our local First National Bank and instrumental in developing many of our early water projects that enable agriculture to flourish in Northern Colorado. This house is now listed in the National Register of Historic Places and is available to tour on Saturdays from 11-2 pm and Sundays from 1-4 pm.
With options to support local all around Old Town, to big mall shopping at the Foothills Mall, to outdoor store front shopping in Front Range Village, Fort Collins has a little bit of everything when it comes to finding the perfect gift for that special person or for yourself. So, if you're looking for last minute gifts or if you're looking to spoil yourself after the Holidays, Fort Collins is your one stop shop for everything you need.

Fort Collins offers the only Winter Farmers' Market in Northern Colorado, featuring rows of beautiful winter produce like fresh greens, root vegetables, local mushrooms and soft cheeses from the Fort Collins-based MouCo Cheese Co. among other things.
Finding a place to stay in Fort Collins after a performance in Old Town or a day of hiking is easy. Fort Collins lodging options in the area span from charming B&Bs in historic homes to hostels to refreshing full-service hotels suitable for meetings and conferences.
Local Guest Ranches offer visitors a chance to enjoy western hospitality and to get away from their daily rigors, and mountain cabins offer great getaways whatever the season. Hotels, motels, and bed & breakfasts are located in every major area in Fort Collins including the Harmony corridor, Mulberry corridor, Old Town Fort Collins and near Colorado State University.