Valentine's Day 2022 is coming up and Fort Collins offers many specials to commemorate this sweet holiday. From exquisite lodging specials to events honoring the holiday, we're sharing all of the different ways to celebrate Valentine's Day in Fort Collins. 
Lovely Lodging Specials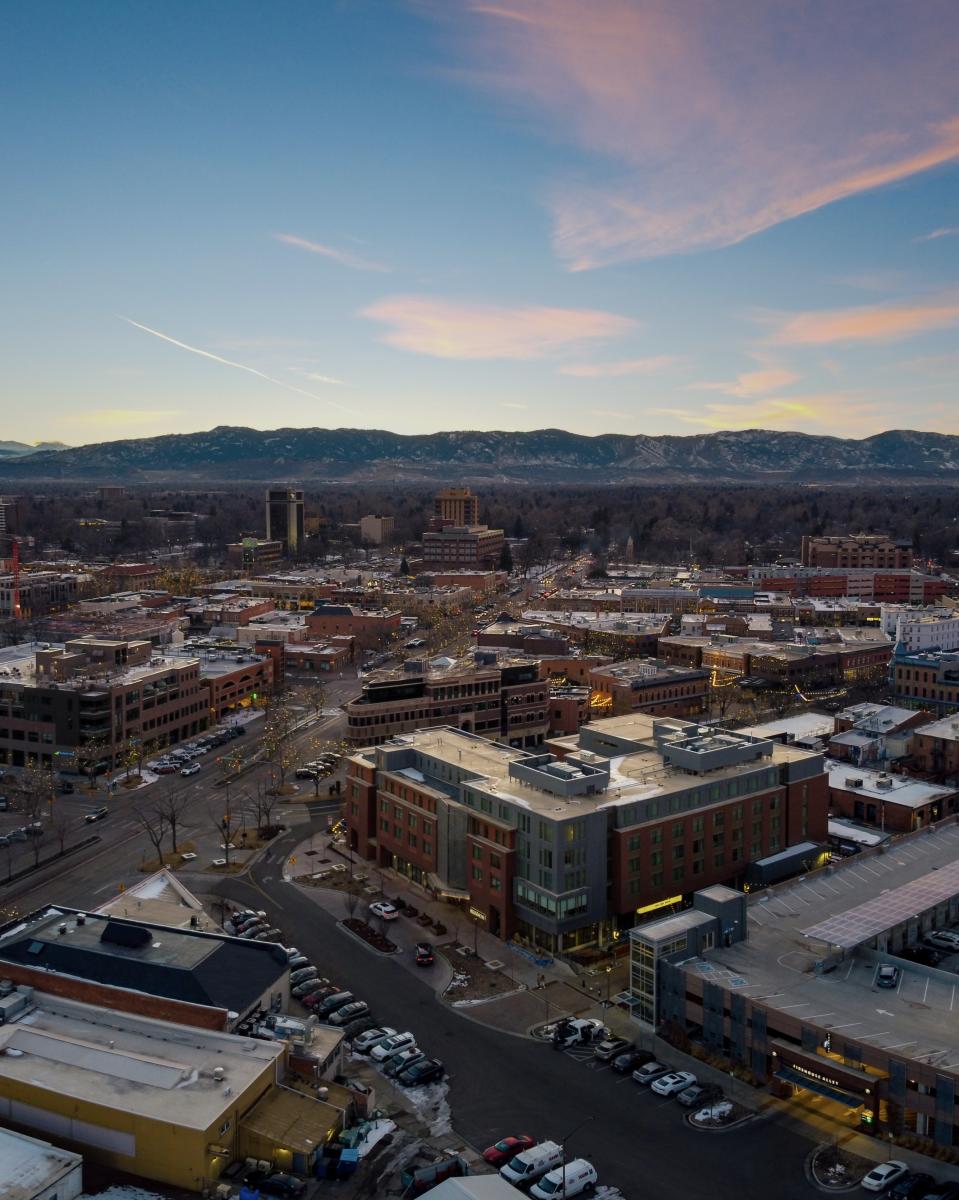 When you book your reservation at The Edwards House Inn, you have the option to choose from a number of packages to add to your reservation that will make this Valentine's Day a memorable retreat for you and your loved one. The Romance Package includes a warm welcome into a candle-lit room, rose petals, fresh flowers, handcrafted chocolate truffles from Nuance Chocolate, strawberries, and a sparkling apple cider for a beautiful toast to romance. Other fabulous additions include the luxurious Bath and Shower Indulgence packages, Facial Rejuvenation Package, and even a Dinner Service for Two Package. 
How about an overnight accommodation that includes a three-course meal for two with wine pairing, cocktails and reserved seating in the gorgeous Sunset Lounge, a vibrant floral arrangement, artisan-crafted Nuance Chocolate truffles paired with the finest beverages, and a choice in the deluxe suite options: Beer and Bike Suite, Rams Suite, or the Music Suite? That's exactly what The Elizabeth Hotel offers in their grand Ultimate Romance Package. 
Couple's Getaway: An Overnight Stay at The Armstrong Hotel
Book your king bedroom stay at The Armstrong and enjoy some favorite itineraries for a romantic getaway to Fort Collins, from adventure-centric to romantic rendezvous. Ace Gillet's, the elevated jazz lounge found inside of The Armstrong Hotel, will also be open Feb. 14 from 5-11 p.m. for Valentine's Day. Treat yourself and your love to Valentine's menu specials while relaxing to the beautiful sounds of Mark Sloniker on the piano. Call in advance to make reservations: 970.484.3883.
Valentine's Day Drinking and Dining Specials 

The Cache at Ginger and Baker is offering a chef-created dinner special that includes halibut with forbidden rice and asparagus in blood orange gastrique. In The Ginger and Baker Café, choose between mahi-mahi with strawberry mango salsa or Little Cranberry Ranch wagyu with cognac sauce. These Valentine's specials will be offered throughout Valentine's weekend from 9 AM to 10 PM. Make your reservations here. 
Galentine's Brunch and Valentine's Specials at Next Door 
On the northeast corner of College and Mountain is Next Door American Eatery offering up both a Galentine's Day brunch special and a Valentine's Day special. On Feb. 13 will be a live DJ playing sappy love songs with $5 mimosas offered from 10-3 p.m. On Feb. 14, take you and your love out to grab a hot bite and indulge in the Nashville Hottie sandwich special: a Nashville-style hot chicken sandwich with a promotion for a buy one get one on your next visit offer. 
Valentine's Dinner for Two at The Mishawaka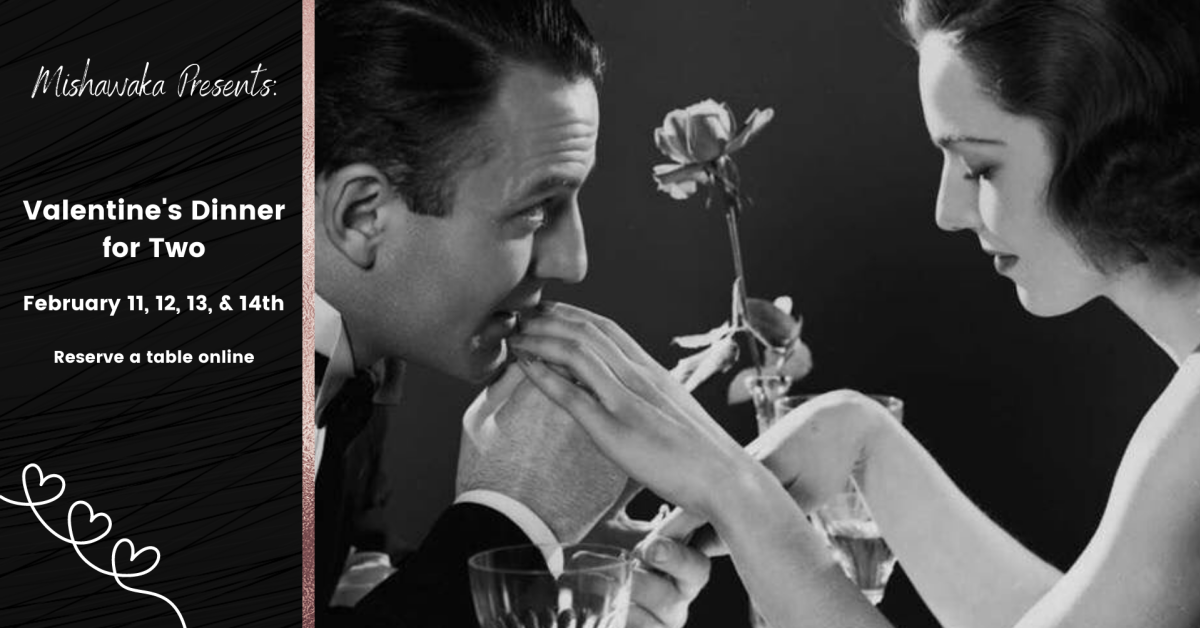 This Valentine's Day, The Mishawaka has prepared a unique menu package for you and your special someone. Now is the opportunity to reserve your spot at the historic Mishawaka for a meal in the mountains.
This event offers a three-course dinner for the occasion and an optional wine special to accompany through February 14th. It's a great alternative for a mini date adventure and a cozy, romantic meal for two in the Poudre Canyon. Dine-in by reservation only through the Mishawaka website, Open Table, or by calling 1 (888) THE-MISH. Bubble reservations can be made by clicking "Outdoor". "Indoor" ensures you are inside, you may choose any available table upon your arrival at the Mishawaka.
Reservations available for Valentine's dinner on: 
Friday, February 11th from 5 – 8:30 PM
Saturday, February 12th from 5 – 8:30 PM.
Sunday, February 13th from 5 – 8:30 PM
Monday, February 14th from 5 – 8:30 PM
Three Course Meal. Dinner $50.00 per couple.
Whiskey and Chocolate Pairing at Feisty Spirits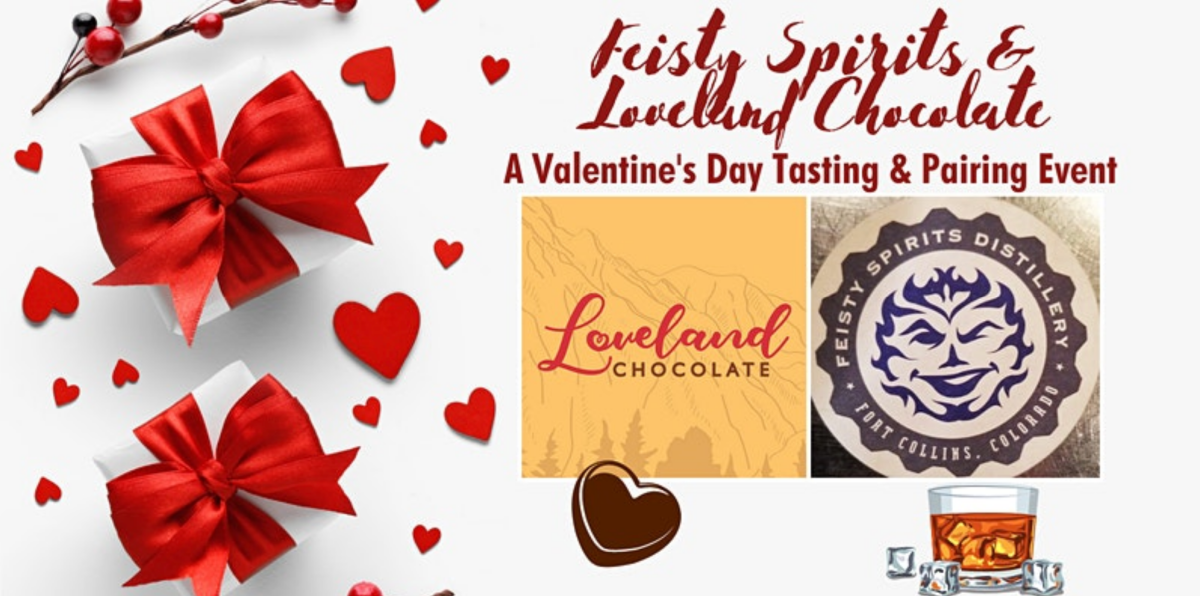 Satisfy your cravings during this Valentine's Day tasting and pairing event featuring Feisty Spirits whiskey and Loveland Chocolate. The tasting event is offered in two different time slots, 4-6 p.m. and 6-8 p.m. on Feb. 14. Tickets are limited and can be purchased here. 
 
Course One:
Chocolate: Lavender Honey Heart
Liquor: Single Grain Unaged Wheat Whiskey
Course Two:
Chocolate: Passionfruit Heart
Liquor: Rhapsody Blue Corn, High Rye Bourbon Whiskey
Course Three:
Chocolate: Honey Pecan Heart
Liquor: Peach Brandy
Course Four:
Chocolate: Espresso Heart
Liquor: Maple & Cinnamon Oat Infused Whiskey
Special Valentine's Day Events 
Valentine's at The Farmhouse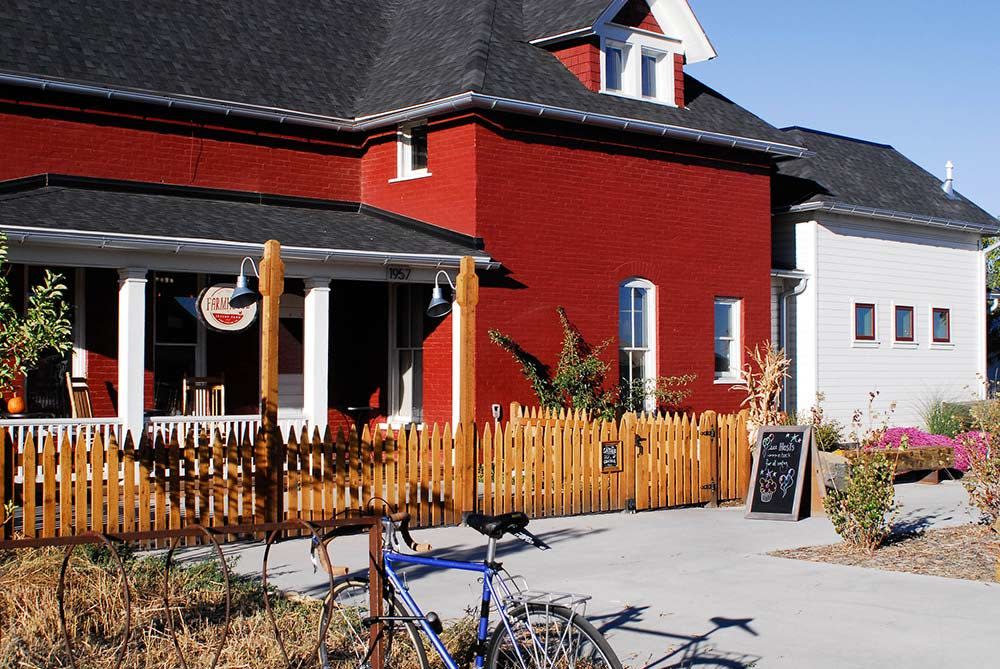 Address: 1957 Jessup Dr, Fort Collins, CO 80525  

Participate in a pasta-making class and European wine tasting at The Farmhouse at Jessup Farm. The class takes place on Feb. 7 and starts at 6 p.m. For $50 per person, you'll learn from a chef how to make fettuccine carbonara and go home with dry ingredients and a recipe card to make your first batch of pasta. All of the wines sampled during the tasting will be made available for purchase at a discounted price. Space is limited – call 970.631.8041 to reserve your spot before they're gone! You can also find Valentine's menu specials between Feb. 11-14 and the restaurant will be open on Monday, Feb. 14. Make your reservations here.

 

 
Love and All That Jazz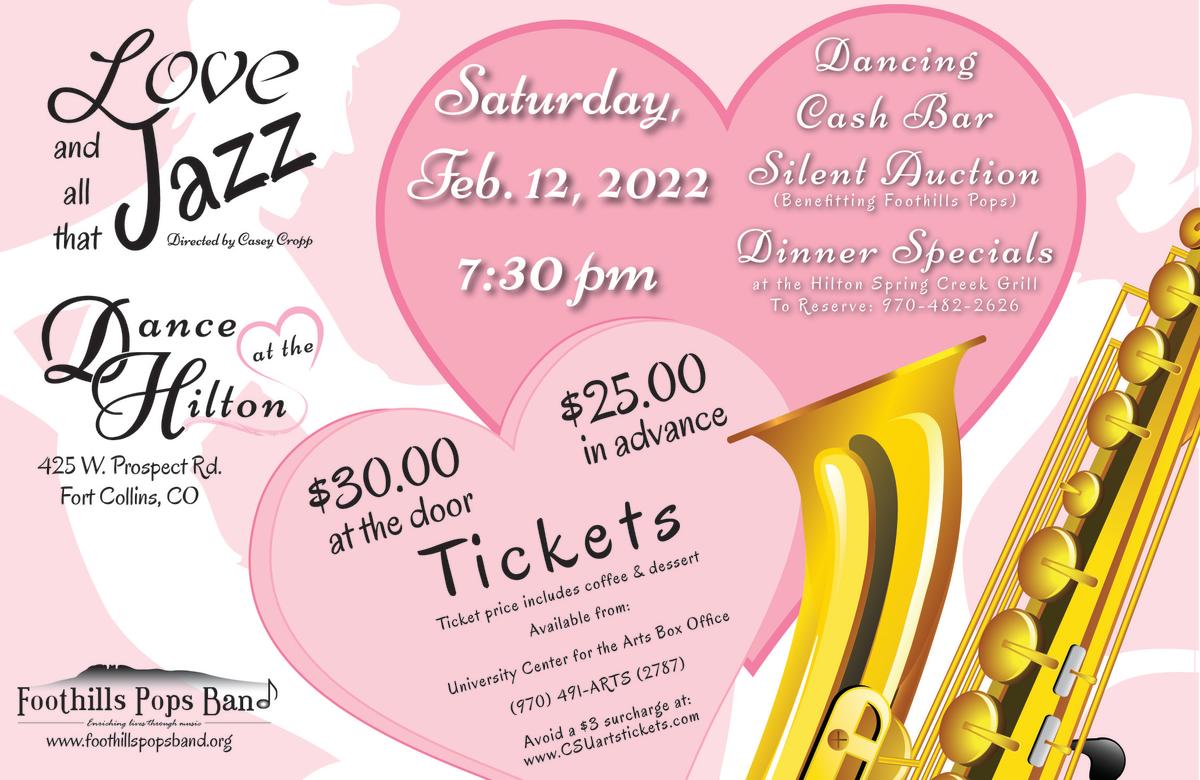 Come out to enjoy and support The Foothills Pops Band, directed by Casey Cropp, a non-profit organization composed of talented musicians who perform musical arrangements enjoyed by everyone. In celebration of Valentine's Day, The Foothills Pops Band is hosting a concert event with a silent auction, wine pull, cash bar, and a wooden dance floor to get down to the grooves on Saturday, February 12th, starting at 7:30 PM. Get your tickets here. 
Galentine's Day Brunch at Ginger and Baker's Teaching Kitchen 
Take an immersive cooking class with hands-on instructions at The Ginger and Baker Teaching Kitchen learning to make a delicious Galentine's Day brunch including strawberry cocoa nib salad, veggie frittata, and flourless chocolate cake. Participants enjoy a glass of bubbles as a part of the experience. Once the class concludes, participants can enjoy their prepared items during a sit-down brunch and order wine pairings and cocktails too. You can get your tickets here. 
Valentine Treats for Two at The Lyric
If dinner and a movie sound like the perfect classic pair to celebrate Valentine's Day, then The Lyric has you covered. Indulge in a special Valentine's menu available at The Lyric for pre-order, dine-in, or pick-up. Enjoy spanakopita triangles and duck confit canapes then a red wine chocolate tart for dessert. Follow up the treats for two with the  1987 rom-com date night movie: Moonstruck. Click here for more details.

Valentine's Day Arts and Crafts
 

Address: 316 Willow St, Fort Collins, CO 80524  

Bring the whole family to handcraft a one-of-a-kind Valentine at Wolverine Farm on February 12th from 1-3 PM. All supplies will be provided and all ages are welcome. Get your tickets here. 

 

Address: 244 N College Ave Unit 115, Fort Collins, CO 80524

 

Participate in a fun, hands-on DIY workshop to create your own unique wood sign. Board and Brush will provide all of the materials and will guide you with each to handcraft a beautiful piece of decor for your home or to gift.  Register to participate here. 

 
Create Your Own Valentine's Day Succulent Garden
Address: 7029 S College Ave #A, Fort Collins, CO 80525

 

The Fossil Creek Nursery is offering a creative way to spend Valentine's this year. This is a perfect date idea, present, or perfect opportunity to have Galentine's Day fun! Get tickets here and create your own succulent garden.

 
Paint a Sweetheart Gnome at Pinot's Palette 
Address: 159 W Mountain Ave, Fort Collins, CO 80524  

Sip on your favorite beer or wine while taking a guided painting class to paint your very own sweetheart gnome. No art or painting experience is required to participate in this fun activity. Get your tickets here.