Let's talk training.  As of today, I'm roughly half way through a 16-week training program that will (hopefully) get me ready for Ride the Rockies.  I feel like I've done a fair bit of riding but I know that things are about to get significantly more serious.  Put it this way; over the last few weeks I've averaged 80-90 miles in the saddle.  Over the next few weeks I hope to average 130 miles or so.  By week 14, I'll need to be up to 180 at the very least to feel confident.  Whoa. 
I've decided to keep things pretty basic in my training regime, focusing on two main areas.  One, I simply need to get the miles in.  I haven't really ridden in years and need to develop a base level of fitness while getting my body used to being on the bike for hours at a time.  That means I'll be riding at least 4-5 times per week with many of those rides lasting two hours or longer.  There simply isn't a great substitute for putting the work in.  Good thing I (usually) enjoy my time on the bike!  My other area of focus will be climbing.  Looking at the course profile, it's obvious I'll be spending very little time on perfectly flat roads.  Bring it on!  With that in mind, I'm placing an emphasis on training courses that allow me to get on a lot of the great climbs we have here in Fort Collins.
Being new to riding, especially in Fort Collins, finding training routes has been a great way to explore new areas in and around town.  One of the first rides I did was from Old Town to Bellvue, CO, and up a short section of Rist Canyon which is about 13 miles northwest of Fort Collins.  I'd heard of Bingham Hill and Rist as popular riding areas and I wanted to see what all the fuss was about.  I wasn't disappointed!  Bingham Hill, a short section connecting Overland Trail and Co Road 23 north of Horsetooth Reservoir, was shorter than I imagined it would be.  However, the climb was enough to get my legs working, and the views coming over the hill were incredible.  I knew I didn't have the time (or the motor yet!) to get to the top of Rist Canyon, an 11-mile climb heading west out of Bellvue, so I rode up to the blue whale, otherwise known as Whale Rock which is literally painted to look like a blue whale, and turned around.  I'd forgotten how much fun it is to ride down a canyon road on a nice day!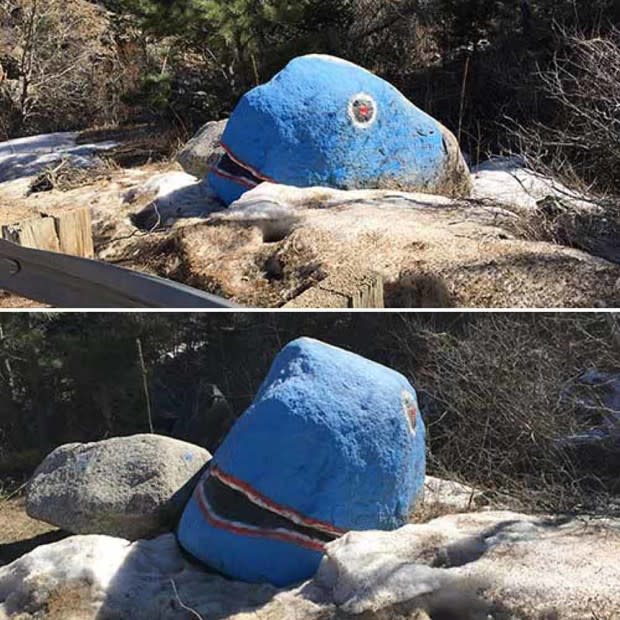 I've since made it to the top of Rist Canyon and learned a few valuable lessons along the way.  First, check the weather!  I didn't bring a jacket or full-fingered gloves and the ride was way colder than I anticipated.  I was borderline miserable on the way up and it made for a dangerous ride down as I couldn't feel my fingers which made braking and shifting nearly impossible!  The 11-mile climb also motivated me to finally get that second water bottle cage, so I quickly made my way to Pro Velo near College and Harmony to make sure I'd have two water bottles on future long rides. 
One of my goals for this recurring blog is to help some of you get a little further down the road.  I hope you will find these posts useful and encouraging.  Enough for now, let's go ride bikes!
Erik Barstow is the Director of Sales at Visit Fort Collins. He will be participating in this recurring blog a number of times leading up to Ride the Rockies. We hope you enjoy what he has to offer in the coming months leading up to the race.