Of course you can score beer and wine flights, but from coffee to pancakes, there are so many more options when it comes to the art of the flight.
Life is too short to try just one. That's the spirit in which the beer flight was almost certainly created and in Fort Collins — Colorado's craft beer capital — there's no dearth of beer flights to be savored. But did you know you can also enjoy the flight concept when it comes to cheese, coffee, cupcakes, pancakes and more? Heck, you can even indulge in a fudge flight (Kilwins) or toffee flight (Vern's Toffee). And for a more literal take on the word flight, there are a few options as well.
Here's the scoop on all the ways you can Take Flight in Fort Collins:
Bacon: Over at William Oliver's, the menu is certainly bacon-centric. And the thick hand-cut, applewood smoked meat is so good you can get it as a Pint of Bacon; five thick cut strips are served in a pint glass with a shot glass of maple syrup for dipping alongside. 
Beer: It's not surprising you can opt for a flight of beers at almost any of Fort Collins' 20-plus breweries. Did you know you can also score a flight of beers at some of the town's award-winning beer bars, too, like Choice City Butcher & Deli? Likewise, The Mayor of Old Town offers up 100 beers on tap; and Tap and Handle, one of Draft Magazine's Top 100 Best Beer Bars in the Country, offers 74 rotating options that often include some uber-rare finds. 
Cheese: With more than two dozen types of cheese from which to choose, it's easy to create the perfect flight of cheese at the Welsh Rabbit in Old Town. Choose a Colorado theme by pairing Alpenbert from Steamboat Springs with the Rocky Mountain cheddar from Windsor's Longview Creamery and the Old Town Spice Chevre, a fresh goat cheese rolled in truffle-Parmesan blend from the nearby Old Town Spice Shop.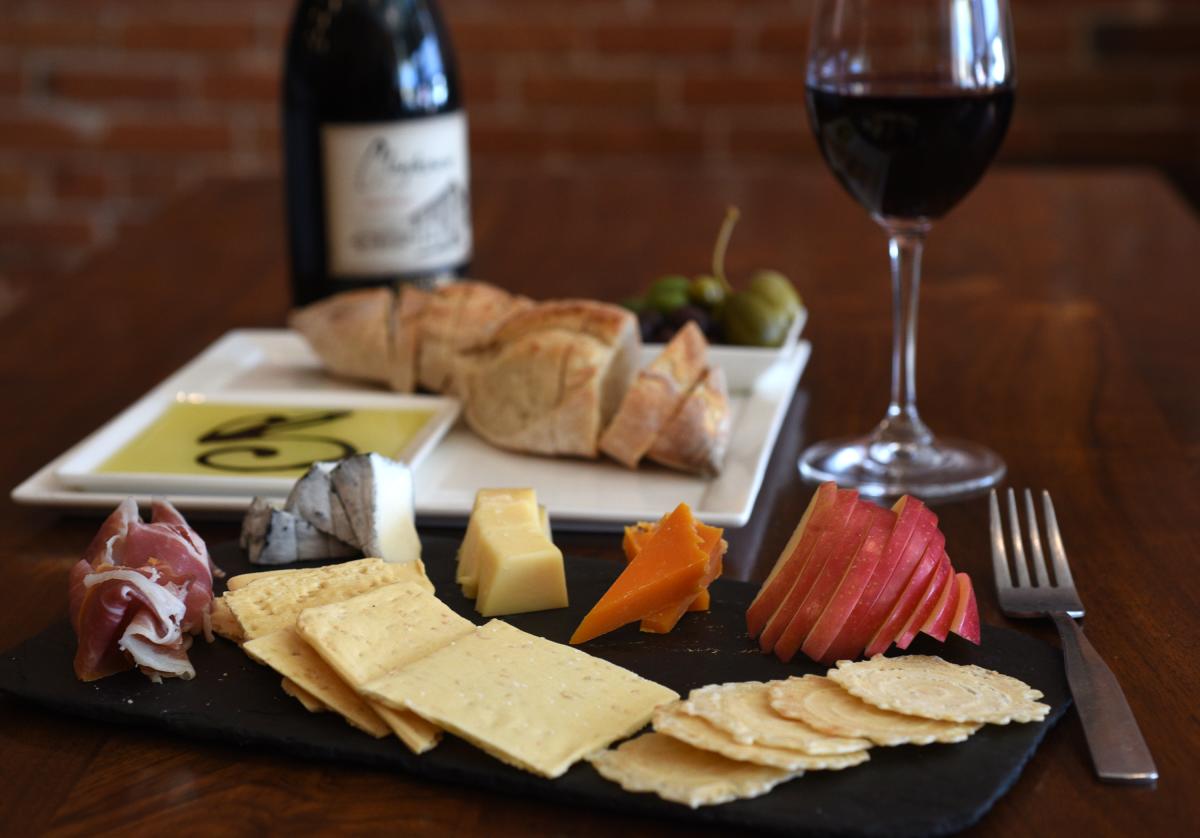 Chocolate: Score a flight of chocolates at one of two spots in town. Nuance Chocolate sources cacao beans from around the globe and roasts it in small batches to make its treats – rich truffles to single-origin bars. Choose from milk, single-origin dark or flavored. At Kilwins make your own flight of chocolate treats by choosing a signature turtle, a rich truffle and a silky cream.
Cider: Scrumpy's Cider on North College Avenue in Old Town, serves its own Summit Hard Cider as well as plenty of other options. Sip eight of the Summit ciders (tart cherry, strawberry basil, chocolate cherry, oh my) or try some tempting offerings from purveyors like Branch Out, Woodchuck, Wild Cider, Talbott's and Magner's in the Friend's Flight. Locust Cider on Walnut Street also serves a variety of ciders, including Honey Pear, Juicy Peach, and seasonal favorites such as Dark Maple. They also boast a completely gluten-free menu.
Coffee: Much like the beer scene, the craft coffee scene is brewing, too. Grab a friend or loved one and try a flight of coffee at Harbinger Coffee, where there are generally three to six varieties of coffee from which to choose. The beans are roasted at the south location (3581 E. Harmony Road) and they also serve Sweet Bloom coffee, which hails from Lakewood. Or opt for a flight at Bindle Coffee, which purchases all of its coffee from direct trade relationships and roasts it in house for the best flavor. Nosh on an organic pastry while you're at it.
Cupcakes: At Mystic Moon Bakery, there's a slew of cupcakes from which to choose. Gather friends and order a half-dozen cupcakes and sit down for your own flight. Flavors rotate daily and are posted on Mystic Moon's website.
Pancakes: Over at Urban Egg Eatery, you can choose three different types of pancakes for your flight, including options like Hawaiian (with pineapple, toasted coconut and vanilla cream anglaise) or the Strawberry Cheesecake (cheesecake chunks, strawberry compote and whipped cream). Snooze an A.M. Eatery also offers a three-pancake flight. Just be sure you include the blueberry danish pancake, with lemony cream cheese filling, topped with blueberry coulis, sweet cream and almond streusel.
Spirits:  Whiskey lovers look no further than The Whisk(e)y, a pub on south College Avenue that has six whiskeys on tap and literally more than 1,700 bottles behind the bar. With numbers like that, the flight combinations seem almost endless. Blue Agave Grill has a rotating margarita flight, which is sure to appease tequila lovers.
Be sure and try the Falernum Liqueur, a spicy Caribbean-influenced offering, as part of your flight at Elevation 5003 Distillery's tasting room. Sip Mobb Mountain Distillers Mobb Rye or thrice-distilled Gin.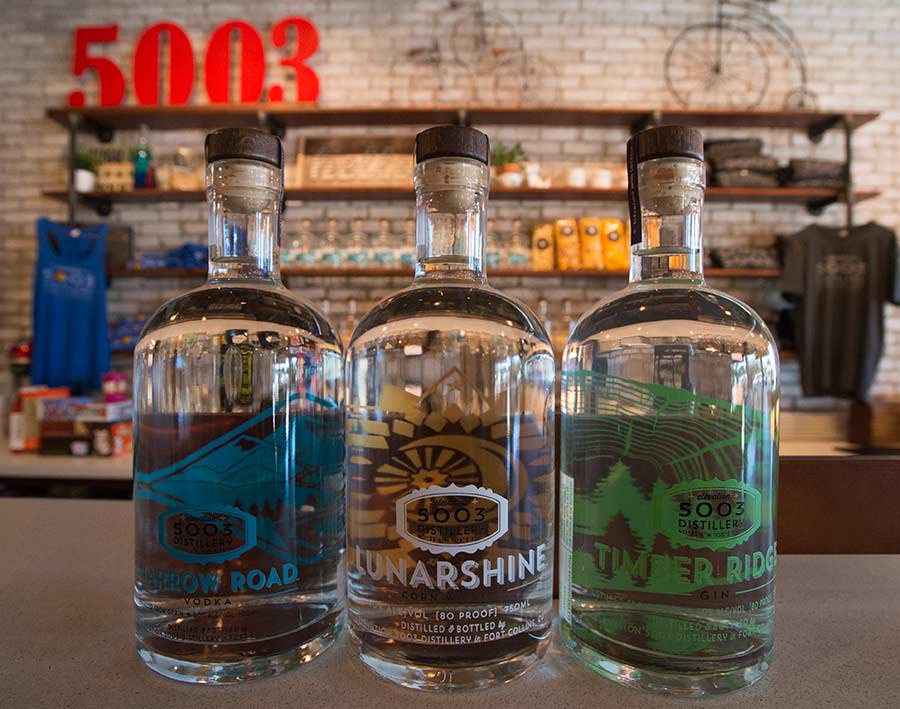 Waffles: Food Truck turned restaurant, The Waffle Lab, offers waffle flights Thursday – Saturday during happy hour from 3:00 – 8:00 pm. This unique restaurant specializes in gourmet Belgian-style Liège waffles that are the perfect treat for breakfast, lunch or dinner.
Wine: Ten Bears Winery, nestled in the foothills just north of Fort Collins, in Laporte, offers a relaxed atmosphere with a rural setting. It's a great spot to sip on fantastic wines while sitting on the patio and enjoying the great outdoors. Ten Bears even grows its own grapes, a rarity in Northern Colorado. Known for its red wines, especially the smooth bodied Poudre River Red, Ten Bears also offers a variety of wines ranging from white to dessert and even cider. Welsh Rabbit isn't only for cheese. They also have curated wine flights. If you find a wine you can't live without, bottles are available for purchase as well.
THE MORE LITERAL INTERPRETATION
Feathered Friends: To see animals that take flight up close and personal, take a tour of the Rocky Mountain Raptor Program, which rehabilitates and releases injured birds of prey, like eagles, owls, hawks and falcons. The private, behind-the-scenes tour might include the opportunity to meet an educational raptor or two. Allow at least two weeks to schedule the tour, which lasts around an hour; the maximum group size is 10. Visit the website to see events around town featuring the raptors.
Did you know that Rocky Mountain Adventures uses homing pigeons to help capture visitor's river adventures? The birds are outfitted with special Lycra backpacks. Following some rafting trips, the birds fly between 20 and 40 miles back to the outpost in 20 minutes — much faster than you can drive out of the Poudre Canyon. This way the film is developed and the photos are ready to view when participants return from their adventure. Stop into the Rocky Mountain Adventures headquarters to see these friendly birds.
Hot Air Balloons: If you'd rather literally take flight, sign up for a hot air balloon ride to see spectacular views of Colorado from an entirely different vantage point. Spirit of Colorado, based in Fort Collins, offers a flight over Fort Collins followed by a champagne ceremony. At Flights of Fancy, based out of Loveland, pilot Pamela Fancy can take up to four passengers on a tour.
Kites: Celebrate all things kites at the annual Kites in the Park Festival, held at Spring Canyon Park in Fort Collins. This family-friendly event welcomes fliers from around the world that will perform ballets, battle kites, and fly giant kites, and kids can decorate their own kites to take home.
Beer- Pick any of the 21 breweries or award winning beer bars (Tap & Handle, Mayor of Old Town, Choice City Butcher)
Coffee- Harbinger, Bindle
Cheese- Welsh Rabbit
Cupcakes- Mystic Moon Bakery
Chocolate- Nuance, Kilwin's
Bacon- William Oliver's
Wine- 10 Bears, Welsh Rabbit
Toffee- Vern's Toffee
Cider-Scrumpy's, Locust Cider
Whiskey- The Whiskey
Pancakes- Snooze, Pancake House, Urban Egg
Spirits- 5003 Distillery, Mobb Distillery, CopperMuse Distillery, Blue Agave Grill
Juice- Wunderjuice
Fudge- Kilwin's
Pigeons at Rocky Mountain Adventures
Rocky Mountain Raptor Center
Hot Air Balloons