By Brian Cooke
I once saw some teenagers swordfighting at the Northside Aztlan Community Center here in Fort Collins, but that fencing class didn't prepare me for the sight of nine grown men brandishing longswords a few nights ago in a park in Midtown. It's not every day you witness that kind of an altercation, although through July 1 you can see several of them in a production of The Three Musketeers on Fridays, Saturdays and Sundays at the Park at Columbine Health Systems.
Presented by OpenStage Theatre, this fast and fun adaptation features family-friendly brawls, romance, and a healthy dose of humor, and although my 10-year-old daughter didn't quite understand the story, she could tell the good guys from the bad guys. Of course, we cheated a bit: To prepare for seeing the play, we watched one of the more recent movie adaptations of the story a few weeks ago. And although the OpenStage version didn't include flying ships, computer-generated special effects or Orlando Bloom, it kept our attention from start to finish. (For those who haven't seen one of the movies or read the story, it involves a young man and three French soldiers during the 1600s who get caught up in deadly political and romantic complications between the king and queen of France and the scheming Cardinal Richelieu.)
The classic tale of adventure, friendship, intrigue and love was adapted by local playwright Richard Strahle, making this the first production that OpenStage has ever commissioned. According to OpenStage co-founder and Three Musketeers director Denise Buson Freestone, "I've read thousands of scripts over the years and I have to say that Richard's are up there with the best of them."
He's not the only local involved in the production. According to Summer Alameel, OpenStage marketing director, "This production, like all our productions, relies almost entirely on local talent, from the cast and crew to the playwright. I'm not sure people realize all the talent that we have here in Northern Colorado and all the opportunities for theater that Fort Collins has to offer."
I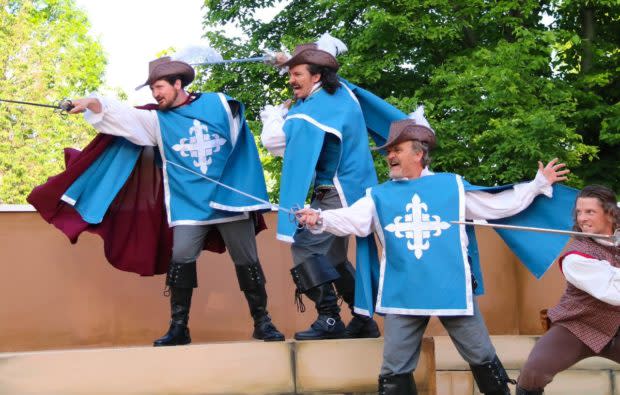 was thinking the same thing as I watched the play from my folding chair in the shade. With all of Fort Collins' options for outdoor physical activities, it's easy to forget all the performing and cultural activities available in the city, from art galleries to music to theatrical productions. But Friday night was all about theater, and OpenStage has some very interesting productions coming up. While The Three Musketeers is OpenStage's last production of the current season, the folks at OpenStage are already excited for what they're calling an "Iconic" upcoming season.
Next season's productions will include Monty Python's Spamalot (a musical comedy adapted from the 1975 film Monty Python and the Holy Grail), Arthur Miller's The Crucible (a powerful 1950s social commentary based on the Salem witch trials), an adaptation of Agatha Christie's bestselling mystery novel And Then There Were None, and — for next summer's outdoor production — William Shakespeare's A Comedy of Errors.
It's certainly a crowd-pleasing lineup, and based on how much fun I had at The Three Musketeers, I may just go to all of them. In fact, I might even bring my daughter along for next year's outdoor production. I really think she might be up for it. After The Three Musketeers ended on Friday and I asked her to name her favorite part of the play, she thought for a moment and replied, "All of it."
Through July 1, The Three Musketeers can be seen in the Park at Columbine Health Systems at 947 Worthington Circle in Fort Collins, starting at 7 pm every Friday and Saturday through July 1, and Sundays June 18 and 25. Tickets are available at openstage.com or by calling 970.221.6730. This is an all-ages show. Attendees are encouraged to bring blankets or lawn chairs, and should arrive early to partake of the nightly food trucks. Interested patrons can join the OpenStage mailing list at www.openstage.com.
A volunteer blogger for Visit Fort Collins, Brian Cooke has worked as a writer and editor for more than 20 years. His past volunteer work has included leading night tours on Alcatraz and answering questions about Northern California at the San Francisco National Maritime Historical Park in Fisherman's Wharf. Brian currently writes for a market research firm and for the U.S. Forest Service. He also writes blogs for History Colorado. Brian's LinkedIn page is www.linkedin.com/in/bcooke1.
(Photos courtesy OpenStage)