This July in Fort Collins is booming with exciting concerts, shows, and events that you don't want to miss. From nationally renowned talented musicians and comedians to the diversity of performing arts and theatre, you'll certainly find an entertaining and memorable event to attend.
The Performing Arts: Theatre & Live Shows
At The Lincoln Center this month, you can find grand live concerts, dancers, musicians, and inspiring speakers:


"Fort Collins?! I thought you said Fort Morgan!
When the Scarlet Sisters accidentally send their performers to the wrong town, the Salida Circus must figure out how the show will go on! With some quick thinking and handy help from the audience, "The Lost Circus" becomes 60 minutes of circus fun for everyone!
Salida Circus: The Lost Circus is an interactive circus show featuring magic, acrobatics, juggling, rolling globe and lots of audience participation.
Sponsored by The Lincoln Center Support League with the support of City of Fort Collins Fort Fund. Blankets and sunscreen are encouraged."
10 AM |  Free & Family-Friendly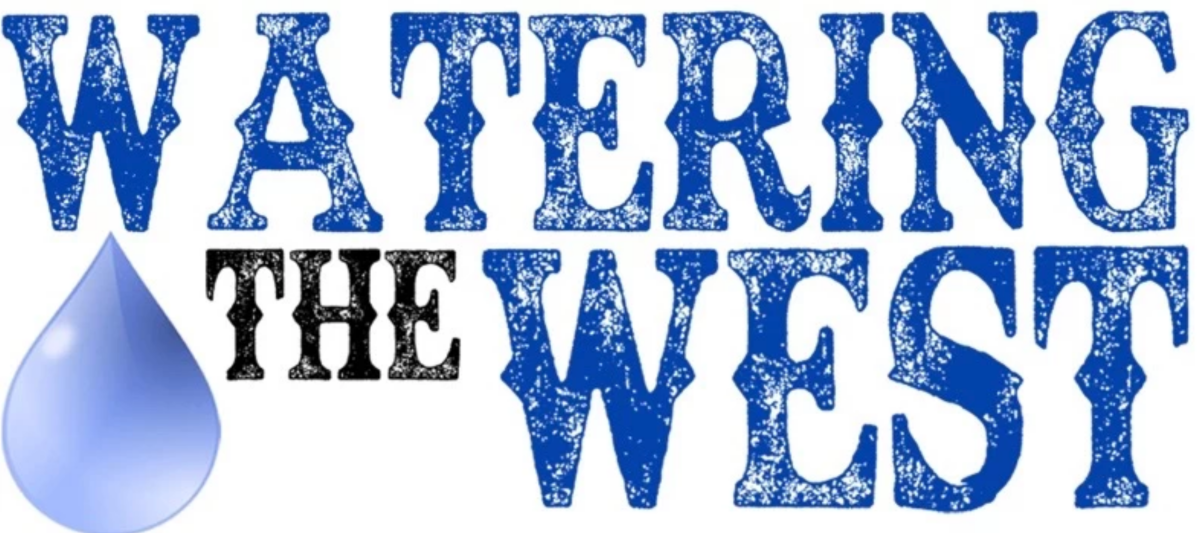 "Watering the West: Across the Divide goes to the headwaters of the Colorado River where ranchers raise cattle on native grasses and work with environmentalists to save the historic wetlands that are threatened by population growth on Colorado's Front Range. Explore with us how climate change, changing water quality, and fires impact forests and western water supplies. Watch old enemies become allies to save rivers. And find out if those backpackers make it across the river where the footbridge is washed out. This film features the proposed Glade Reservoir Project, the Poudre Runs Through It Study Group, Learning by Doing, Trout Unlimited, and so much more. Don't miss it!"
6:30  PM |  Tickets
Brian David Collins & Friends: July 8
    "Please join us as Brian David Collins takes us through a journey of original music, two decades in the making.  This special event doubles as a Lincoln Center debut as well as a farewell concert for the Fort Collins native.  After serving the Fort Collins community as an entertainer since 2002, Collins is proud to have chosen our venue for his sendoff performance/celebration. 

For the first portion of the evening, Collins will be joined by musical guest Sean Waters.  Together the duo will highlight 15 years of their time as songwriters and performers while members of local groups Wasabi and The Seers.  In the second portion of the program, Collins will be joined by Tom Ditzler and Rodney Eddings, core members of Collins' current solo project.  With more special guests to be announced, this proves to be a night of music you won't want to miss. " 
7 PM |  Tickets


    "Come hang out with Foco Flava to enjoy Hip Hop dance performances, learn some Break Dance foundational moves, and hear about Hip Hop history and culture. Sponsored by The Lincoln Center Support League with the support of City of Fort Collins Fort Fund. Blankets and sunscreen are encouraged."
10 AM | Free Show | Learn More Here
CYRANO DE BERGERAC Presented By Open Stage Theatre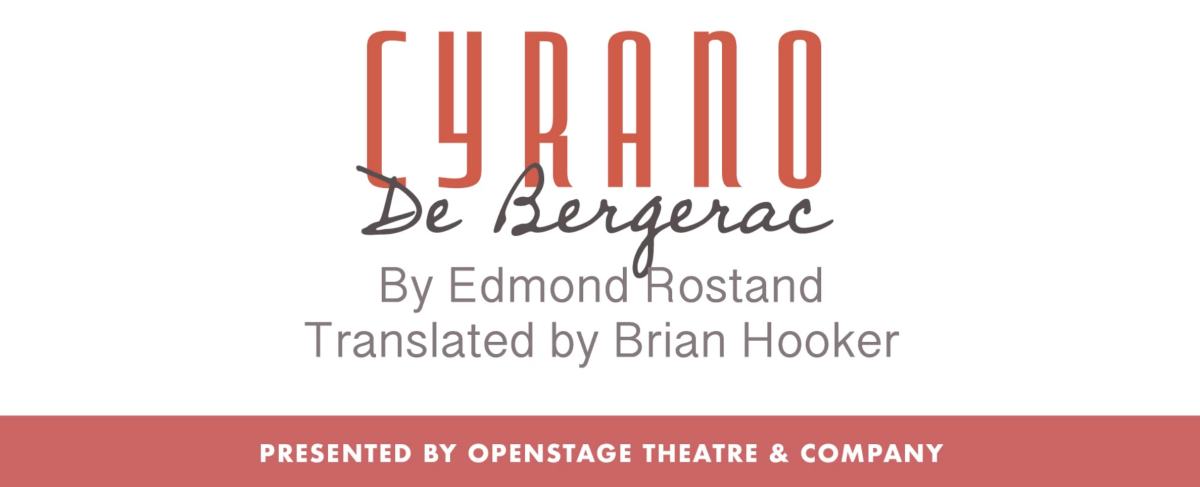 "Full of wordplay and swordplay, as well as the most famous nose in history, Cyrano de Bergerac is a night of love, mistaken identity and romantic tragedy under the stars. Walk in, bike in or drive in! Featuring nightly food trucks."
Various Dates | 7 PM  |   Tickets
Chris Botti: July 9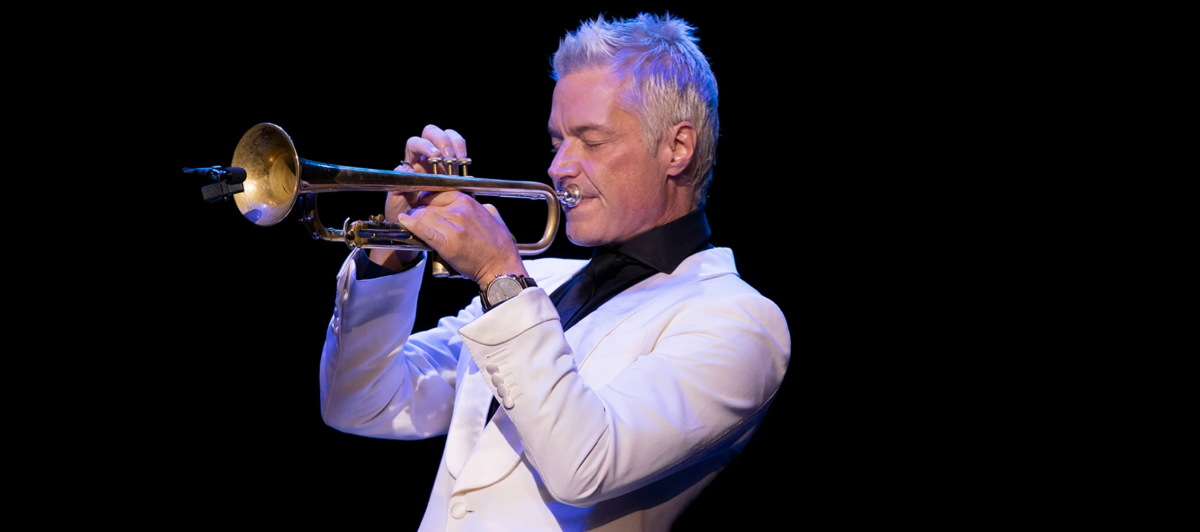 "For over two decades, Grammy Award-winning master trumpeter and composer Chris Botti has amassed a spectacular variety of honors, including multiple Gold and Platinum albums, to become the largest selling instrumental artist in The United States. There's nothing like a Chris Botti concert. He's the complete package: a dazzling trumpeter at home in everything from jazz to pop to rock, a brilliant bandleader who lets his players shine and a born showman whose joy at being onstage is infectious. See him live and you'll understand why some of the world's biggest musical stars have been eager to share his stage. His mesmerizing performances with a stunning array of legends such as Sting, Barbra Streisand, Tony Bennett, Yo-Yo Ma, Frank Sinatra, Paul Simon and Andrea Bocelli have cemented his place as one of the most brilliant and inspiring forces of the contemporary music scene. Whether he's performing with illustrious symphonies or at renowned venues around the globe, his unparalleled crystalline and poetic sound transcends musical boundaries."
6 PM |  Tickets

 

Learn about details and requirements for each specific show at lctix.com. Guests to The Lincoln Center (three years of age and older) must wear a mask regardless of vaccination status. Guests (over age five) also are required to show either proof of COVID-19 vaccination or a negative Covid test within 72 hours of check-in to attend shows (home tests are not accepted).  
Summertime Outdoor Movies
The Holiday Twin Drive-In, one of six drive-in movie lots left in Colorado, hosts drive-in movies. Catch a flick at Fort Collins' classic Holiday Twin Drive-In like the new Minions: Rise of Gru movie and many more films to check out on the calendar. The Lyric also hosts summer outdoor movies like The Labyrinth on July 9th and The Wizard of Oz on July 13th.  The Lyric additionally hosts events this month like the Deconstructed Dinner Series Midsummer Feast at the end of July on the 31st.
LIVE MUSIC, FESTIVITIES, & REOCURRING CONCERT SERIES
LIVE ON THE LANES AT 830 NORTH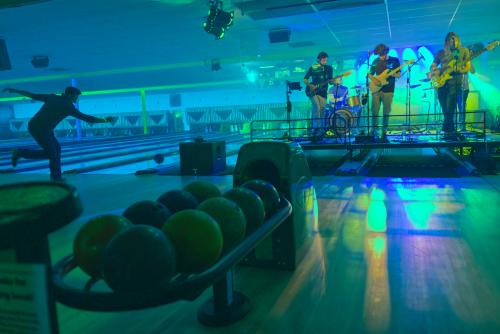 This month, catch Ethan Tucker & Thrive with Operation Culture on July 7th, and on July 15 electronic artists Blaize & Felmax on The Black Hole Tour with Odd Encounter.  If you're a rock music fan, you won't want to miss Virgil Vigil with Muck Luck on July 21st. The artist lineup this month is diverse and interesting! Find the full calendar of concerts here.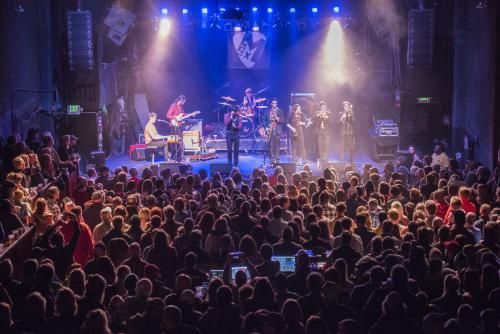 The historic Aggie Theatre, a live music institution in Fort Collins for over 100 years, plays host to several great shows this month: 
Begin the month with 2MX2 with Lolita, Kid Astronaut on July 9th, and Rocky Horror Picture Show halfway through the month on the 15th.  TX2 takes the stage on the 22nd and Charles Wesley Godwin with The Piedmont Boys on the 23rd. The Aggie hosts James McMurtry on June 24th and Liz Cooper on the 29th. Finally, the Fort Collins Jass-Pop band People In General With Mofie Miranda Fling & Hygeia perform on July 30th. Make sure to visit their concert events calendar here for the most up-to-date information about shows and to get tickets. 
AMAZING MUSIC AT WASHINGTON'S AND THE ARMORY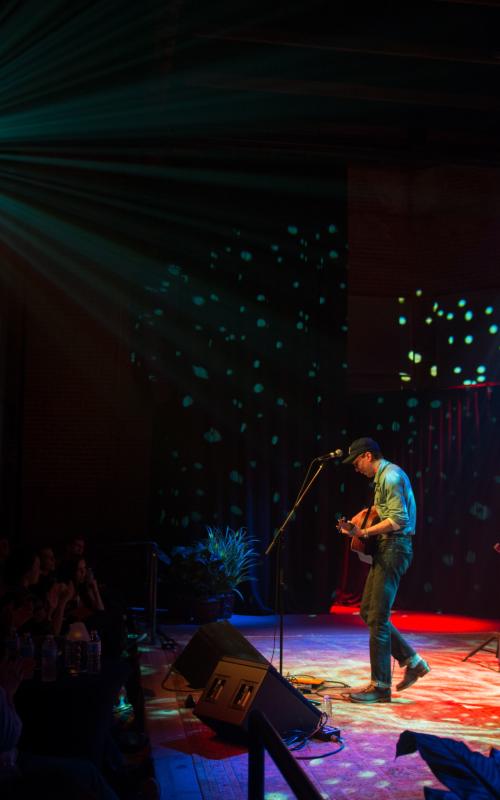 Washington's is a historic 900-person venue in Old Town Fort Collins and regularly hosts big names. This month, catch Allah-Las with Mapache on July 15th. The Armory is a more intimate 200-person capacity venue with state-of-the-art acoustics. Artist Will Hoge takes The Armory stage on the 24th.
The Lagoon Concert Series is hosted at Colorado State University's Lory Student Center's west lawn under the trees of the lagoon to bring together the community for a free concert series with talented artists, food, and the promise of a good time.  Grab a blanket and join in on the festivities every Wednesday evening from 6:30-8:30 PM.
Magic Rat, located in Old Firehouse Alley adjacent to The Elizabeth Hotel in Old Town, offers swinging sounds on tap weekly, from big-name artists to local late-night jam sessions. All of these fun concert events are free to enjoy. Check the calendar for all shows taking place throughout the month and current updates.
THE SUNDAY SUMMER SERIES AT THE MISHAWAKA
June 12 - July 31
The Sunday Summer series is a free concert series that takes place each Sunday at the Mishawka outdoor stage from 1 - 4:30 PM. No reservations are needed and you'll be able to sit outside while enjoying the beautiful views of the Poudre Canyon, grab some food from the Mish's outdoor grill, and a drink from the bar too. You're encouraged to bring chairs, blankets, and shade. Find the lineup of artists here. 
Bohemian Nights Presents: Thursday Night Live
June 2 - September 15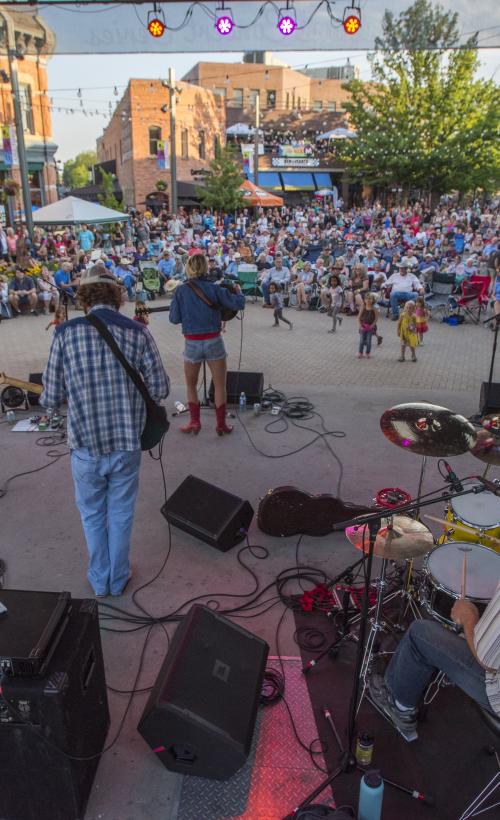 This summer's series lasts for 16 weekly concerts and showcases a diverse lineup of music from Colorado and beyond. All are invited to enjoy this incredible display of artist discovery, with musical offerings that span many genres and styles. 
The series will take place on the outdoor stage in Fort Collins' Old Town Square each Thursday from 7 to 9 PM June 2nd through September 15th.
You can find the Thursday Night Live Line-Up here.
You can enjoy live music presented by The Mishawaka and delicious food at The Fort Collins Food Truck Rally that takes place every Tuesday all summer long through September 13, 5:30 PM to dusk. There will not be a rally on July 5th, but the fun continues on the 12th. 
Drums Along The Rockies
"One of the Rocky Mountain region's most-anticipated summertime outdoor music attractions for more than 50 years is coming to Fort Collins! This spectacular evening of marching music pageantry showcases the thrilling precision, passion, and power of nine elite drum corps affiliated with Drum Corps International (DCI) -- Marching Music's Major League™."

Location: Canvas Stadium CSU
751 W Pitkin St, Fort Collins, CO 80521
Date: July 16, 2022
Time: 6:45 PM
Get Tickets 
Fort Collins Arts & Culture Events
Blue Gold Days at Oak Street Plaza
The Museum of Art Fort Collins Presents Blue Gold Days! This July, you can come out to Oak Street Plaza and celebrate the Cache la Poudre River and the water provides the Fort Collins community with water-themed art classes taking place 12-3 PM on July 7, 14, 21, and 28. All supplies are provided and various local water organizations will be present to help educate attendees about the incredible value of our river. Bring your swimsuit to cool off in the fountains found in the Oak Street Plaza. For more details, visit the Museum of Art Fort Collins website.
Location: 119 W Oak St
Fort Collins, CO 80524 United States
Date/Time: July 7, 14, 21, and 28.12-3 PM
Price: Free
Fort Collins PRIDE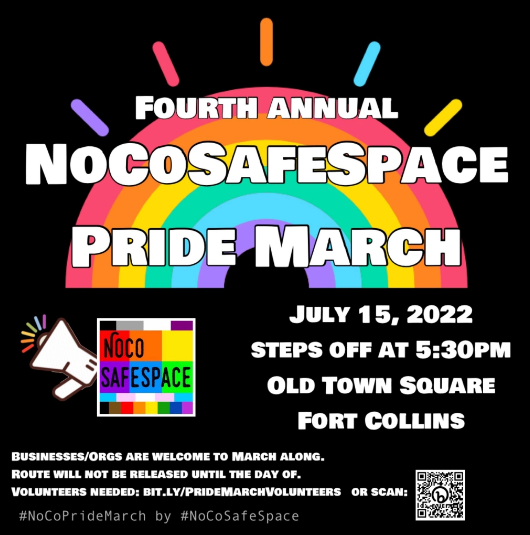 The 4th Annual NoCo #NoCoSafeSpace PRIDE March is taking place July 15, 2022. Make family-friendly signs and dress in your best PRIDE gear, invite friends and family, and join this non-violent demonstrative march in support of LGBTQ+ visibility and to bring the community together peacefully.  The event begins at 5:30 PM in Old Town Square Fort Collins.
Location: Old Town Square
Fort Collins, CO 80524 United States
Date/Time: July 15, 2022, Starts at 5:30 PM
Price: Free
You can learn more about PRIDE in Fort Collins and the history of LGBTQ+ people in Fort Collins on The City of Fort Collins website. 
LIVE COMEDY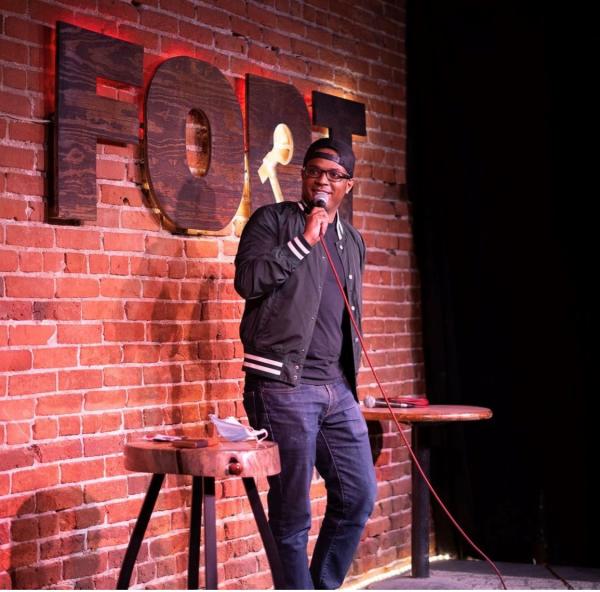 Hosting regular open mic nights, nationally renowned comedians, and even burlesque shows, The Comedy Fort is Fort Collins' only comedy club and home to events all month long that you can find here. Highlights this month include the talented Comedy Brewers Improv on July 7, Mo Vida, and Joe Alfano (NYC) co-headlining a lineup of comics from Colorado and beyond in The Fort Showcase on July 14th. 

Photo Credit: Melissa Leavenworth
THE RANCH BUDWEISER EVENTS CENTER EVENTS
The Budweiser Events Center at The Ranch Events Complex, located in Loveland, Colorado, is a 7,200 seat multi-purpose venue and is home to the Colorado Eagles of the American Hockey League. This large facility hosts hockey, basketball, football, family shows, rodeos, concerts, trade shows, and several dozen setups to accommodate just about any event. 
The Northern Colorado Home Show: July 15, 16, 17
 
"Swing by for the North Colorado Home Show! Meet Local and National home improvement experts ready to help with any and all home improvement projects you may have! First 500 through the doors Friday & Saturday get Free Admission Tickets to the People's Tiny House Festival.
Register online."
10 AM |  Free Admission
2022 Peoples' Tiny House Festival: July 16 & 17
 
"The People's Tiny House Festival returns to Loveland and The Ranch Complex July 16-17!  Meet DIYers from all of the country, listen to speakers and panel, plus enjoy live music, and beer & wine! Don't miss this family-friendly event for the whole family!
Please visit the People's Tiny House Festival website for any inquiries and/or questions about camping."
10 AM |  Tickets
X League Football - Denver Rush: Peoples' Tiny House Festival: July 22
 
"NFL Hall of Famer Mike Ditka's New National Football League to Kickoff of Budweiser Events Center.
The X League is a national full-contact tackle football league kicking-off with eight (8) inaugural season clubs to include Seattle Thunder, Los Angeles Black Storm, Austin Sound, Denver Rush, Chicago Blitz, Atlanta Empire, Kansas City Force, and Arizona Red Devils with expansion to all (32) NFL markets by 2028.
The game is a fast-paced 7-on-7 game with offensive fireworks with every athlete on the field being eligible, definitely not your 'father's football league'. LIVE games will feature incredible fan interaction and access via the video board taking patrons inside team locker rooms and access to sidelines, truly unprecedented access to the game and its athletes."
7 PM |  Tickets