April is the month when we celebrate all things Mother Earth and we are here to shine some light on what local businesses are doing to help you navigate Fort Collins the greenest way possible! Read on to find out how businesses such as Groome Transportation, Beer & Bike Tours, Recycled Cycles, and many more are helping lead this charge.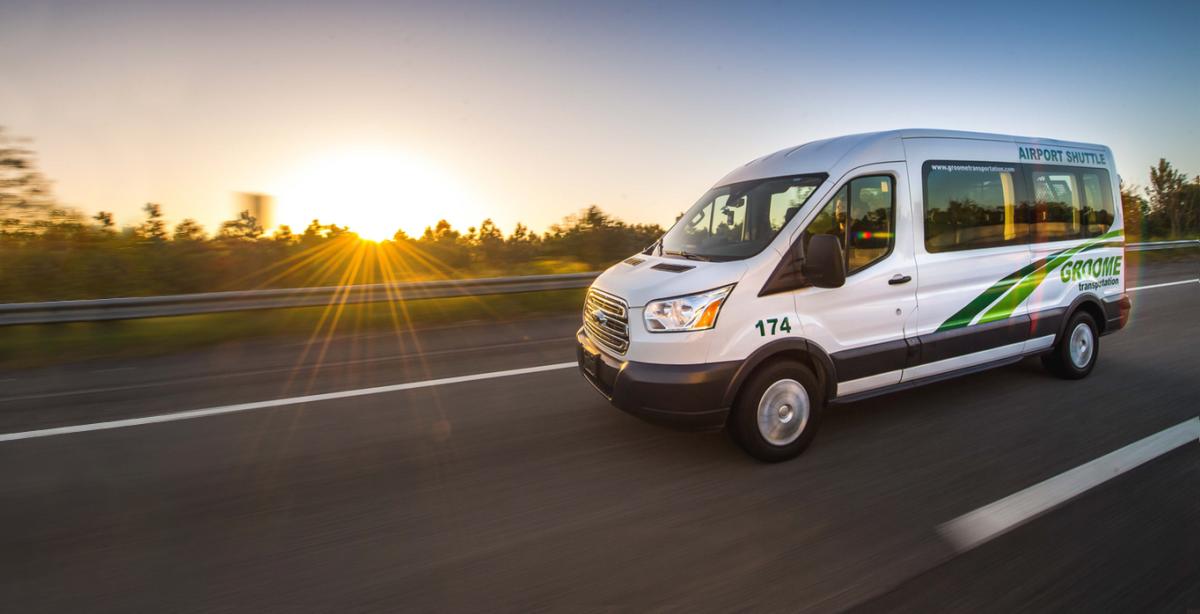 Photo Courtesy of Groome Transportation
Getting to Fort Collins
Fort Collins is just an hour away from the Denver International Airport, and there are many different options for travelers to get to and from the airport while reducing their carbon footprint! Ride-share programs are an easy and great way to travel more sustainably. Travelers actively minimize their carbon emissions by limiting personal vehicle travel and fuel usage by using one of these companies.
Groome Transportation
Groome Transportation is committed to making transportation more sustainable. By using their shared-ride shuttle service between Fort Collins and the Denver International Airport, Groome helps passengers eliminate millions of miles of personal vehicle travel and fuel consumption. In addition, Groome Transportation's cleaner-burning, propane-powered vehicles leave a much smaller carbon footprint. In 2019, by combining their shared-ride shuttle service with cleaner-burning propane vehicles, Groome kept 29,000 tons of CO2 from making it into the atmosphere when compared to travelers driving their own personal vehicle to the airport. Not to mention, they reduce congestion and wear and tear on our highways! 

"We're proud to be part of the Fort Collins community and believe everyone's combined efforts will have a real impact on preserving the surrounding environment that makes Fort Collins so special." - Jason Deitz, Groome Transportation
United Wingless Flight
United Airlines is making it easier for you to enjoy all the hiking, rafting, biking fishing, snowshoeing (need we go on?) that Nothern Colorado has to offer. Now, you can fly into Denver and connect to Fort Collins with luxury ground transportation provided by The Landline Company. Plus, you'll have peace of mind knowing that United and Landline are both putting health and safety at the forefront of your journey.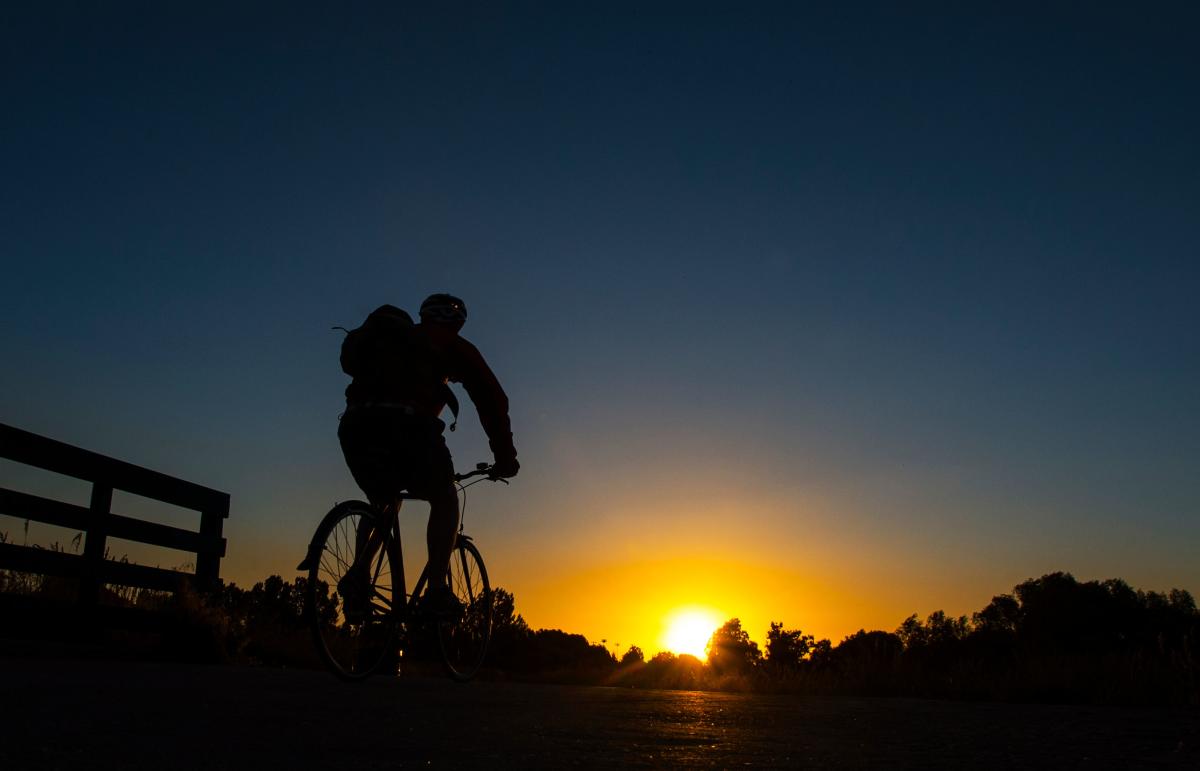 Photo Courtesy of Richard Haro
Getting Around Fort Collins
Fort Collins is home to the most certified Bike Friendly Businesses (BFB) in the United States making us one of only five Platinum-certified Bike Friendly Communities in the country! Our Fort Collins' businesses get certified because they value the importance to contribute to a happier and more productive community, advocate for bicycles and sustainable transportation growth in our community, and connect with other participating BFBs. Click here to learn more about this certification and to see the full list of Bicycle Friendly Businesses in Fort Collins!
Renting a Bike
Fort Collins has been ranked as the Number One City in America for Cycling. What better way to celebrate this achievement than to experience it first-hand? Enjoy a day around town by bicycle! Start by renting a bike and head to City Park, take in the gorgeous views of the Rocky Mountains, stop to take a break and enjoy the sun on the rolling green hills, and immerse yourself in the community. Then, bike down Mountain Avenue, which is full of beautiful and historic homes (arguably the prettiest street in all of Fort Collins)! Park your bike in Old Town and grab a bite to eat and shop at many of our famous local shops. End the day by biking to our award-winning breweries, like New Belgium Brewing Company or Odell Brewing Company. It's easy, exhilarating, and better for the environment to tour our city on a bike, so join in on the fun!
Beer & Bike Tours offers bike rentals that may be picked up at Troubadour Maltings (1724 E Lincoln Ave, Fort Collins, CO 80524). The rental is for 8 hours, however, you are able to arrange it for longer. Their fleet includes bikes that are comfortable and eco-friendly. They even use a dynamo hub instead of batteries for lights. This allows you to ride in the twilight and evenings without worry. Did we mention that a brewery map is included with the rental?
Recycled Cycles offers daily bike rentals which definitely support Bicycle Tourism: If you are looking for bike rentals in Fort Collins, look no further! Recycled Cycles rents a comfortable Breezer Step-Through for just $30 per day. Each rental is equipped with a basket, lock, helmet, and pedal-powered lights. Their team will be happy to recommend local rides and destinations. No reservations are necessary, as they always have bikes available.
Public Transportation
Public transportation is a great way to help limit your carbon footprint when traveling around Fort Collins. 
MAX Bus Rapid Transit (BRT) serves major activity and employment centers throughout our community including Midtown, CSU, and Downtown. MAX links with other Transfort bus routes, Park-n-Rides, the City's bicycle/pedestrian trail system, and other local and regional transit routes to provide seamless service for passengers.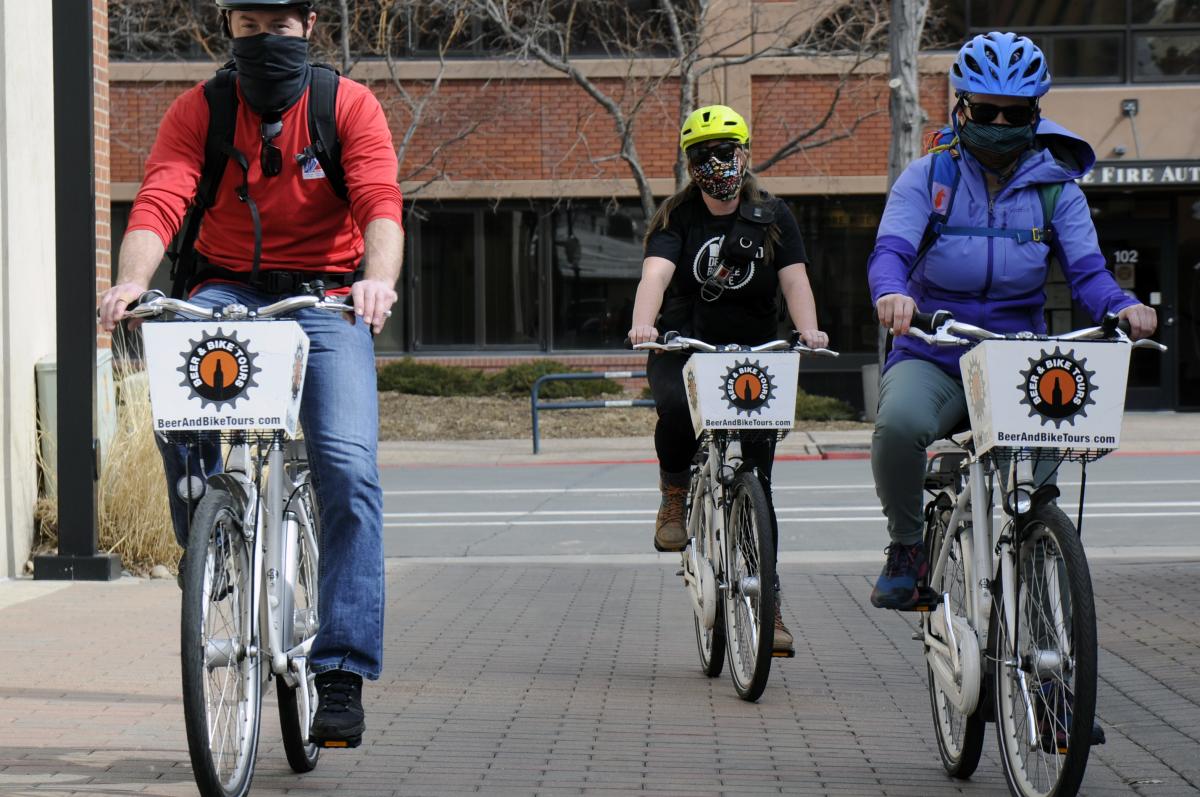 Photo Courtesy of Beer & Bike Tours
Sustainable Transportation Experiences
Beer & Bike Tours
Try Beer & Bike Tours' Grain to Glass Tour, which focuses on sustainable practices within the beer industry! With their new location at the Malthouse, all of their guided trips begin with the grain. Learn the connection with the land that Fort Collins' breweries strive for. Talk with locals and learn the stories of the farmers, maltsters, and brewers that create these sustainable processes. At each brewery, Beer & Bike Tours highlights the use and conservation of water in a water-intensive industry. 
As a bicycle tour company, everything Beer & Bike Tours does is from a sustainable approach. They work exclusively with hotels, breweries, and communities that value and work towards environmental goals. They offer 3-day weekend trips in Fort Collins allowing guests to delve deeper into what makes our small community special and learn how we are continually working to preserve and protect our environment in the face of rapid growth. 
Beer & Bike Tours' offers one of the most sustainable experiences you can have in Fort Collins. Book now to discover Fort Collins' brewery scene all from an earth-friendly mode of transportation.
"The bicycle can save the world" - Bob, Beer & Bike Tours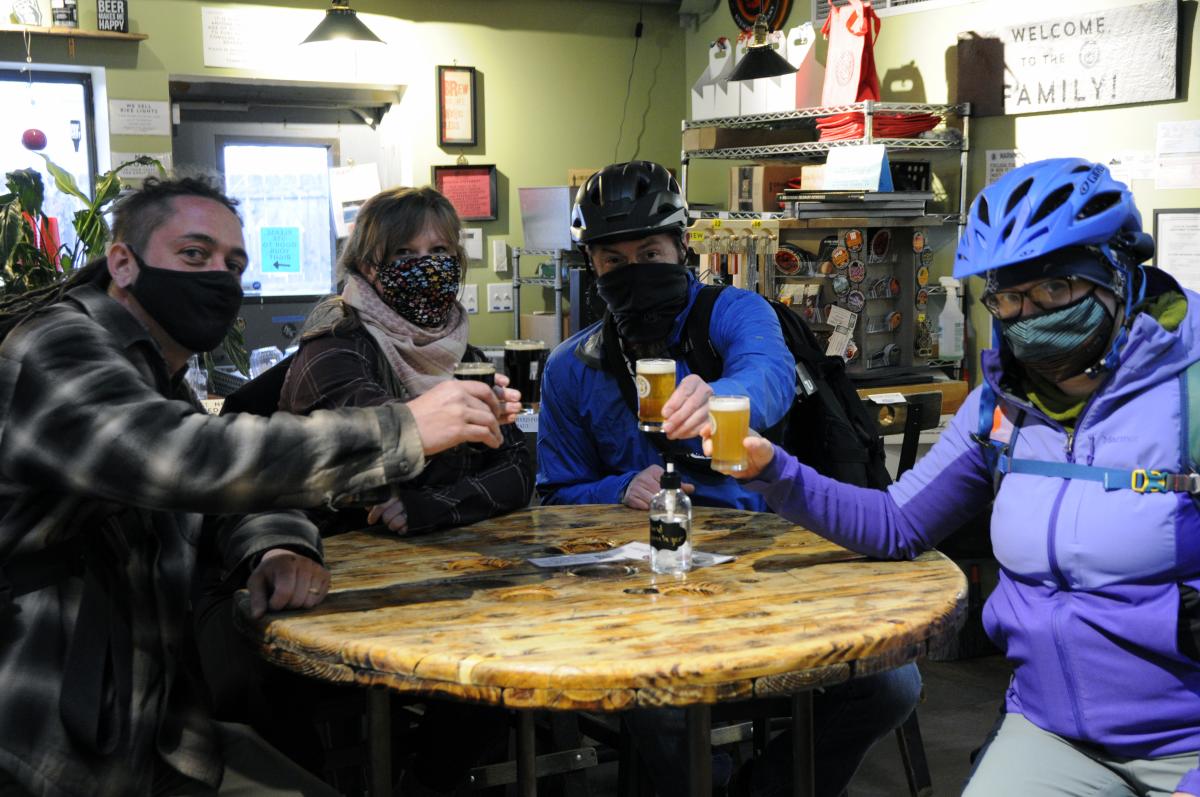 Photo Courtesy of Beer & Bike Tours
Front Range Ride Guides
Front Range Ride Guides is a small, family-owned, locally rooted & grown company made up of a collective of professional guides & MTB skills instructors whose roots in local mountain biking run deep. What better way to see the stunning views Fort Collins has to offer than to bike through the mountains? Compared to driving on our scenic highways, you can reduce your carbon footprint and have a more personal, thrilling, and up-close experience with the natural biodiversity Colorado has to offer. Fort Collins has world-renowned trails to explore and their professional guides bring with them a wealth of local backcountry trail riding/guiding experience, wilderness medicine certifications, in-depth local knowledge, and a deep love for mountain biking. Go on a day trip; or even travel the state riding the finest mountain biking trails Colorado has to offer - on a multi-day Colorado Mountain Bike Adventure. They work tirelessly, focusing on every little detail, to create a one-of-a-kind mountain biking experience - for all ability levels - for you to enjoy. Everything that you will need is included, so all you have to do is have a great time on your bike! Front Range Ride Guides' goal is to provide an experience of a lifetime on a mountain bike, one of those experiences that makes you smile uncontrollably and leaves you talking about it for seasons to come.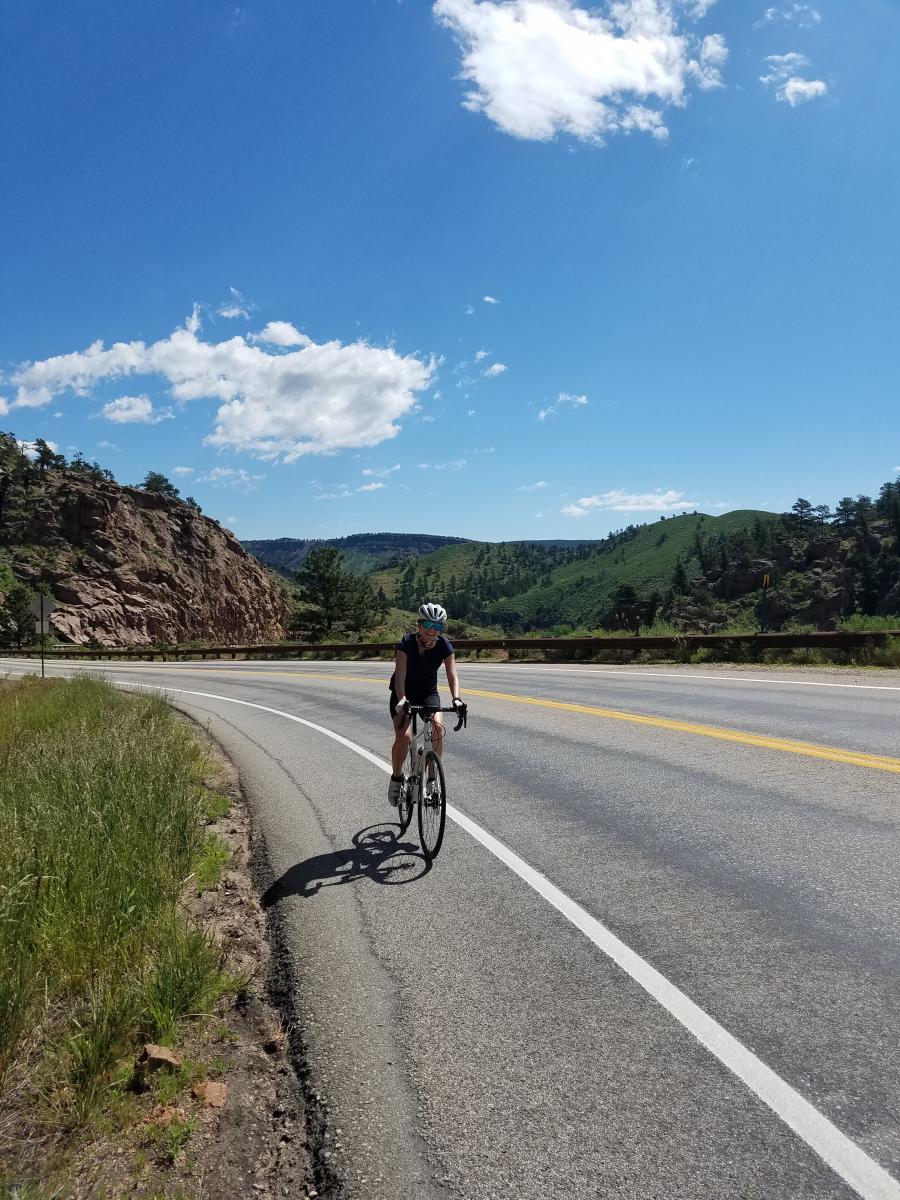 Photo Courtesy of Beer & Bike Tours