Along with a hefty dose of merry and bright, December in Fort Collins is filled with live music and fun events taking place all month long. Here are just some of the festivities that deserve a spot on your calendar!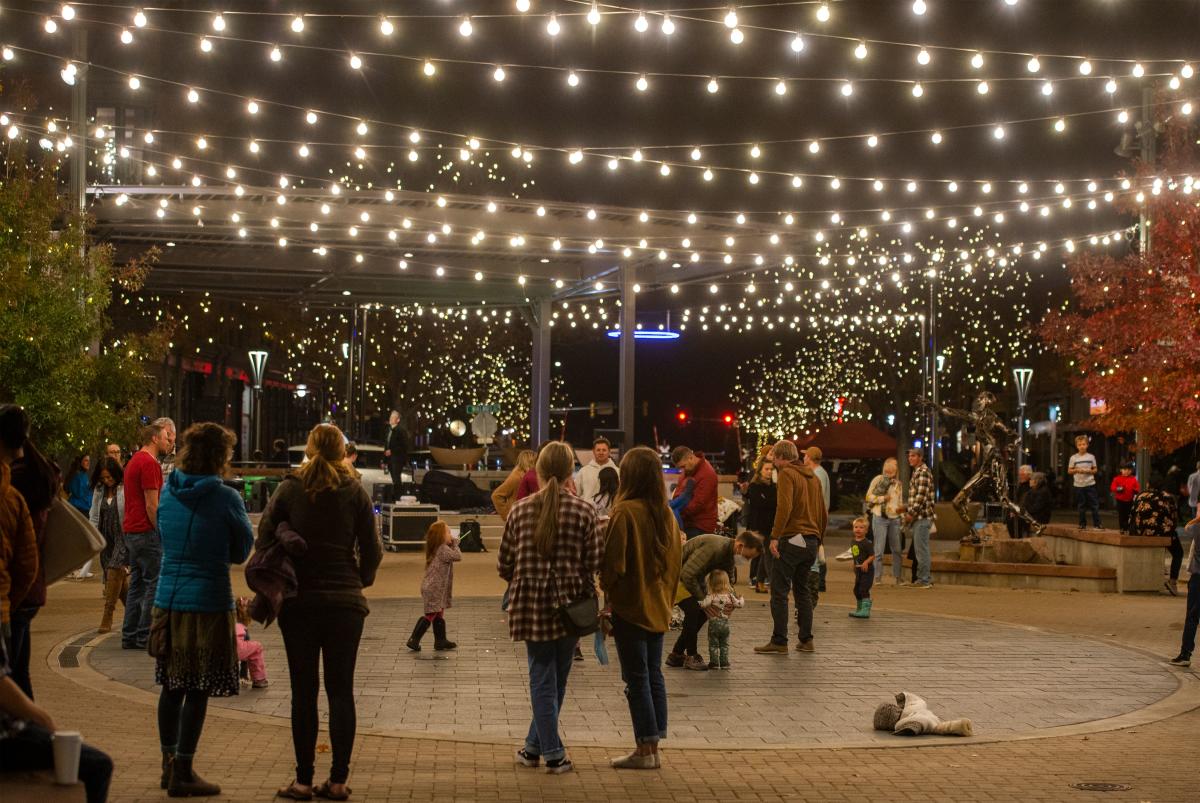 HOLIDAY HAPPENINGS
Stroll through Downtown for Holiday Lights
Downtown Fort Collins is the place to be for twinkling lights and plenty of holiday spirit. Every night through Valentine's Day, the lights will be turned on in Old Town Fort Collins. Twenty-two blocks of downtown are illuminated with thousands of strands of lights in alleyways, along sidewalks, and among tree-tops. The impressive display of low-energy and sustainable LED lights can be enjoyed anywhere along College Avenue, the northern boundary of Laporte Avenue, and continuing south to Magnolia Street. Trees are lit along Walnut Street, Linden Street, Pine Street, Old Town Square, Oak Street Plaza, and Mountain Avenue as well.
Enjoy Beautiful Holiday Light Displays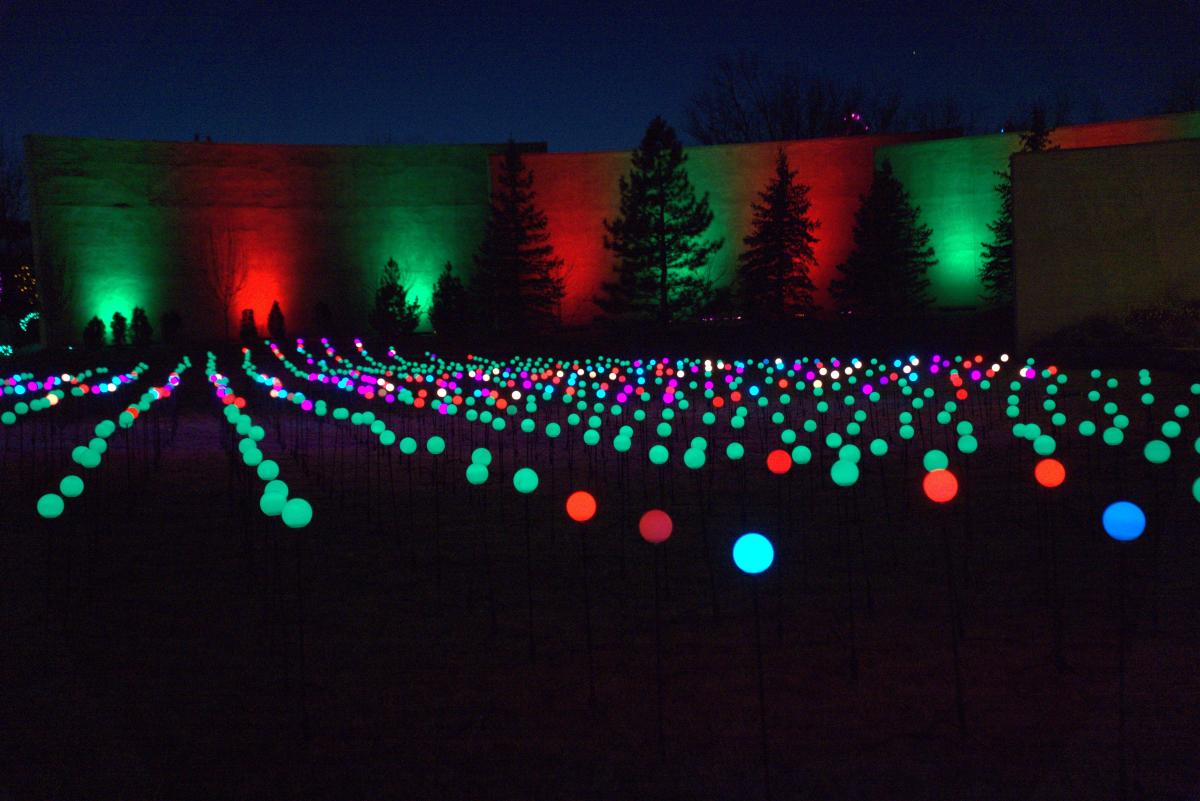 Visiting holiday light displays is a festive and fun activity for the entire family!
The Gardens on Spring Creek in their annual Garden of Lights showcase a half-mile loop of perennial flower beds, huge sculptural flowers, grapevines, butterflies, a holiday village, and other favorite garden creatures—all constructed entirely from holiday lights.  
For a magical 1-mile long drive-thru experience of holiday light displays, visit the Fort Collins Winter Wonderland to see outdoor and wildlife-themed light sculptures.
Holiday Artisan Markets

Little Zurich Outdoor Holiday Market at Wolverine Farm takes place weekly, Thursdays through Sundays, through Dec. 24 at the Wolverine Farm Publick House. This outdoor marketplace consists of a variety of vendor huts in the courtyard lit with hundreds of twinkle lights. Participate in a variety of activities, including candle dipping, holiday crafts, sipping chocolate, mulled wine and pressed cider, warming up at the fire pit and more. There is also weekly live music, literary performances and festive activities. Little Zurich runs Thursdays and Fridays from 4 to 8 p.m., and Saturdays and Sundays from Noon-6 p.m. Visit the website for more details.
Holiday artisan markets are taking place throughout the month of December in and around Fort Collins. Below is our list of all the great holiday markets you don't want to miss. Click on the market event for more details.
Winter Maker's Market at Stodgy Brewing
​Date: Thursday, December 2nd, 2021
Time: 3 PM – 8 PM
Location: 1802 Laporte Ave, Fort Collins, CO 80521
Holiday Market at Ginger and Baker
Date: Sunday, December 5th, 2021
Time: 10 AM – 4 PM
Location: 359 Linden St, Fort Collins, CO 80524
Fort Collins Holiday Gift Festival at Northside Aztlan Community Center
Date: Sunday, December 5th, 2021
Time: 10 AM – 4 PM
Location: 112 E Willow St, Fort Collins, CO 80524
The FoCo Family Band Holiday Market at The Lyric
Date: Saturday, December 11th, 2021
Time: Noon to 5 PM
Location: 1209 N. College Ave., Fort Collins, CO 80524
Date: Sunday, December 12th, 2021
Time: 11 AM – 7 PM
Location: 2724 McClelland Dr #190, Fort Collins, CO 80525
Holiday shows at the Lincoln Center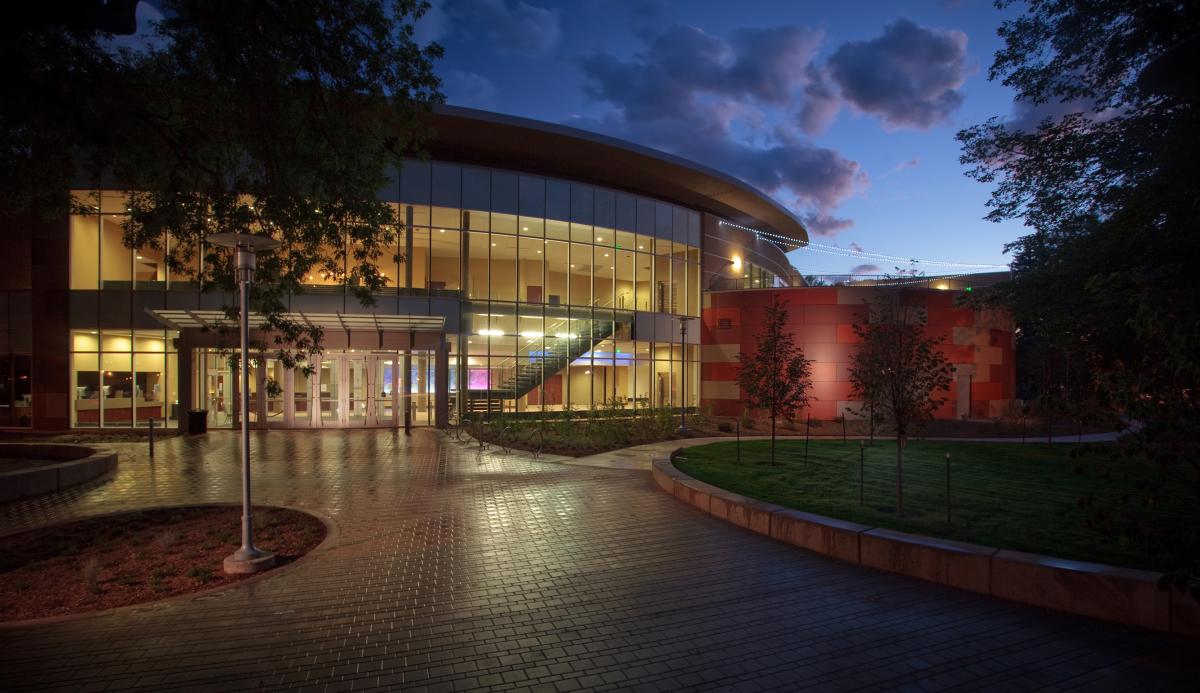 The Lincoln Center has a long lineup of holiday-themed shows to get you in the Christmas spirit this month. The 40th annual The Nutcracker is Dec. 3-5.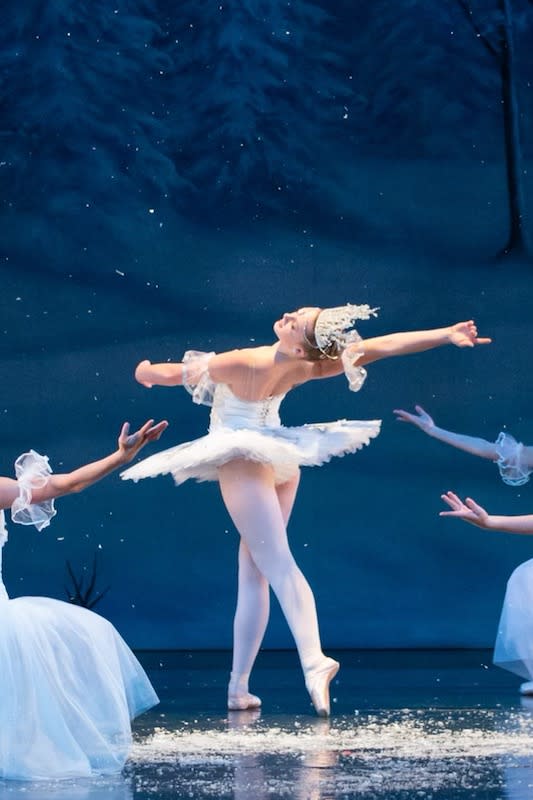 The nutcracker theme continues with a few additional shows: The Contemporary Dance Academy's Clara and the Nutcracker is Dec. 10 and 11 and Mountain Dance presents Nutcracker with a Twist Dec. 10-12. Rocky Mountain High Experience presents A John Denver Christmas starring Rick Schuler on Dec. 12. A Candlelight Christmas with music by The Chorale is set for Dec. 17 and 18. Charles Dickens' "A Christmas Carol" is Dec. 18. The 4th annual Improv for a Claus is set for Dec. 18. Let's Do the Twist, a winter dance recital is set for Dec. 19. Learn about details and requirements for each specific show at lctix.com.
Live Holiday Show at Oak Street Plaza in Downtown Fort Collins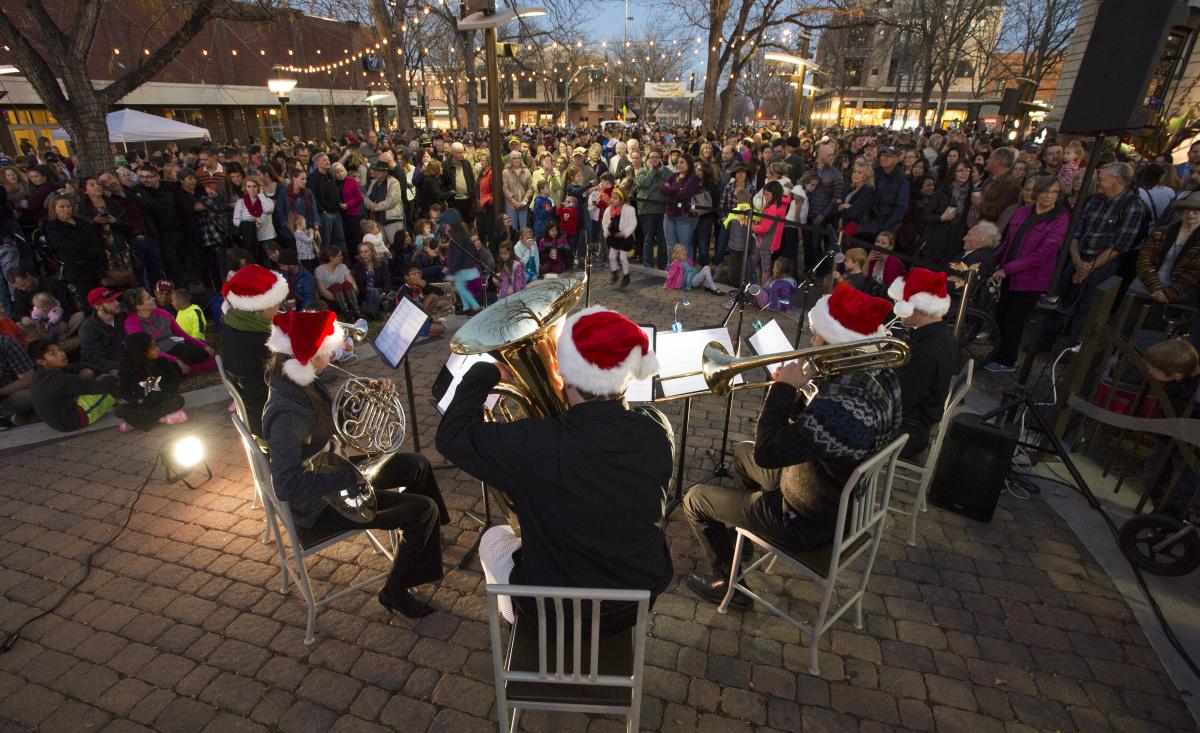 Tuba Christmas will be at the Oak Street Plaza performing live music for all to enjoy. This Saturday, December 11th from 2 to 3 PM, join 100 musicians playing traditional Christmas Carols played in 4-part harmony on tubas and euphoniums under the direction of Cecil Gutierrez.
LIVE COMEDY
LOL All Night Long
Last spring, Fort Collins' first comedy club in 30 years, The Comedy Fort, launched in the former Old Town music venue Hodi's Half Note. Ever since the club has been bringing a solid string of funnymen and women to town. This month, catch comedian Laurie Kilmartin for back-to-back shows on Dec. 3 and 4. Watch Moors & McCumber perform on Dec. 5. See the graduates of the Improv 101 course on stage at the Improv Showcase on Dec. 8. Funnywoman Caitlin Peluffo performs Dec. 10 and 11. Be present as comedian Nat Baimel records his second album on Dec. 12. Other notable shows this month include Rojo Perez on Dec. 17 and 18; open mic nights on Dec. 20 and Dec. 27 and Usama Siddique closing out the month and the year with a New Year's Eve show on Dec. 31. Check the website for tickets and additional acts. Guests are required to show either proof of COVID-19 vaccination or a negative Covid test within 72 hours of check-in to attend shows.
LIVE MUSIC
Rhythms at the Rat
Magic Rat, located in Old Firehouse Alley adjacent to The Elizabeth Hotel in Old Town, offers swinging sounds on tap weekly, from big-name artists to local late-night jam sessions. Graham Good and the Painters is slated for Dec. 2 at 7 p.m. Shred the Cowboy performs Dec. 3 at 8 p.m. Swing Aggregate is Dec. 4 at 8 p.m.; JK Halvorson takes the stage Dec. 9 at 7 p.m. Glove Trucker performs Dec. 10 at 8 p.m. Catch Erik Lunde on Dec. 11. Check out Name that Tune Trivia Night on Dec. 15 at 7 p.m. Amoeba Swing performs Dec. 16 at 7 p.m. Once Upon a Tune performs on Dec. 17 at 8 p.m. And Big Richard plays on Dec. 18 at 8 p.m. Check the calendar for shows taking place later in the month.
Live on the Lanes
Chipper's Lanes hosts Live on the Lanes weekly concerts sponsored by Mishawaka Amphitheatre. See Tumbledown Shack on Workingman's Wednesdays on Dec. 1. Aquiles performs Latin rock on Dec. 2. Trash Cat brings indie rock to the stage on Dec. 3. West Side Joe and the Men of Soul perform at the inaugural Rock n' Bowl event on Dec. 7. Rumpke Mountain Boys performs with House with a Yard on Dec. 8. Funk, You brings the funk to the stage along with Pipin' Hot on Dec. 9. Envy Alo & Desmond Jones play Dec. 11. Electric KIF brings its rock/drum and bass-laden beats to the stage on Dec. 16. See 40 Oz to Freedom bring the best of Sublime to life on Dec. 18 (Sabotage opens the show with Beastie Boys hits). Switchman Sleepin' & Cowboys Dead closes out the year with a performance on New Year's Eve. Details here. Ticket reservations are required.
Swingin' Songs at the Sundance
Along with dance lessons, karaoke, open mic nights and family nights, Sundance Steakhouse & Saloon hosts live acoustic performances on Friday and Saturday nights. This month, catch Honky Tonk Christmas with William Michael Morgan, Curtis Grimes, David Adam Byrnes and Brian Callihan on Dec. 3. Kelsey Jo & the Wildcards perform on Dec. 4. Walker Williams Band is slated for Dec. 10. Southern Fryed performs Dec. 11. See Twenty Hands High on Dec. 17. Rhett Haney plays on Dec. 18.
Rock out at The Aggie
The historic Aggie Theatre, a live music institution in Fort Collins for over 100 years, boasts a solid fall and winter lineup. Highlights this month include Lespecial with Amorphic Comisar on Dec. 3; Lady Denim with Co-Stanza, The Moss and Danno Simpson on Dec. 4; School of Rock Winterfest on Dec. 5; the second annual Uplift: Foco (all proceeds benefit The Matthews House Youth Music Program) on Dec. 7; Moontricks At Long Last Tour on Dec. 8; El Ten Eleven on Dec. 10; Blunts & Blondes on Dec. 11; TX2 + Write Minded on Dec. 18; Boombox featuring Backbeat Brass with the Bordas Brothers on Dec. 30. And finally, the New Year's Eve Celebration brings Head for the Hills with Wood Belly to the stage on Dec. 31. Reserve tickets online in advance. Proof of vaccination required.
Amazing music at Washington's
Washington's, a historic 900-person venue in Old Town Fort Collins, hosts some big names this month and next. Dawes will perform on Dec. 1. An Evening with We Banjo 3 is set for Dec. 2. An Evening with Leftover Salmon will take place Dec. 3 and 4.  Catch the Sonic Spotlight 2021 Final Showcase on Dec. 9. In the Whale performs on Dec. 11. John Craigie brings his #KeepItWarm2021Tour to the stage on Dec. 17. Looking ahead to January, Tusk – the World's #1 Tribute to Fleetwood Mac is Jan. 7, and Fierce Bad Bowie is Jan. 8. Proof of vaccination or negative COVID test required for entry.
Intimate shows at The Armory
The Armory (sister venue to Washington's) hosts nationally known musicians in an intimate 200-capacity (seated) listening room. Tickets are available for Arlo McKinley who is performing on Dec. 16. Proof of vaccination or negative COVID test required for entry.