Great Plates 2015 is upon us. Fort Collins has been praised for its amazing food and the diversity of its dining scene, so the Fort Collins' Annual Great Plates event is the perfect time to sample some of Downtown Fort Collins' best restaurants. During Great Plates 2015 we will celebrate our enthusiasm for food by enjoying excellent dining specials and donating to those that are less fortunate! With more than 30 participating eateries pushing cuisines from Tex-Mex and Sushi to seafood and Southern comfort, there are plenty of plates to enjoy. If you're looking for a way to narrow down your choices, we've spotlighted a few favorites for you to start at:
Great Plates 2015
Farm-to-Table:
RARE: This restaurant is new to the Fort Collins dining scene and offers a lavish environment and locally sourced Italian style cuisine. Enjoy their three-course dinner, including your choice of the three-piece Antipasto Sampler, Mixed Green Salad or their Arancini, a main course of fire-grilled Speck Pizza, Pappardelle with mushrooms or the local favorite, Trout a la Piastra DOLCE, finished off with their small bites dessert options. If you're looking for a unique way to experience RARE, request their community table and watch the chefs in action.
The Kitchen: This restaurant is native to Colorado, and although they have multiple locations, they pride themselves in local sourcing and an ever-changing, seasonal menu. Enjoy their eclectic style restaurant with their three-course Great Plates special featuring, The Kitchen Tomato Soup or Green Salad, and a choice of Rigatoni alla Bolognese, or Wheatberries & Roasted Butternut Squash. For dessert enjoy either their Pot Au Chocolat with heavy cream that melts in your mouth, or Maple Panna Cotta with smoke salt, which captures the essence of our mountain culture.
Pair it with a craft beer:
Fort Collins Brewery & Tavern: This brewery-gone-restaurant is the perfect place to find locally-sourced plates that are perfectly paired with their craft beer made on-site. For $25 you can enjoy a two-course meal for two people. Start off with a choice of their Gravity Salad or Tenderloin Bruschetta, followed by a choice of Mushroom Ragout over Fried Polenta or House Made Sweet Italian Sausage Marinara over Pappardelle Pasta. Make sure to pair it with a craft beer of choice (or cocktail if you aren't a beer drinker) and finish it off with their complimentary Dark Chocolate IPA Truffles.
Coopersmith's Brewery and Pub: As Fort Collins' first craft brewery, Coopersmith's offers not only tasty craft brews but a mouth-watering, tasty menu to pair with it. This restaurant offers two dining experiences: Pub side, which is your traditional American-style dining, or Poolside, which is a much more casual environment complete with pool tables. Both Pub and Poolside are featuring their NY Strip Steak with your choice of toppings and sides, or Grilled/Smoked Salmon with special sides. If you're looking for some classic pub fare, try their Fish and Chips, Highland Cottage Pie, Wild Game Sausage Platter or Crispy Stuffed Poblano served with an Imperial Pint.
Buon appetito!:
Enzio's Italian Kitchen: Enzio's Italian Grill is a locally-owned and operated Italian restaurant in Downtown Fort Collins. The casual-fine dining environment gives way to perfected Italian dishes that are sure to please. Their Great Plates special includes a three-course dinner starting with your choice of house or Caesar salad, a main course of Surf-and-Turf with polenta and vegetables, Calabrese Pasta, Chicken Piccata, Salmon Balsamico, or Wild Boar Bolognese. Finish the meal off with their decadent Tiramisu, including brandy and espresso soaked ladyfingers, mascarpone mousse and cocoa powder.  
Bisetti's Ristorante: This family-owned and operated restaurant has been in Old Town Fort Collins since the 1970's, and their intimate setting makes for the perfect date night. Enjoy dinner for two during Great Plates at Bisetti's with an appetizer of Toasted Garlic Bread and your choice of two entrees: Sausage & Peppers Penne, Eggplant Parmigiana, Meatball or Sausage Manicotti, or Bisetti's Beet Salad (Fort Collins is known for its beets).
If dessert isn't included, try one of the dessert stops included in Great Plates: Ben and Jerry's Scoop Shop or Kilwins Chocolates and Ice Cream.
Do you like seafood?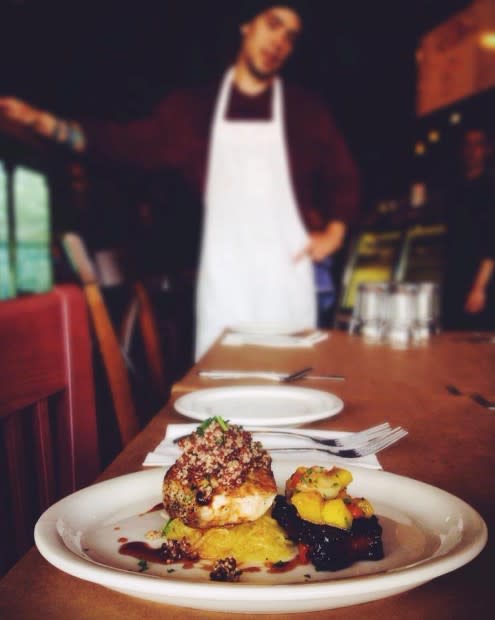 Suehiro: Suehiro is Old Town Fort Collins' top Japanese restaurant, featuring authentic tea-table seating and a long list of specialty and made-to-order sushi and hot plates. Enjoy their three-course dinner for two special, including a choice of Edamame or Fried Shishito Peppers, Assorted Sushi or Miso Ramen for the main course and Tempura Pineapple or Mochi Ice Cream for that sweet treat.
JAX Fish House: JAX Fish House in Fort Collins gets fresh shipments of fish daily, meaning you are getting the best quality seafood in Downtown Fort Collins! Their three-course dinner special includes a starter of Lobster Bisque or the Fort Collins Salad, a main course of Blackened Catfish, Cioppino, or Smoked Chicken Jambalaya and choice of dessert, including Chocolate Bread Pudding with vanilla crème anglaise and shaved chocolate, or Banana Crème Brulee with 'nilla wafer. Enjoy their fresh seafood and locally-sourced ingredients.
Fish Restaurant: This seafood-centric restaurant offers quality cuisine in a casual atmosphere, locally-owned and operated by people right here in Fort Collins, Fish serves only the freshest seafood with supplies refreshed on a daily basis. Their Great Plates special features a four-course meal including a Mixed Fish Ceviche Tostada (with seasoned flour shrimp, pico de gallo, lettuce, and beer cheddar cheese), a Horseradish Caesar Salad, Smoked Bay Scallops & Goat Cheese Stuffed Poblano Rellenos and a Peach Champagne Sorbet w/ fresh blackberries.
Fort Collins Crafted:
Jay's Bistro: Jay's Bistro is an international-fusion restaurant that takes pride in serving the highest-quality dishes in an elegant setting. Enjoy their four-course tasting menu during Great Plates. Course one includes your choice of Roasted Red Pepper & Tomato Basil Bisque or local Hazel Dell Mushroom Cream. For the second course, enjoy your choice of Heirloom Tomato or Mini Romaine Salad. Course three features Lamb Sliders, Caliman or their Duck Spring Roll. And to finish the meal off, enjoy a choice of Tiramisu or Chocolate Decadence cake. Pair the meal with their complimentary glass of house red or white wine or a domestic draft.
Austin's American Grill: This classic, all-American style restaurant is a local's favorite, and is located on one of Downtown's most popular streets, Mountain Ave. They are known for their Rotisserie Chicken, but their whole menu is masterly crafted. For their Great Plates special, enjoy a three-course meal including a choice of soup (I suggest their Fat Tire Beer Cheese Soup) or salad (Baby Bleu or Hill Country), Bison Prime Rib with a baked potato and seasonal veggies, Char-Grilled Sea Bass with lobster cream sauce, brown rice quinoa pilaf, or Truffle Braised Boneless Beef Short Ribs with roasted garlic mashed potatoes and mustard greens. Finish this meal off with either their Chocolate Mocha Pots de Crème or Meyer Lemon Pots de Crème. Classic American dining, with a culinary touch.
The Mainline: The Mainline features mountain favorites with a Fort Collins spin while featuring an urban setting and classic cocktails. Their three-course meal for two features a choice of Mixed Baby Greens, Southern Wedge Salad, Butternut Squash Soup or Chicken Tasso N' Andouille Sausage Gumbo for starters. Then choose from Cajun Penne, the 50/50 Burger, Bacon Wrapped Meatloaf, or Pan Seared Pork Tenderloin. Enjoy a classic dessert, Chocolate Caramel Mousse or Mason Jar Banana Pudding (my personal favorite) for the perfect top-off.
These are just a sampling of the specials offered during Great Plates 2015. Find the full list of restaurants and more info on our website.