Beaver Meadows Stables, located in beautiful Red Feather Lakes, offers incredible guided horseback rides in Roosevelt National Forest, and it's more than just your regular "nose to tail" trail ride. Beaver Meadows Stables rides in small groups (usually just your family or group and a guide) so they can accommodate peoples' individual riding skills. The stable is located at 8,500 ft. in elevation and is equipped with a trail system consisting of 20+ miles of scenic mountain trails into the Roosevelt National Forest, including river crossings on rides 1.5 hours and up. Going on a ride with them is an unforgettable experience, which is why we were so excited to have the chance to speak with Clara Glaze, owner of Beaver Meadows Stables!
Guests come to Beaver Meadows Stables to experience more of an individualized riding experience. We have a flexible schedule, and we attempt to fit the horses and the pace according to each family or group's preference and need. If you want to take your 6-year-old on his first trail ride, it's going to be a beginner level, versus a group of athletic college students who want to go a little faster at times. Naturally, we don't mix the two levels together like so many of the big stables!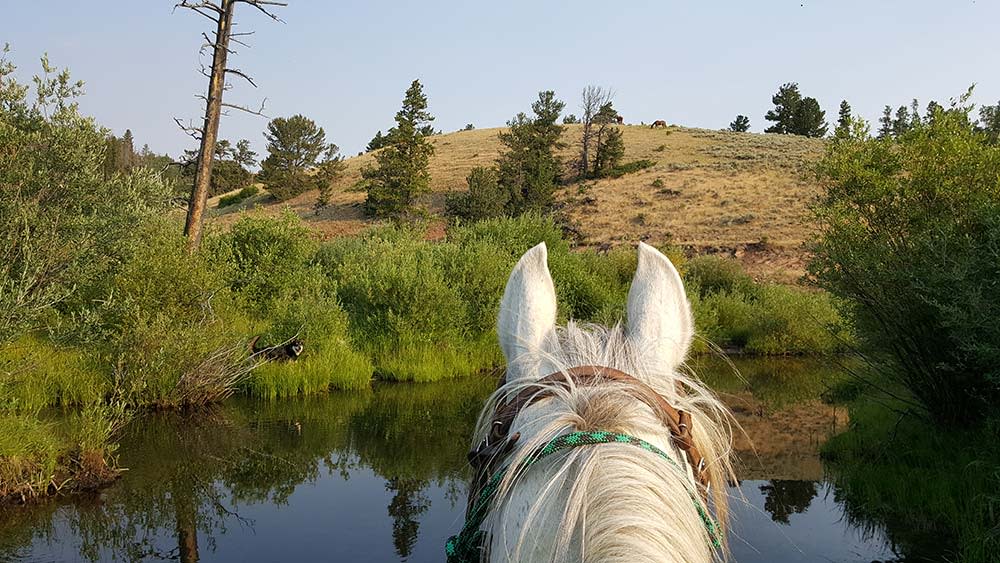 What do you love about Fort Collins?
I live in Red Feather Lakes, CO, so Fort Collins is my go to place for shopping and going out. Fort Collins offers all of the amenities of a big city and has still kept a home town feel. It is great to go from Fort Collins lovely city back to my remote little mountain within less than an hour.
What are some of your favorite things to do in Fort Collins?
Every once in a while I'll spend an evening enjoying the nightlife Fort Collins has to offer. I enjoy old town and being able to walk from one restaurant to the next while window shopping all the neat little stores. I also love Lory State Park just west of the Horsetooth Reservoir. When there is snow cover in the mountains, I bring my horses down there and enjoy riding the trails. The views over the lake with Fort Collins on one side and Longs Peak on the other are breathtaking!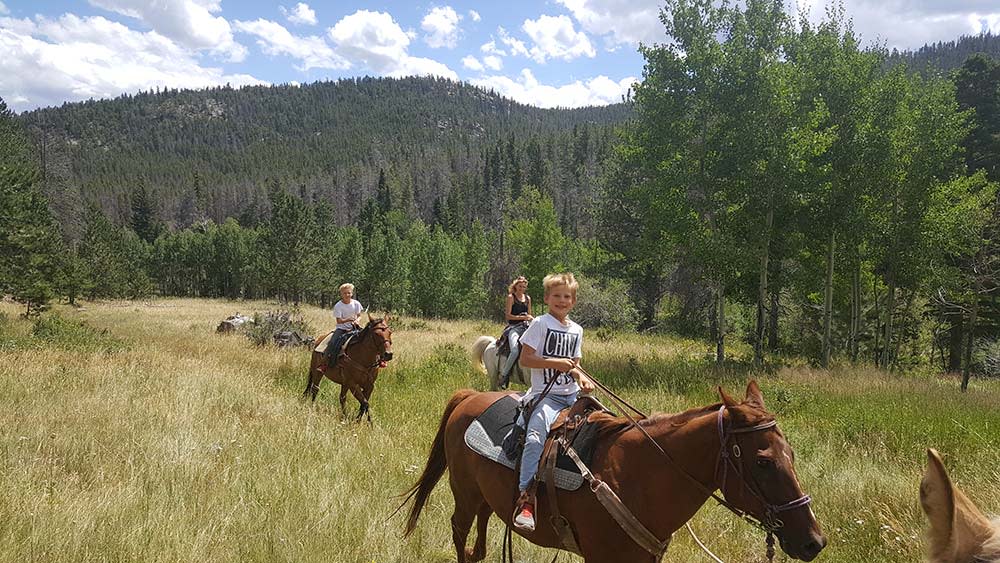 I have worked at several stables and always wanted to have my own, but thought it was a pretty remote dream. One time, when I was still training young horses for a living, I came across a pretty promising ad for a beautiful Palomino Gelding. When I went and checked him out, I spent more time than usual with the sellers, a mother and daughter. They wanted me to buy the horse's younger sister as well, which I finally did after learning that she was named after Scarlett O-Hara from Gone with the Wind (one of my all-time favorite movies). Normally, I wouldn't have purchased a brown mare because most people prefer to buy a fancy colored gelding.  She was so beautiful and there was just something about her and the sellers I liked.
In the course of all this, the seller also gave me a free subscription to the Fence Post Magazine, which later turned out to be the ONLY place the stables were advertised for sale. When I read the for sale ad it took me less than a month to decide to buy this business and move across Colorado to get started.
That was seven years ago. My beautiful mare Scarlet is still here at the stables today, being one of my most sweet and hardworking trail horses.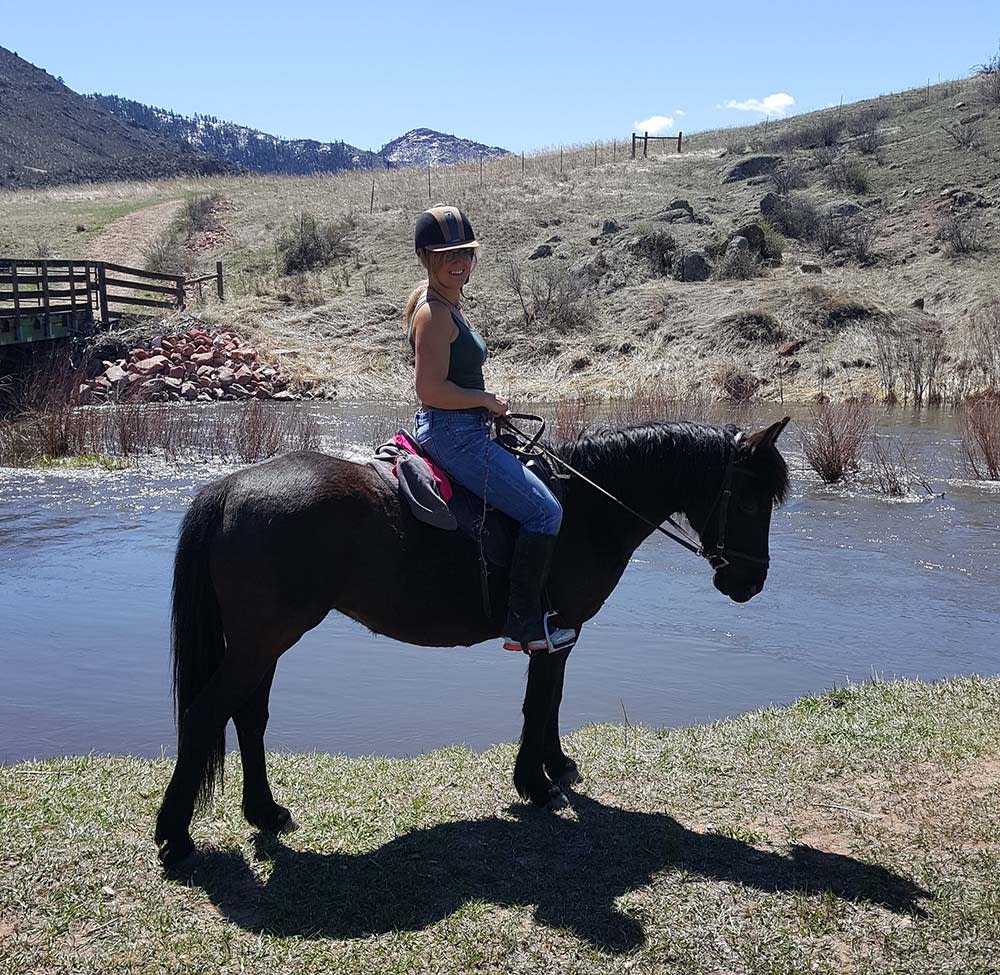 I want guests to feel the same thing I do, which makes me happy: How peaceful and deeply rewarding it is to experience the beauty of the mountains and the forest while sitting on the back of a willing and happy horse.
Tell us about yourself...
I came from anything but farming and ranching background. I grew up in an academic family and was on my way to have a typical white collar career after college. Everything was great except sometimes at night I had this nagging thought where I wished my life was more adventurous. My last summer in college I decided to work on a guest ranch in Colorado and I never went back to my old life. When my college friends were starting to make bigger salaries, I worked 12 hour days gathering cattle in the Colorado high country for next to no money. I could not have been happier! I have seen the best and toughest parts of the horse and cattle industry doing all sorts of jobs from training young horses to working in the feed yards.
Having my own stables has allowed me make a living doing what I love. Yes, its long days and hard work but I get to be under Colorado's blue sky and breathe the fresh air, which is still priceless!
---
Address: 100 Beaver Meadows Place, Red Feather Lakes, CO 80545
Phone: (970) 232-8326
Email: clarasprettyhorses@gmail.com
Hours of Operation:
Website: www.beavermeadowsstables.com