While walking along historic Walnut Street in Old Town Fort Collins have you ever found yourself stopping and staring at a storefront that is filled with energetic, adventurous, handcrafted apparel ranging from beanies to hoodies, leggings, dresses and so much more? We certainly have! Welcome to Akinz, the handcrafted lifestyle brand for the adventurer at heart. In this week's installment of community connections we had the pleasure of speaking with Suzanne Akin, owner, designer and founder of Akinz.
If there's one thing to take away from Ms. Akin after hearing her talk about what she does, it's that she takes great pride in her designs. All of her products have handcrafted elements that make everything she designs extremely unique. Shirts are printed right on site at the store in Fort Collins and all beanies are made by hand. 
Akin originally founded Akinz in 2005 in a studio apartment in Houston, TX. She came up with the fantastic motto, Find Your Wings. The Akinz motto, which sometimes shows up in the t-shirt designs and is the foundation of the wings logo, encourages men and women to find the one thing that motivates them to push life to the limit and reach for the sky.
What is the story behind how you started Akinz?  
I went to school for fashion design, so I always knew I wanted to create, but had hopped around to different industries without finding the right combination of place to live and job.  I focus my energy instead in the sports I love outside of work and that's when I got inspired to create my own casual line geared towards the outdoor industry. My brand followed me as I had my own adventures, so my roots were as a wake boarding brand in Texas, then a snowboarding brand in Steamboat Springs, and finally as the Akinz you see here in Fort Collins...a casual brand that loves the outdoors, bikes, beer, the mountains & adventure.  Akinz has always been a reflection of myself, so that may just happen to be what I love too (playfully laughing).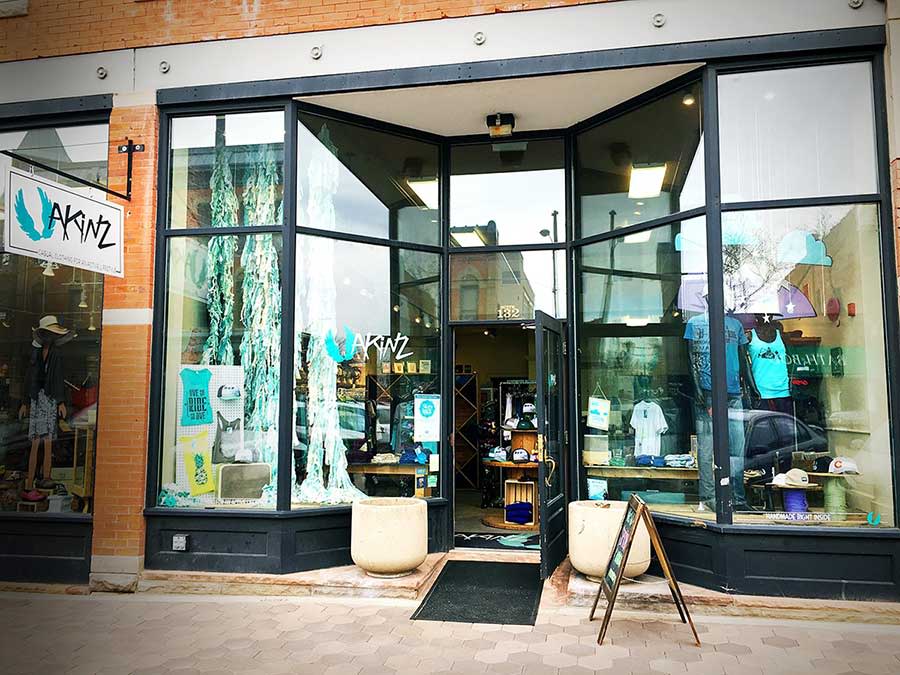 I love the fact that if you like bikes or beer, you can always find a friend.  And, that we have so much beauty right on the city boundaries to explore.
What are some of your favorite things to do in Fort Collins?
Here is my perfect Fort Collins day:  Morning coffee, mountain biking at Horsetooth Mountain Park, tacos and a margarita on a patio (Rio, La Luz, Torchy's… all good options), which transitions to beers on a brewery patio, I'm not sure if I can name a favorite brewery cause we have so many, but of course New Belgium and Odell are always good options.  I like to make the rounds when I have time though. Afterwards, I enjoy a nice bike ride home along our amazing in town trail system.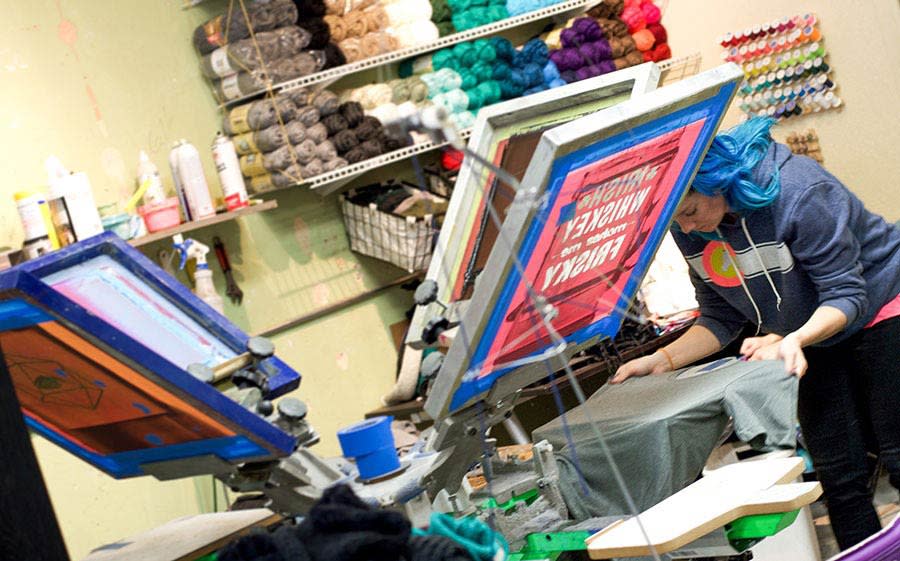 What makes Akinz unique?  
We make the majority of our beanies right in our downtown Fort Collins shop and you can come pick out your own custom colors for a fully customized item.  We also do our own design and screen printing in the store and host live printing events on First Friday where we print one of that's month's featured artist's designs onto a shirt while you wait.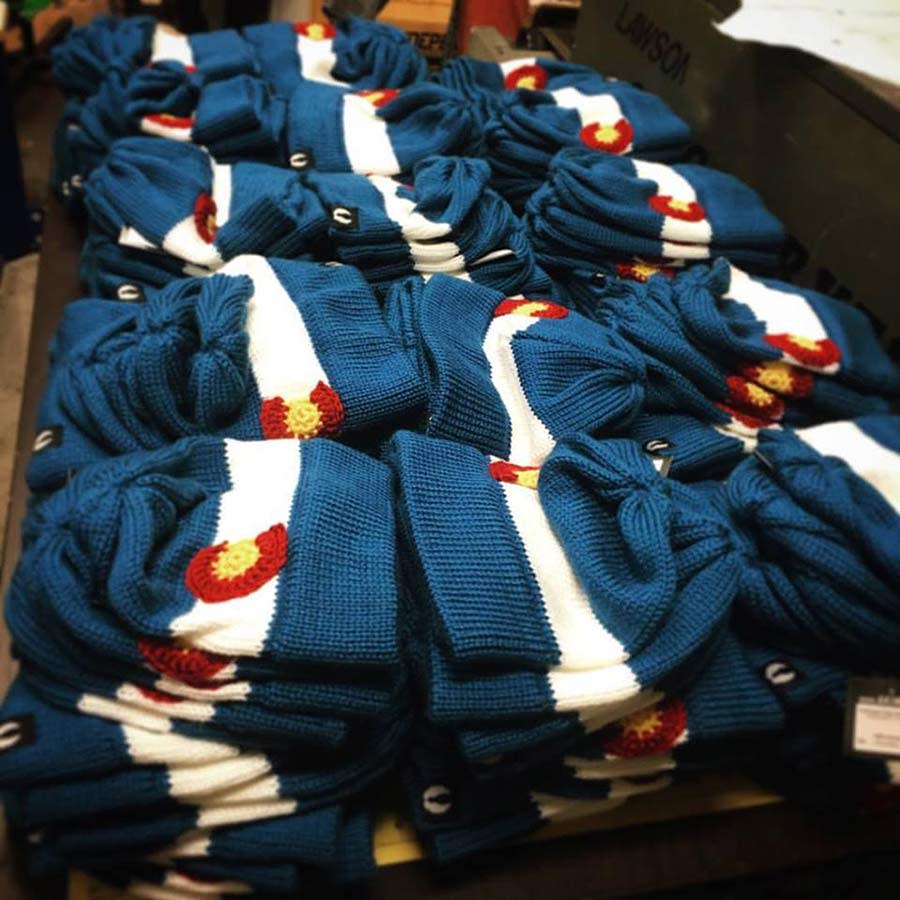 Tell us about yourself...
I was born and raised in Texas and went to school at the University of Austin with a double major in Fashion Design and French so I could run off to Paris and design couture.  It quickly became obvious to me during my college years that even though I love the design behind couture clothing, my lifestyle didn't match my dreams and I struggled to find the right fit after graduation.  This resulted in me bouncing around and working in marketing, retail, graphic design and customer service...which turned out to be the exact right combination of experience to start Akinz when I was ready.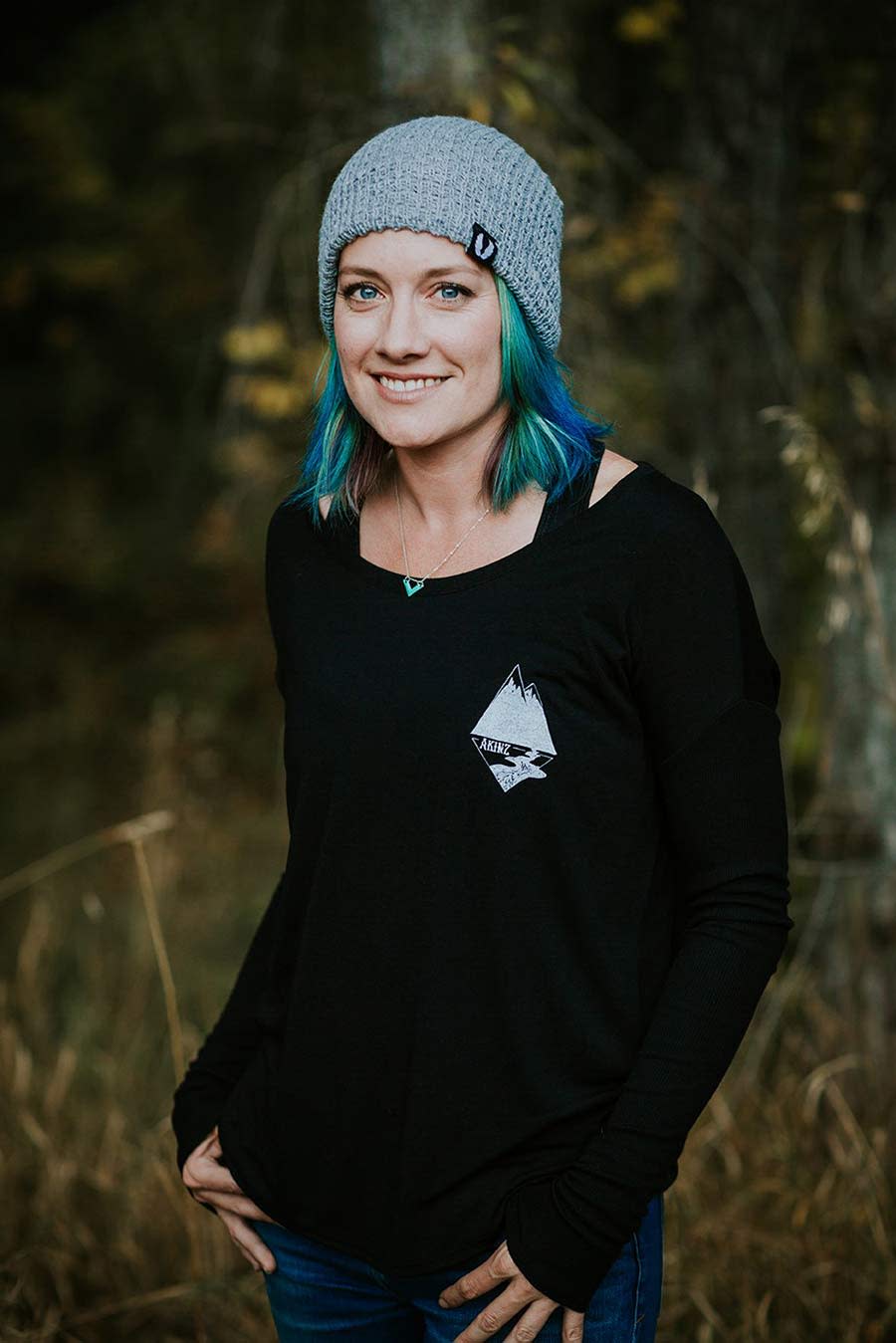 What do you want visitors to experience when going to Akinz?  
I love it when people get excited about the process.  We used to have a wall separating our work space and sales floor, as it can get a bit messy back there, but creativity is messy and that's ok. We're happy to share the way we make the products and if we have a design set up on the screen printing press that we're printing and someone wants to pick their own shirt out to get printed, we're happy to do that too.
Anything else you wanted to add…  
Our new line of custom printed active leggings will launch this spring, so make sure you check back for those.  They are super comfortable, a great fit, made from recycled water bottles and sewn right here in Colorado!  
---
Address: 15 Old Town Square, Ste 132, Fort Collins, CO 80524
Phone: 970-682-1750
Email: info@akinz.com
Hours of Operation: M-Sat 10-6 Sun 11-5 (Summer hours start in May)
Website: www.akinz.com
Twitter: @akinzboardwear
Facebook:  Facebook.com/akinzco
Instagram: @akinzboardwear
Pinterest: Pinterest.com/akinz
(All photos courtesy of Akinz)