Easter in Fort Collins - Easter Egg Events
Just because you're on vacation spending Easter in Fort Collins doesn't mean that the traditional Easter Egg Hunt has to be left behind as well. Make your spring vacation extra special for the whole family by checking out one of the many FREE Easter Egg Hunts and events offered throughout town. On Thursday afternoon, April 2nd, Rigden Farm will host their annual Intergenerational Easter Egg Hunt where children of all ages and families can participate in the traditional Easter Egg Hunt in an intergenerational environment. Call (970) 224-2700 for more information. Don't miss out on Saturday's Easter Eggstravaganza at Gulley's Greenhouse and Garden Center for some Easter fun activities, including free face painting, photos with the Easter Bunny, petting real baby bunnies and more.  If you're looking for a fun Easter Egg hunt on Easter day, don't miss the Community Easter Egg Hunt at Trinity Lutheran Church. This free event is open to the public and all ages are welcome. Enjoy a fun morning of hunting for eggs, meeting the Easter Bunny, playing games and tasty treats. Easter in Fort Collins is a great time for families to celebrate together, and these free events are sure to be fun for everyone!
Bunch-a-Brunch
Fort Collins loves their foodie culture, and there's no better way to celebrate a special occasion than by filling your bellies with brunch at one of our local restaurants. Try some of these popular dining hotspots for your Easter brunch celebration (Don't forget to make reservations!). Jay's Bistro is an Old Town classic, and serves a decadent morning brunch. Enjoy a wide variety of culinary delights from stuffed dates to Corned Beef Hash served in a beautiful environment (with a beautiful outdoor patio as well). Another option is enjoying the tasty buffet brunch served at The Hilton Fort Collins. Indulge in their "Raw-bar", made-to-order omelets and carved honey-glazed ham. Book your room with the Hilton to make your Easter in Fort Collins celebration a weekend vacation. Enjoy brunch with some tasty cocktails at The Mainline in Downtown Fort Collins. This Fort Collins-centric restaurant will be featuring a southern-style brunch featuring items such as biscuits and gravy, chicken and waffles and beignets. Celebrate Easter at the table this year and enjoy quality family time with some quality food.
Outdoor Fun
A personal favorite way to celebrate Easter in Fort Collins is by celebrating the perfect spring weather. Get out and play outside with the family in Fort Collins this Easter! Make sure to check-out some bikes from the Fort Collins Bike Library, opening April 3rd for the 2015 season! From there, you can check out one of our paved recreational bike trails that take you from east to west and north to south throughout Fort Collins. Try getting out of town and enjoying the sounds of nature this Easter, and enjoy a hike in the Poudre Canyon (Lower Canyon Hikes: Grey Rock Trail or Hewlett Gulch Trail). Another great way to experience the great outdoors here in Fort Collins is fishing. Sit back, relax and throw that line in at one of our many Natural Area ponds, lakes and reservoirs, or give fly-fishing a go in the Poudre River!
Swetsville Zoo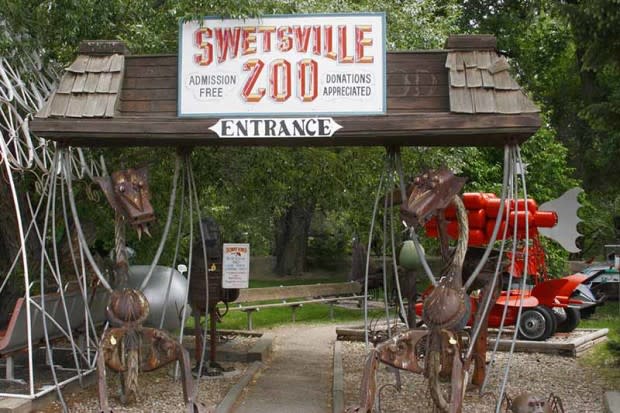 The Swetsville Zoo is a fun and magical place to spend a sunny afternoon with the family, and a perfect way to celebrate Easter in Fort Collins. Enjoy this collection of over 160 zoo animals, creatures and contraptions made out of recycled car parts, farm machinery and scrap metal. Explore this unique zoo as you wind through the self-guided paths along the Poudre River.
Set the kiddos free in the Museum of Discovery and watch as they explore the hands-on exhibits that are fun for all-ages (parents too). From creepy crawlies and furry animals, to learning guitar and exploring Fort Collins history, there's plenty of ways to occupy the whole day. Don't miss the Otterbox Digital Dome 360 degree theatre where you'll have an immersive experience of world-wide adventures!