The Best Show in the Solar System:
Explorations in the Museum of Discovery's Digital Dome
by Brian Cooke
Dancing Around with Borealis
I finally got to see the northern lights last year, and they were amazing. Green, twisting, iridescent streaks stretched from horizon to horizon across the sphere of the sky as I marveled at a natural phenomenon that had fascinated me for decades.
I had always pictured myself experiencing the aurora borealis somewhere in Norway, bundled up in the dead of winter, shivering through a long arctic night. Instead, I was comfortably semi-reclined in the Fort Collins Museum of Discovery's OtterBox Digital Dome Theater. The show was called Experience the Aurora, and it shows time-lapse images of the aurora borealis captured by digital cameras with fisheye lenses. It's a perfect use of Northern Colorado's only 360-degree dome theater.
This show also had the effect of making me wonder: What else can this 39-foot-wide, computerized, surround-sound, planetarium-on-steroids do?
From Big Bird to the Dome Geeks
So I took a look at the schedule. There was a Big Bird's Adventure short movie that I'd seen with my daughter in Denver years ago. (She enjoyed it.) I also noted more intriguing and educational-sounding titles like Dream to Fly and The Sun, Our Living Star. There were live concerts accompanied by a variety of dome visuals and laser shows synchronized with the music of Pink Floyd, Queen, Lady Gaga and more. I sampled every kind of Dome show and was generally impressed.
I even showed up for a few DomeLab Meetups. Held every other Tuesday, these are open, informal get-togethers of digital dome content developers, their friends and significant others, and (when I showed up) one curious blogger and his daughter, for an elaborate show-and-tell. We watched footage from drone cameras over the Northern Colorado foothills, pointed our cellphones at the Dome screen to zap alien spaceships, and marveled at a computerized tour of a digitized Titanic. I got to be on a first-name basis with the Dome manager, Ben Gondrez.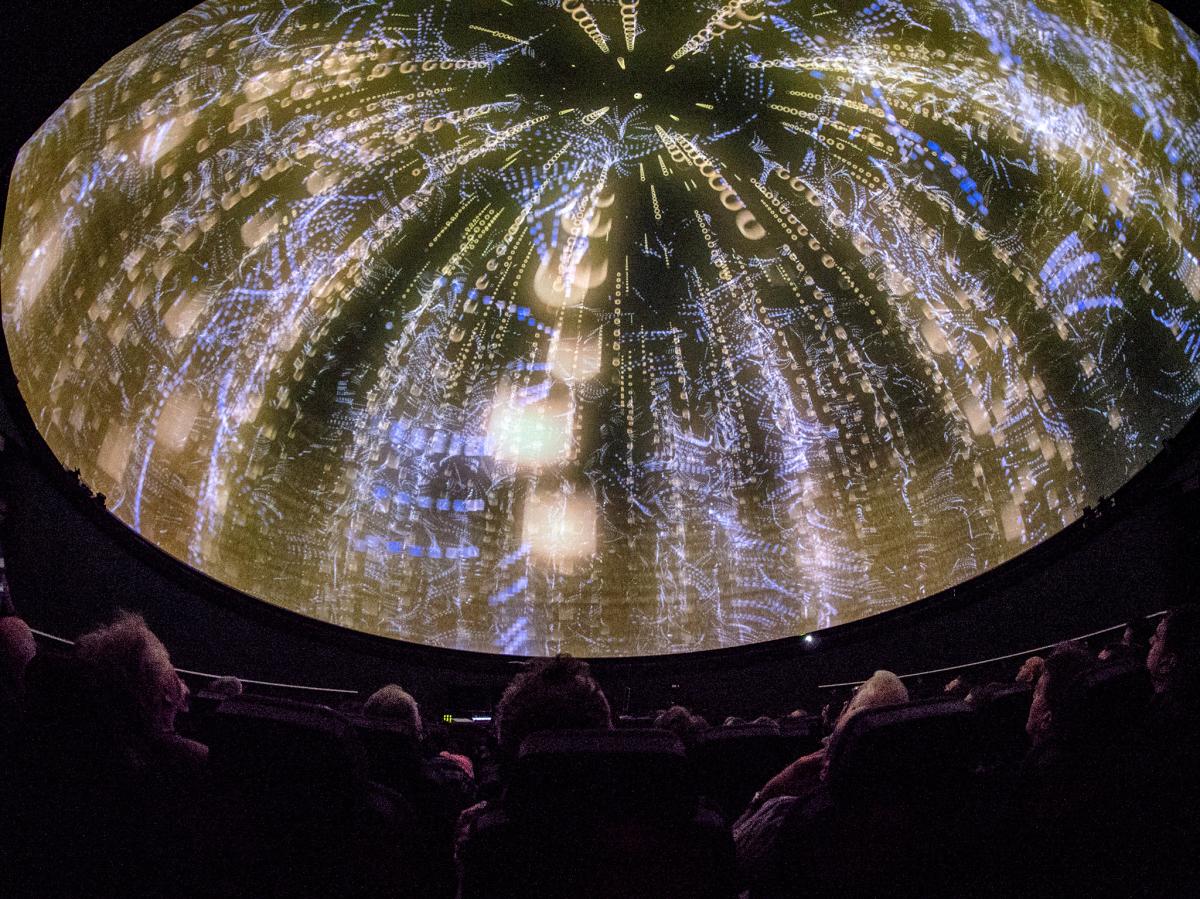 Photo Credit NSC Creative
Things You People Wouldn't Believe
But I still felt like I wasn't getting the full experience. I kept thinking of the scene in the 1982 science fiction film Blade Runner, where the movie's antagonist, Roy Batty, says as he's dying, "I've seen things you people wouldn't believe. Attack ships on fire off the shoulder of Orion … All those moments will be lost in time, like tears in rain."
That's the kind of visual drama I wanted to experience at the Digital Dome … without the dying part. But with music. And loud.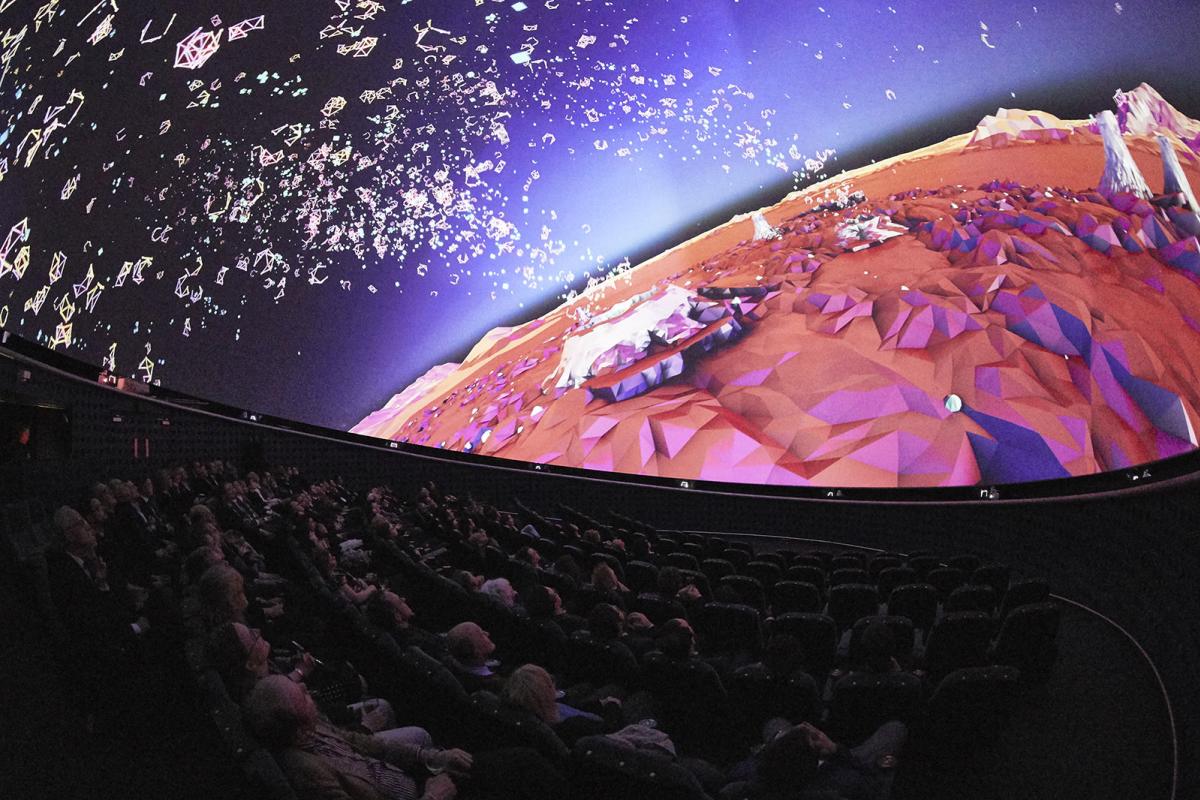 Photo Credit NSC Creative
To Neptune and Back, Twice
I had almost given up hope that the Digital Dome could deliver the immersive, floor-shaking, space-travel experience I craved. But it finally happened, or as close to it as I'm likely to get. The show was called The Planets 360, and it was based on Gustav Holst's The Planets Suite, a century-old piece of classical music in seven parts, each based on a planet of the solar system and a corresponding astrological character.
I arrived at the Dome late but was just in time to fly through Saturn's rings. I circled Neptune's icy blueness and tried to count all 27 of Uranus's moons. It was a wide-eyed science demonstration with music instead of words, with dizzying visuals projected on a massive screen, music that shifted from ominous to eerie to majestic, and a Milky Way that was as bright and clear as it was from the Earth's surface before humanity lit up the night.
After a brief intermission and a trip to the museum lobby for refreshments, the audience returned to the Dome for part two: a modern, electronic and relatively speedy interpretation of the suite. The sometimes surreal visuals incorporated mythology and humanity's connection to space while showing a different personality for each planet, like being introduced to different relatives in a very extended family. Instead of orbiting planets and moons from a safe distance like we did in the first part of the show, we got up close and personal. We fell with an astronaut through Jupiter's 13,000-mile-thick atmosphere. We stared into Venus's bubbling volcanoes. We stood together on Mercury, imagining the heat of a sky-filling sun as it rose over the planet's scorched surface.
The experience ended all too soon. As I walked out of the theater, I heard a young boy say, "That was cool."
Yes, it was. We saw things that you people wouldn't believe. And I'll be watching for more every month at fcmod.org/dometheater.
Located at the Fort Collins Museum of Discovery at 408 Mason Court, the OtterBox Digital Dome features full-dome shows, special lectures, live music events, artistic performances, experimental art, and more. Additional information can be found at fcmod.org.
A volunteer blogger for Visit Fort Collins, Brian Cooke has worked as a writer and editor for more than 20 years, including extensive freelance science and environmental writing for the U.S. Forest Service. His past volunteer work has included leading night tours on Alcatraz and answering visitors' questions at Deadman Lookout Tower near Red Feather Lakes. Brian's LinkedIn page is www.linkedin.com/in/bcooke1.