Along with plenty of twinkling lights and holiday vibes, December in Fort Collins is filled with live music, makers markets, and fun events taking place all month long. Here are just some of the festivities that deserve a spot on your calendar!
HOLIDAY HAPPENINGS
Stroll through Downtown for Holiday Lights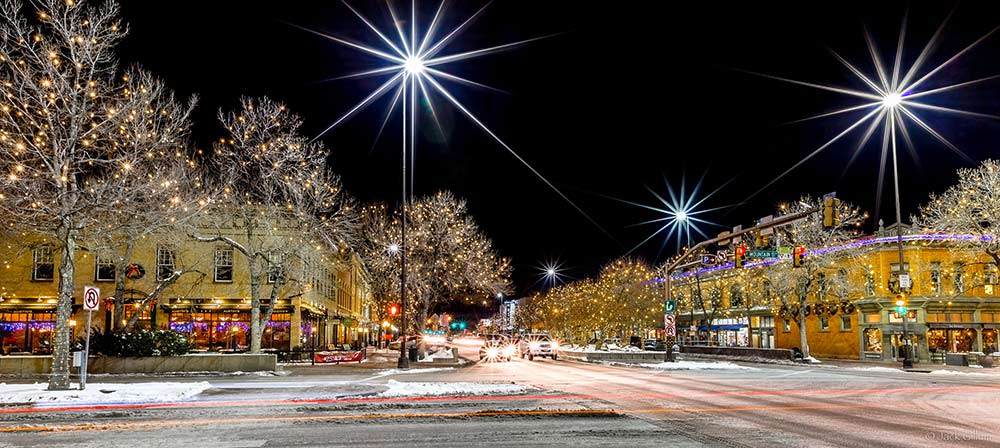 Downtown Fort Collins is the place to be for twinkling lights and plenty of holiday spirit. Every night through Valentine's Day, the lights will be turned on in Old Town Fort Collins. Twenty-two blocks of downtown are illuminated with thousands of strands of lights in alleyways, along sidewalks, and among treetops. The impressive display of low-energy and sustainable LED lights can be enjoyed anywhere along College Avenue, the northern boundary of Laporte Avenue, and continuing south to Magnolia Street. Trees are lit along Walnut Street, Linden Street, Pine Street, Old Town Square, Oak Street Plaza, and Mountain Avenue as well.
Community Makers Market, Dec. 3:
Baldwin Hardwoods hosts a community makers market featuring 12 local artisans on Saturday, Dec. 3, from 10 a.m. to 3 p.m. Don't miss the live epoxy demo at noon. The event is free for attendees.
Northern Colorado's largest curated marketplace for locally-made gifts and goodies features fine arts, handmade crafts and homemade food items, home décor and holiday baubles. Admission is free and shoppers can hum along with the holiday concert at noon. The Fort Collins Holiday Gift Festival takes place at Northside Aztlan Community Center from 11 a.m. to 5 p.m. on Sunday, Dec. 4.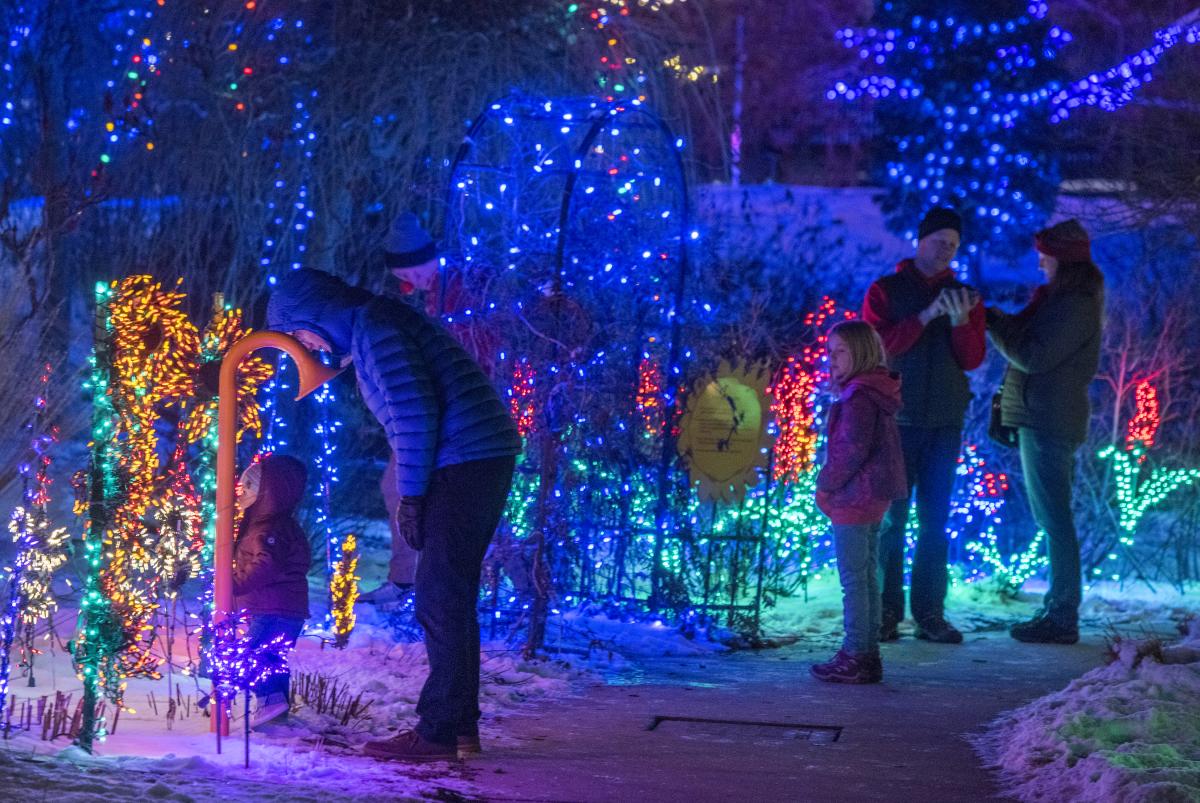 Experience one of Northern Colorado's favorite holiday traditions, the Garden of Lights, returning to Fort Collins Dec. 9-24. Stroll through a whimsical, twinkling winter wonderland illuminated by hundreds of thousands of LED lights at the Gardens on Spring Creek. Explore a whimsical half-mile loop filled with glowing grapevines, towering flowerbeds, dancing color blossoms, and other imaginative displays made of lights. This year, look out for a fun new photo op inspired by the Butterfly House and other exciting additions to the illuminated gardens. Warm up with hot cocoa and other holiday offerings available for purchase. Don't miss Santa, who will be at The Gardens nightly through December 23, plus glow-in-the-dark circus performers, a Sugar Plum Furry dog troupe and other festive live entertainment on select nights. Tickets are $5 for kids ages 5 to 11 and $10 for children over age 12 and adults; children 4 and under are free.
Join 100 musicians playing traditional Christmas Carols in four-part harmony on tubas and euphoniums. Snow or shine, see this free musical spectacle at the Oak Street Plaza from 2 to 3 p.m. Dec. 10.
Ginger and Baker 2nd Annual Holiday Market, Dec. 18:
Finish your Holiday Shopping with local makers at the Ginger and Baker Second Annual Holiday Market, taking place Dec. 18 from 9 a.m. to 4 p.m.
MUSIC & THEATER
Holiday shows at the Lincoln Center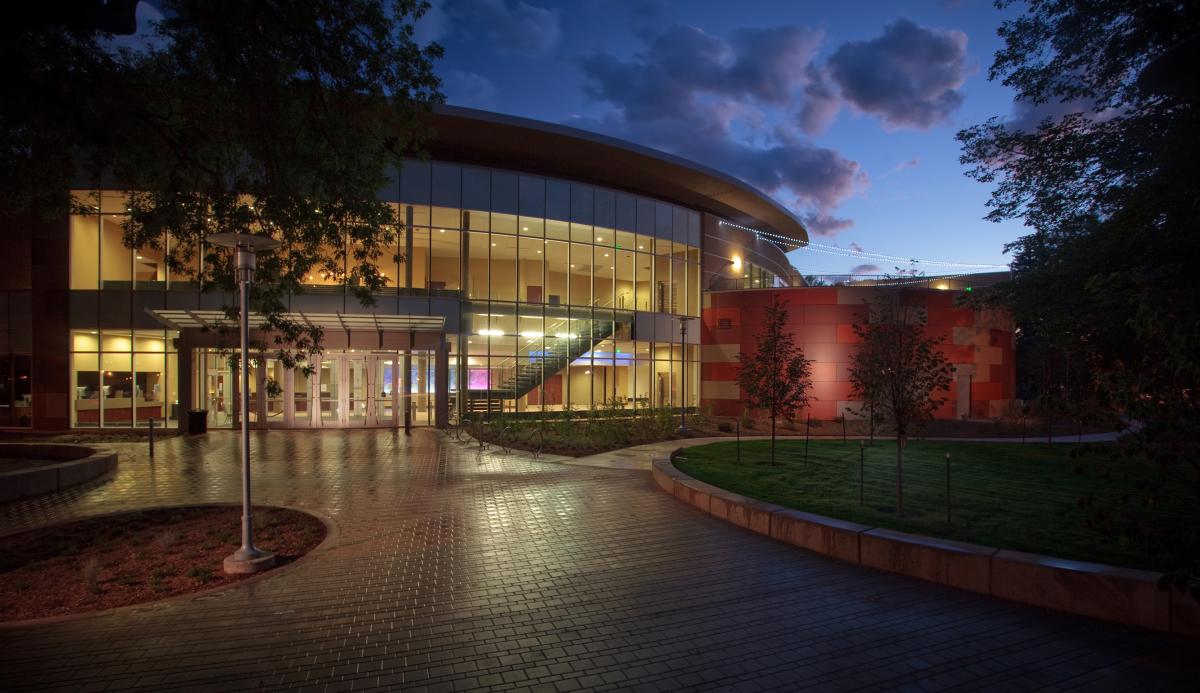 The Lincoln Center has a long lineup of holiday-themed shows to get you in the Christmas spirit this month. Learn about details and requirements for each specific show at lctix.com.
• Elf the Musical - Nov. 18-20: Presented by the Fort Collins Children's Theater.
• 5th Annual Improv for a Claus - Dec. 3: An original sketch comedy show and charity fundraiser presented in the style of a Second City Revue by The Parker Players. All ticket sales benefit Feed My Starving Children organization.
• The Holiday Spectacular - Dec. 3: A magical dance journey through the traditions of Christmas, including "The Nutcracker," "A Christmas Carol," and other classics. Presented by High Country Conservatory of Dance.
• The Nutcracker - Dec. 9-11: Presented by the Canyon Concert Ballet, performing with the Fort Collins Symphony.
• A Candlelight Christmas - Dec. 16-17: A "surround-sound" experience of holiday pageantry and wonder presented by The Larimer Chorale.
• Mannheim Steamroller Christmas - Dec. 20: A holiday tradition for over 35 years.
ART OPTIONS
•First Annual Mini Originals Art Exhibit and Sale – Nov. 5-Dec. 31:
"Good things come in small packages" at Blue Moose Art Gallery's inaugural holiday show and sale, featuring more than 40 original pieces for purchase.
MOVIES & MORE AT THE LYRIC
See an exciting film at The Lyric in Fort Collins this month when the documentary "All That Breathes" screens on Dec. 1 at the theater. The film is presented in partnership with the Fort Collins Museum of Discovery and CSU's ACT Human Rights Film Festival. This is the first film in history to win best documentary at both the Sundance and Cannes Film Festivals. The film chronicles two brothers who devote their lives to protecting the black kite, a majestic bird of prey, while living in one of the world's most populated cities. The theater is also hosting the second annual FoCo Family Band Holiday Makers Market on Dec. 10. Enjoy live music, libations, and hand-crafted goods from more than a dozen makers from 11 a.m. to 5 p.m.
Live on the Lanes
830 North hosts Live on the Lanes weekly concerts sponsored by Mishawaka Amphitheatre. See Tumbledown Shack on Workingman's Wednesdays for a free show on Dec. 7 at 6:30 p.m. Details here.
Rhythms at the Rat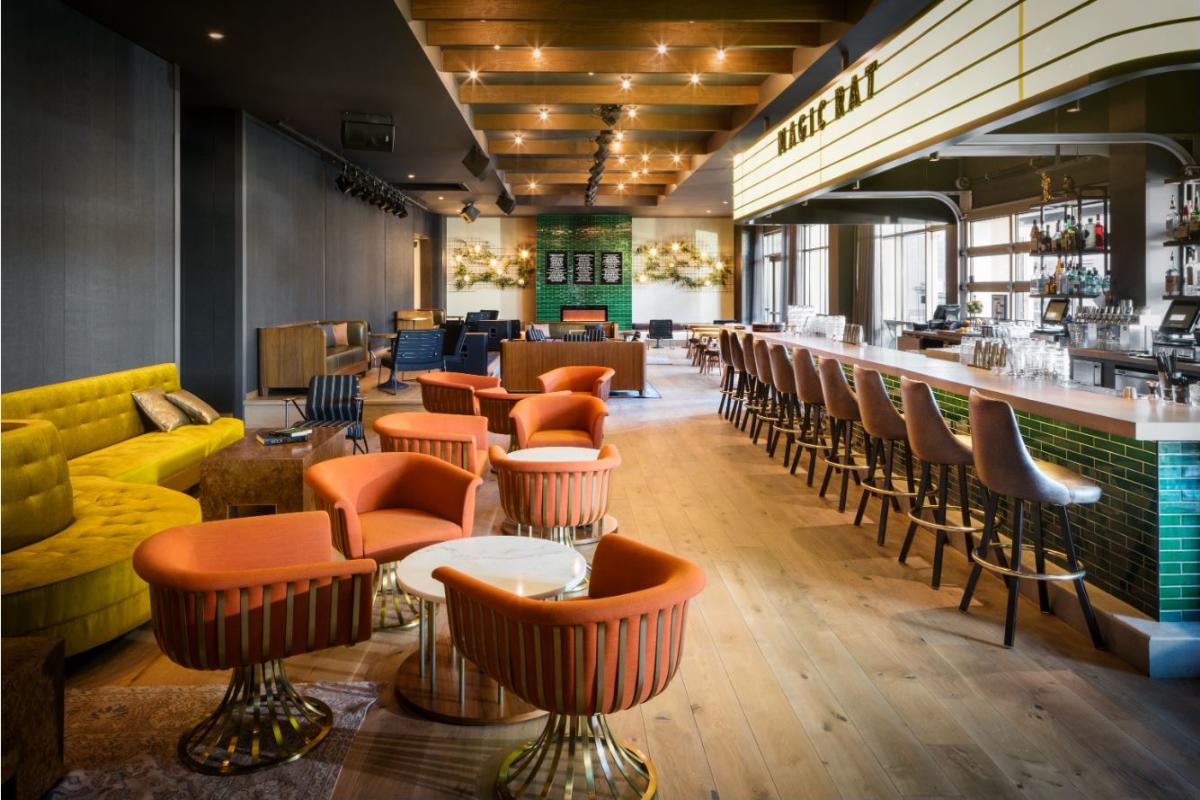 Magic Rat, located in Old Firehouse Alley adjacent to The Elizabeth Hotel in Old Town, offers swinging sounds on tap weekly, from big-name artists to local late-night jam sessions. Matthew Wilburn Skinner performs on Dec. 1. Venture Still takes the stage on Dec. 2. See the Just Jazz Quintet on Dec. 8. On Dec. 9, catch Denver band Milquetoast & Co. Mike Lamitola performs on Dec. 15, while Shred the Cowboy is slated for Dec. 16. On Dec. 17, see Rusty 44 perform. The last week of the month, catch Resonant Rogues on Dec. 29, Sugar Britches on Dec. 30 and Crescent City Connection for a special New Year's Eve show. Check the calendar for all the details.
Rock out at The Aggie
The historic Aggie Theatre, a live music institution in Fort Collins for over 100 years, boasts a solid fall and winter lineup. The month kicks off with a bang with Melt on Dec. 1; Champagne Drip on Dec. 2; and Smoakland on Dec. 3. Catch DJ/Producer duo TWINSICK on Dec. 7. See KHIVA on Dec. 8. For something a little different, watch standup comedian Trevor Wallace take the stage on Dec. 9. Papadosio performs Dec. 10, while you can see Wookiefoot on Dec. 15. BoomBox Ft. BackBeat Brass is slated for Dec. 30. And a special New Year's Eve show featuring Michal Menert along with Primeform, 3420 and gramattr will help you usher in 2023 right. Visit this page for the full lineup.
Amazing music at Washington's
Washington's, a historic 900-person venue in Old Town Fort Collins, hosts some big names this December. Soccer Mommy will perform on Dec. 2. On Dec. 3, catch The Menzingers: On the Impossible Past 10 Year Anniversary Tour. Don't miss the Sonic Spotlight 2022 Final Showcase on Dec. 8 with performances by Fiona Sofia, Hospital Socks and Hygeia. That Eighties Band performs on Dec. 9. On Dec. 10, see The Wallflowers take the stage. Keller Williams brings his rock/jazz/funk/bluegrass sounds to the stage on Dec. 16. John Craigie's Keep It Warm 2022 Tour lands at the venue on Dec. 17. On Dec. 18, see Summer Salt with Lady Denim and Holdfast.
Intimate shows at The Armory
The Armory (sister venue to Washington's) hosts nationally known musicians in an intimate 200-capacity (seated) listening room. Alejandro Aranda (scarypoolparty) is set for Dec. 4 at 7 p.m. Looking ahead to 2023, catch Why Bonnie and Sun June on Jan. 27, and Will Sheff/Okkervil River on Feb. 1.
Swingin' Songs at the Sundance
Along with dance lessons, karaoke, open mic nights and family nights, Sundance Steakhouse & Saloon hosts live acoustic performances on Friday and Saturday nights. Visit the website for the latest on who is performing this month.