In honor of National Burger Month, we invite you to celebrate the tastiest and most sought-after burgers in Fort Collins. The Choice City has an overwhelming amount of great places to grab a juicy burger, so we thought we would list some of our favorites. Please feel free to make a stop at each and every one of these "Fort Collins Best Burgers" spots.
Traditional Burgers
CooperSmith's is a staple when it comes to the Fort Collins dining scene and is a must-have experience when in Fort Collins. This eatery is a classic Fort Collins brewpub that is known for its delicious craft beer and its out-of-this-world tasty burgers. The Jalapeno Popper burger is a popular burger at Coopersmith's, adding a spicy boost to your burger palate. This burger is topped with spicy cream cheese, bacon, and fried jalapenos, and for your side, don't miss CooperSmith's house-made pub chips. Looking for even more spice? Pair it with the famous Sidga's Green Chili beer, sure to give your taste buds a tingle.
With more than 100 beers on tap, one would think The Mayor of Old Town's one true passion is beer, which it is, but this hip taproom also has a passion for creating great tasting burgers. This is the perfect place to get your burger and a beer fix. With burger options ranging from The Cowboy, Blue Cheese and Bacon, and Avocado Red Pepper, The Mayor promises not to disappoint. So if you're looking for that perfect complement to an IPA, a wheat or that stout, stop into the mayor for a juicy burger to fulfill that craving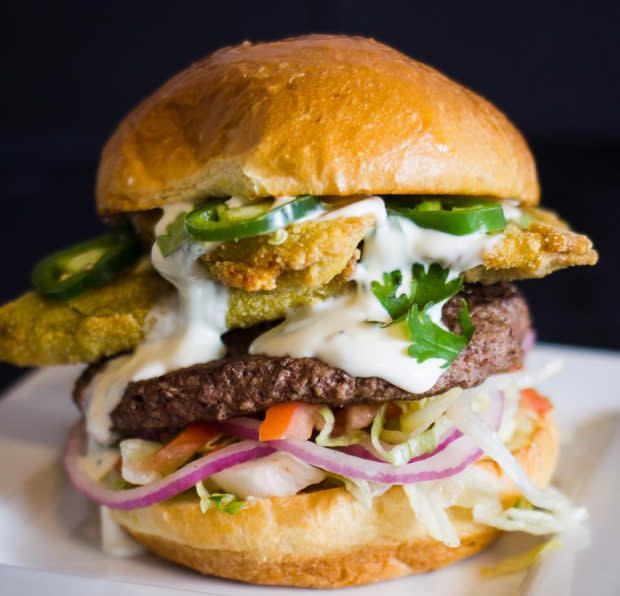 Stuft a Burger Bar is the perfect burger joint for those looking for a limitless amount of toppings. This unique restaurant allows you to become a burger artist where you can choose everything from your type of meat, bun, toppings, and sauces. If you're looking for something a little more daring than build-your-own, try their Hangover Burger featuring a burger topped with egg, set between two warm glazed doughnuts. Or, give the Chile Relleno Burger a go, decorated with diced jalapenos, lime cilantro crema, and cheese-filled poblano chiles. Stuft is local to Northern Colorado and was started in Fort Collins by two Colorado State University graduates.
This classic English-style brewpub calls historic Old Town Fort Collins home and features a creative tavern far-type menu. They are consistently voted as one of the top burger spots in Fort Collins thanks to their large menu of "Signature Royale" burgers. If you really want something different try their Relleno Royale, topped with a pepper jack stuffed chili, chipotle mayo, lettuce, and tomato on a toasted brioche bun. There's no doubt that all of Crown Pub's burgers are sure to please your taste buds.
One might ask, "Why is an Italian Restaurant being listed on a Best Burgers list?" Well, we'll tell you why. Nick's has always featured a Tuesday night special of "buy a burger, get a free beer", and it has become a favorite on the local burger season. The special has helped create a bit of a cult following for this delicious burger. Nick's Italian also recently won the award for Best Burger in Fort Collins after The Coloradoan, Fort Collins' local newspaper, held a voting poll for best burger in town. Nick's burger, which is sourced from grass-fed Colorado farms, is topped with aged cheddar, special house sauce, and is garnished with onion, tomato, lettuce and a pickle on a Brioche bun.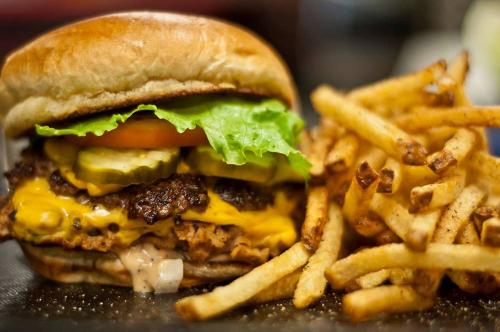 Big Al's Burger and Dogs has always been a favorite of locals ever since the day it opened in Fort Collins. It's no surprise this burger spot continues to rank highly in annual "best of" burger votes. Known for its famous 60/40 burger, 60% beef and 40% bacon, equals a patty so flavorful that you won't be able to put it down. Pair this awesomeness with handmade truffle fries cooked in white truffle oil and topped with a generous portion of parmesan cheese, and you'll be sure to fall into a self-induced food coma. Not only are their burgers and dogs to die for, they also like to "keep it in Colorado" from "locally raised hormone free staff" to the recycled and repurposed décor.
An unmatched local favorite, Choice City Butcher is the perfect mix between a local butcher shop and go-to burger joint. They may be known more for their delicious meats and sandwiches, but that doesn't discount the fact they are always voted as one of the top five burger spots in Fort Collins. We suggest trying their classic Choice City Burger, featuring bacon, Irish cheddar, and buffalo all ground together, cooked to perfection and topped with grilled balsamic onions and their house red pepper aioli. And, don't forget to pair this Colorado-centric burger with the Choice City house-made Balsamic Potato Salad. This small butcher and deli also features a wide variety of local craft beer to pair with that perfect burger.
Everyone comes to Doug's Day Diner for the heaping breakfast portions, but they stay and rush back for the incredible burgers. Not only are Doug's burgers extremely tasty, but they're gigantic in size and definitely range in creativity. We suggest trying the Black Betty Burger, a half-pound beef patty topped with peanut butter for a rich-buttery-salty flavor and topped with fresh green chiles melted into the burger patty with cheddar cheese and a Blackberry jam, to compliment the green chiles, giving it a "sweet and spicy" flavor. This burger is simply marvelous. The burgers at Doug's Day Diner are the perfect combination of quality beef complemented by the freshest ingredients.
This southeast Fort Collins establishment has quickly become a local favorite since opening in 2017. DC Oakes is a new kid on the blog not only to the restaurant scene but the brewery scene as well. This establishment is one of 23 breweries that call Colorado's Craft Beer Capital home. As a complement to their locally brewed beers, DC Oakes features a number of specialty burgers including the pbj, bacon marmalade, white buffalo, and chili verde. The Brewhouse and Eatery got its name from historic Colorado logger and businessman Daniel Chessman Oakes.
Found at Foothills Mall in Midtown Fort Collins, Bad Daddy's Burger offers familiar classics like a bacon cheeseburger and more unique takes like the pastrami burger and the "same i am" which includes an over easy fried egg. The burgers come in generous portion sizes and a variety of options to appeal to all in your party. Make sure to leave room for dessert or a shake like salted caramel pretzel shake or the chunky Elvis made with creamy peanut butter, Ghirardelli® chocolate, banana & walnuts.
Non-Traditional and Meat Alternative Burgers
Founded in 1971, Avogadro's Number has been dishing up delicious food in Fort Collins for over four decades. Today Avogadro's is known for its Tempeh Burger. This non-traditional burger is a fan favorite and an Avo's tradition. Don't miss Tempeh Tuesday where you can get two tempeh burgers for the price of one, all day long.
While a sandwich shop may not be the first thing on your mind while looking for a delicious burger, Elevated Sandwiches offers one sandwich option that does indeed satisfy that burger craving: The Chopped Cheese. This chopped hamburger includes all the classic hamburger fixings: yellow American cheese, sauteed onions, lettuce, tomato, mayonnaise, and ketchup. 
Tasty Harmony is a Fort Collins family-owned restaurant sharing the best of vegetarian goodness! The lunch and dinner menu includes a section dedicated to vegetarian and gluten-free burgers. Each burger comes with a choice on the side: fries, house salad, Cesar salad, or coleslaw. Savor the Black and Blue for a bold blackened punch of flavor or Giddy Up burger with house-made gluten and soy-free patty, eggplant bacon, caramelized onions, cashew cheese, and classic fixings like tomato, lettuce, and pickles.