Are you planning on spending your spring break in Fort Collins? Is your spring break in Fort Collins part of a staycation? Fort Collins is the perfect destination for your spring break plans. Here is a guide on the best things to do on spring break in the Choice City. You can plan your vacation HERE, and don't forget to scroll to the bottom for hotel specials.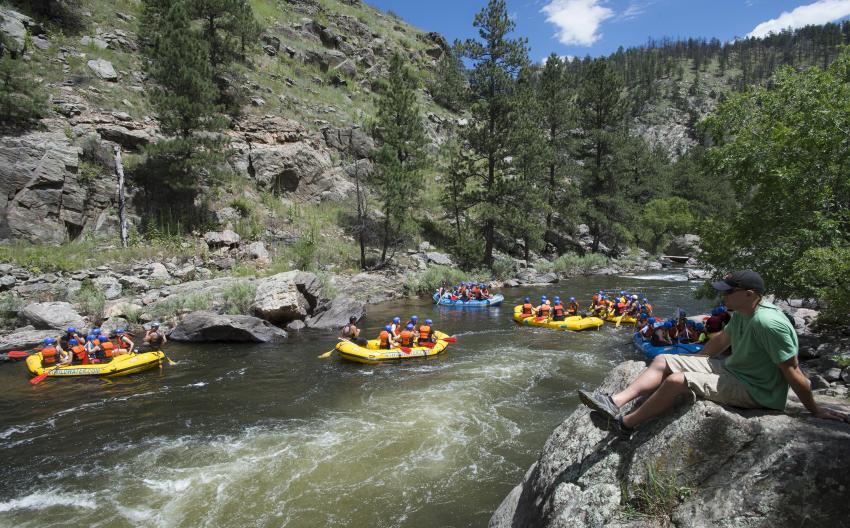 The Cache la Poudre River Canyon hosts a myriad of recreational opportunities for outdoor enthusiasts. From whitewater rafting (class I-V rapids), hiking, biking, camping, kayaking, and fishing, to winter sports like snowshoeing, cross country skiing and snowmobiling, the canyon is the perfect place to get away, all year round. And, Colorado Highway 14, which follows much of the river, is a designated Colorado Scenic and Historic Byway between Fort Collins and the town of Walden. The Cache la Poudre-North Park Scenic Byway is recognized as one of the state's premier scenic highways. This route features stunning scenery in the Poudre Canyon.
The preferred method of transportation in Fort Collins is by bike, and although you see locals riding through snow storms, spring is the perfect time to explore this town by bike. With multiple bike shops around town like Recycled Cycles offering bike rentals and the Bike Share Program PACE, it's very easy to find the perfect bike for your adventure. Fort Collins is a Platinum Level Bicycle Friendly Community (1 of only 5 in the nation) and offers 285+ miles of biking trails, paved and unpaved, to fit your biking desires.
What's better than a light, refreshing craft brew on a sunny, spring day in Fort Collins? Not a whole lot...Check out the local breweries for their spring seasonals, handcrafted to match their take on spring in Fort Collins. One of our favorite's is Tree Shaker from Odell Brewing Co. It combines peach flavors with a light IPA base and it's oh, so good. Also don't miss the new seasonal Brut IPA from New Belgium Brewing, inspired by sparkling wines with a bubbly, dry, crisp, and light refreshing taste.
Foodies rejoice! Great Plates of Downtown Fort Collins, although it happens a little bit before spring break, is back to benefit the Food Bank for Larimer County! Great Plates will feature 35 Downtown restaurants that will each be serving up limited-time-only $25 dinner specials between March 1st - 14th. For more information on how to indulge in Great Plates check out our Must Try Great Plates Deals blog.
Celebrate St. Patty's Day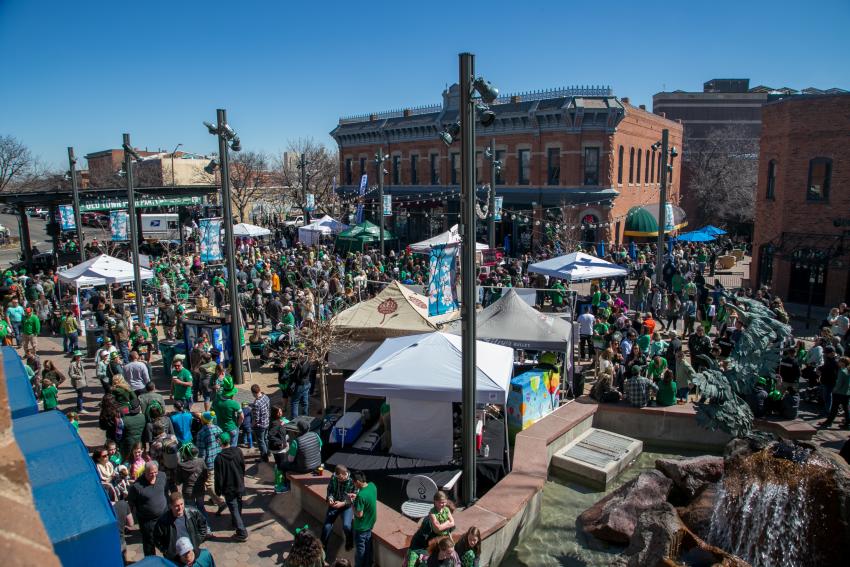 Throw on your favorite green shirt or dress and head down to Historic Old Town Fort Collins for the Oak Street Shamrock Festival and Old Town Irish Party, where everyone is Irish for the day. The Old Town Irish Party which will feature live music and a "green beer garden." Admission to the party is free and it will open at 10:00 am and conclude at 5 pm. Delight yourselves to the sounds of Johnny & the Mongrels, Guerilla Fanfare and more. 
The Shamrock Festival is a family-friendly, alcohol-free Fort Collins-style celebration. This is the first year for the event that captures the Irish spirit through live performances of traditional music and dance, hands-on activities, kid-friendly games and tasty green treats. (Photo Courtesy the Downtown Business Association)
Sharin 'O' the Green 5K (March 16)
The St. Patrick's Day celebration kicks off with the Sharin 'O' the Green 5K, which is produced by Partners Mentoring Youth. This race is open to individuals of all abilities, families, youth, and furry friends. This race will go through the heart of Fort Collins and is the race that kicks off the local running season.
Don't Miss Geek Week and the Once Upon a Playground Exhibit at The Museum of Discovery
This spring break, geeks shall inherit the earth, or The Fort Collins Museum of Discovery, at the very least! From gamers to Sci-Fi super fans and superhero lovers alike, Geek Week has a little something for everyone. Check out this great event March 19-20.
Standing the test of time, playgrounds have shaped children's lives and created lifelong memories as far back as we can remember. The Fort Collins Museum of Discovery's special traveling exhibition, Once Upon a Playground, allows you to take an interactive journey from the past to the present and beyond. Experience the nostalgia for playgrounds from decades past with dozens of historic images while you celebrate playgrounds of Fort Collins' present and future.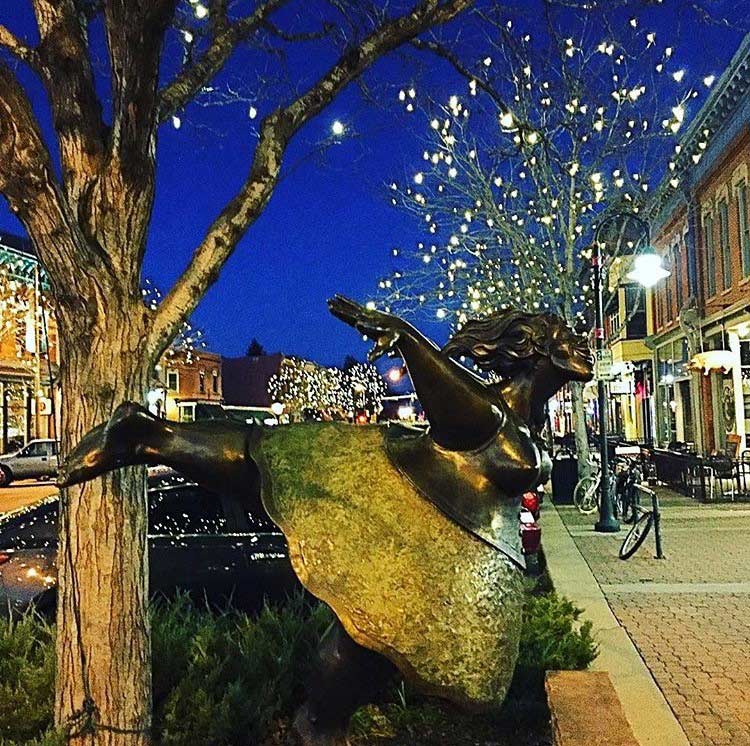 Fort Collins is known for its rich arts and cultures scene, and during the spring season it is fun to be able to explore local art while enjoying the beautiful outdoor weather. Art in Public Places takes you on a self-guided tour throughout town to explore local art, created to beautify the Fort Collins community. From north to south and east to west you can find painted wall murals, transformer boxes, and planters, beautiful sculptures, and even painted Pianos About Town that are often played by local passerbys. This is a great way to explore the art scene in Fort Collins while enjoying the benefits of spring in Colorado.
Spring is a time for renewal, fresh beginnings, spring cleaning and it's the opportune time to go shopping for a fresh new spin on your everyday life. Old Town offers local, boutique style shopping where you can get a new wardrobe at a local boutique, change up your cooking style by picking up some new spices or Backyard BBQ tools, and adorn your garden with statues and keepsakes from Perennial Gardner. You can extend your spring shopping spree at Front Range Village in south Fort Collins with stores like Akinz, MkLAREN Boutique, Super Target, Sephora, DSW and more. And don't forget the revamped Foothills Mall. This indoor/outdoor mall has everything you're looking for from fantastic dining to a great shopping scene with multiple storefronts to chose from.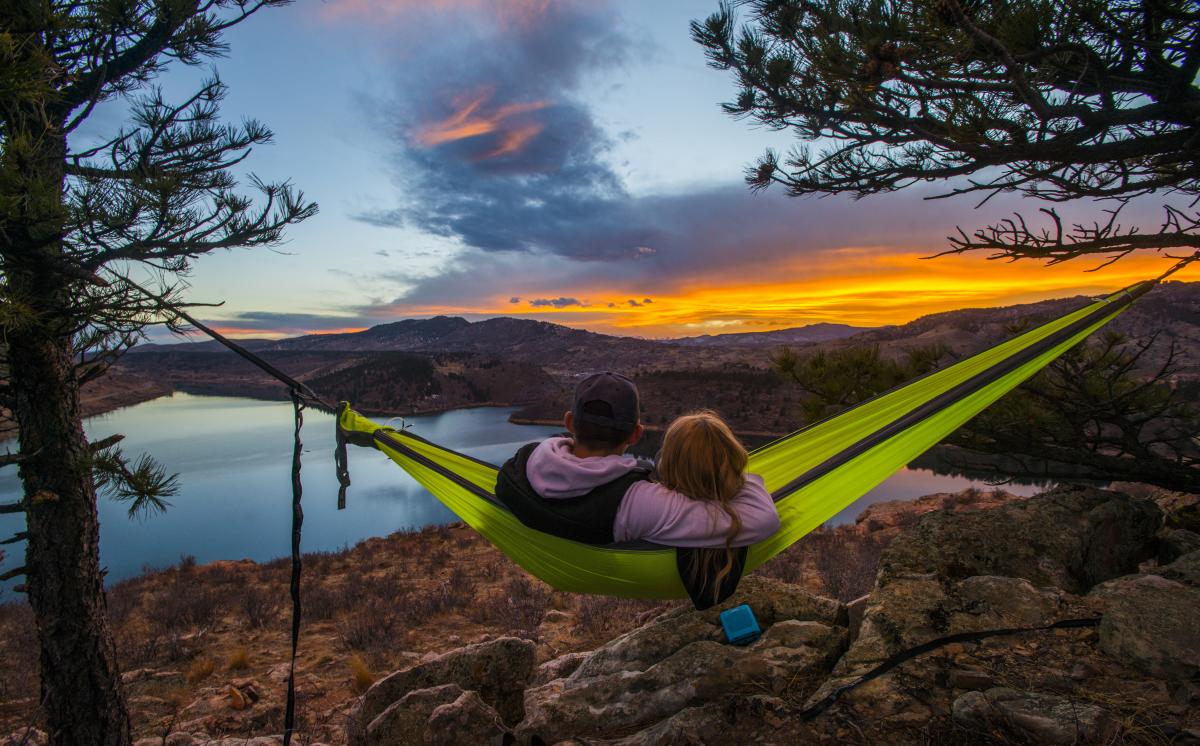 Pinks, blues, purples and reds often streak the morning or evening sky in Fort Collins and although there isn't a bad spot to view the sunrise or sunset here, there are some prime spots if you want to get a front row view of the painted sky. Horsetooth Reservoir is a favorite viewing spot for locals and visitors alike due to its easy access, excellent overlooks and the glass-like water that reflects the colors of the sky. There are multiple paid parking lots around the reservoir for you to park your car and revel in the beauty of the sunrise/sunset. If you want to get in a hiking session that ends in an outstanding sky view, don't miss the hike to Horsetooth Rock. It is the highest overlook spot in the Fort Collins area and is perfect for viewing both sunrise and sunset (just make sure you plan accordingly to the sunrise/sunset time).
You can always tell it's spring time in Fort Collins when the baby wildlife and farm animals start showing up around town. Watch out for baby Canadian Geese as they waddle behind their parents throughout town and make sure to go say "Hi" to the baby chicks at the farm. Fort Collins offers hands-on farm experiences for children and families of all ages. Take a stroll through the Farm at Lee Martinez Park and learn about farm life and the animals that call it home. 
Spring Break Specials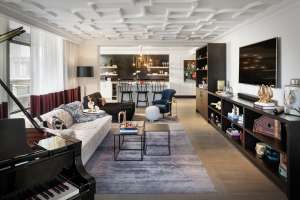 The Elizabeth Hotel
Celebrate St. Patrick's Day in Fort Collins and make a trip to one of our many local breweries! Our St. Patrick's Day Pot o' Gold package is available Thursday, March 14th through Sunday, March 17th....
Book Now