Fort Collins is home to a wide variety of restaurants and breweries that value minimizing their impact on the world around us. Sustainability is important to the Fort Collins community, and we want to highlight eight breweries and restaurants that are going above and beyond to help guide us into a greener future. Keep reading to learn more about businesses such as Ginger & Baker, Spoons, New Belgium Brewing Company, and many more that are determined to preserve the health of our environment!
Photo Courtesy of Ginger & Baker
Ginger & Baker
When their old grain mill opened its doors over 100 years ago, the health of the business went hand in hand with the health of the land and community, from seed to crop, to food for the animals and the people who kept it all going. Today, understanding the need for a healthy planet continues to be a part of the Ginger and Baker philosophy. It just makes sense. Because of this, Ginger & Baker is always looking for ways to make their business more sustainable, from their composting and recycling programs to locally sourcing as many ingredients as they can. Ginger & Baker looks to local Colorado farmers and ranchers for eggs, dairy, and produce as well as beef, bison, lamb, fish and wild game. It honors their roots as supporters of local agriculture, it lessens the environmental impact of shipping long distances, and they believe eating food in the place where it is grown tastes miles better. On top of all their sustainable efforts, the restaurant uses Jack and Ginger's farm where they compost all fruit and veggie scraps, coffee grounds, and eggshells. They take the compost to the farm 2-3 days a week and in the summer and fall, they get extensive herbs, greens, and produce from the farm. Ginger even hand plants a giant plot of pumpkins and gourds!
Ginger & Baker exemplifies what it means to be working towards a sustainable future as a business in Fort Collins. Stop in to visit the Cafe where comfort food is done right, the Cache which is known for being a modern Colorado steakhouse, or stop by the Market & Bakery to grab a coffee and a slice of delicious pie!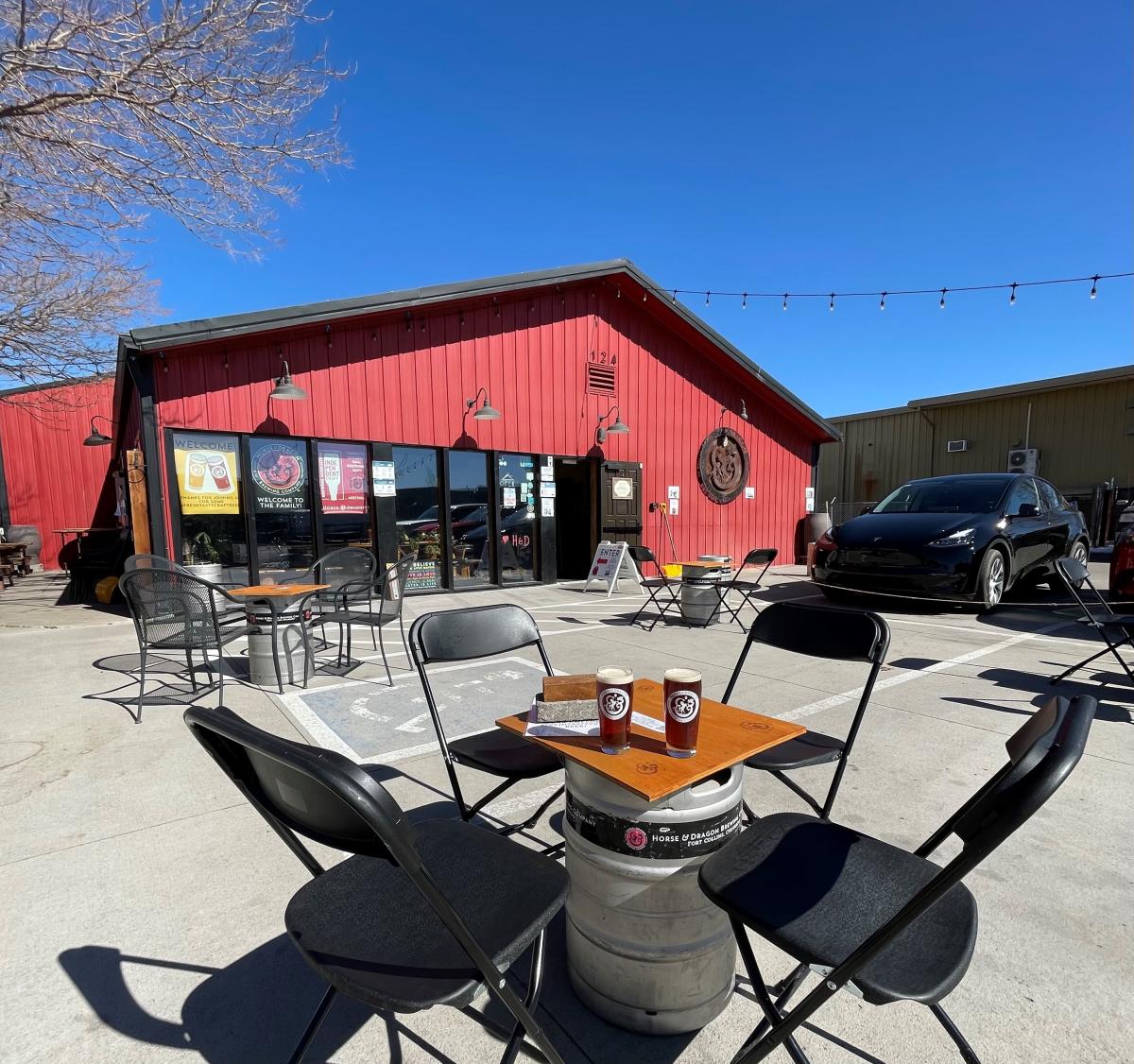 Horse & Dragon Brewing Company
Horse & Dragon Brewing Company is constantly working with a triple-bottom-line mentality by focusing on how their brewery has social, economic, and environmental impacts on the Fort Collins community. Being in a water-intensive industry, Horse & Dragon implements a range of efforts that focus on water conservation. Additionally, Horse & Dragon works with local farmers to reuse their organic waste wherever possible (as do many other breweries in Northern Colorado!) Sustainable education is important to Horse & Dragon and has been promoting the #unzipwithme campaign which raises awareness that aluminum cans - and even plastic bottles - should be "stripped" of any labeling before being recycled. Social sustainability is vitally important to the success of their brewery and they recognize the difficulty a small manufacturer producing fast-moving consumer goods has in being a truly sustainable business. They are involved locally and nationally in organizations to try to make their voice heard on social, community, and environmental issues and stress the importance of raising awareness and money for local and national causes.
Horse & Dragon Brewing Company is a small team that is determined to better their impacts on the Fort Collins community and is constantly working towards bettering their operations to be more sustainable. What better way to support this sustainable business in Fort Collins than to visit their taproom (which happens to be a repurposed airplane hangar)? Their beer (especially Sad Panda) is definitely worth visiting during your time in Fort Collins.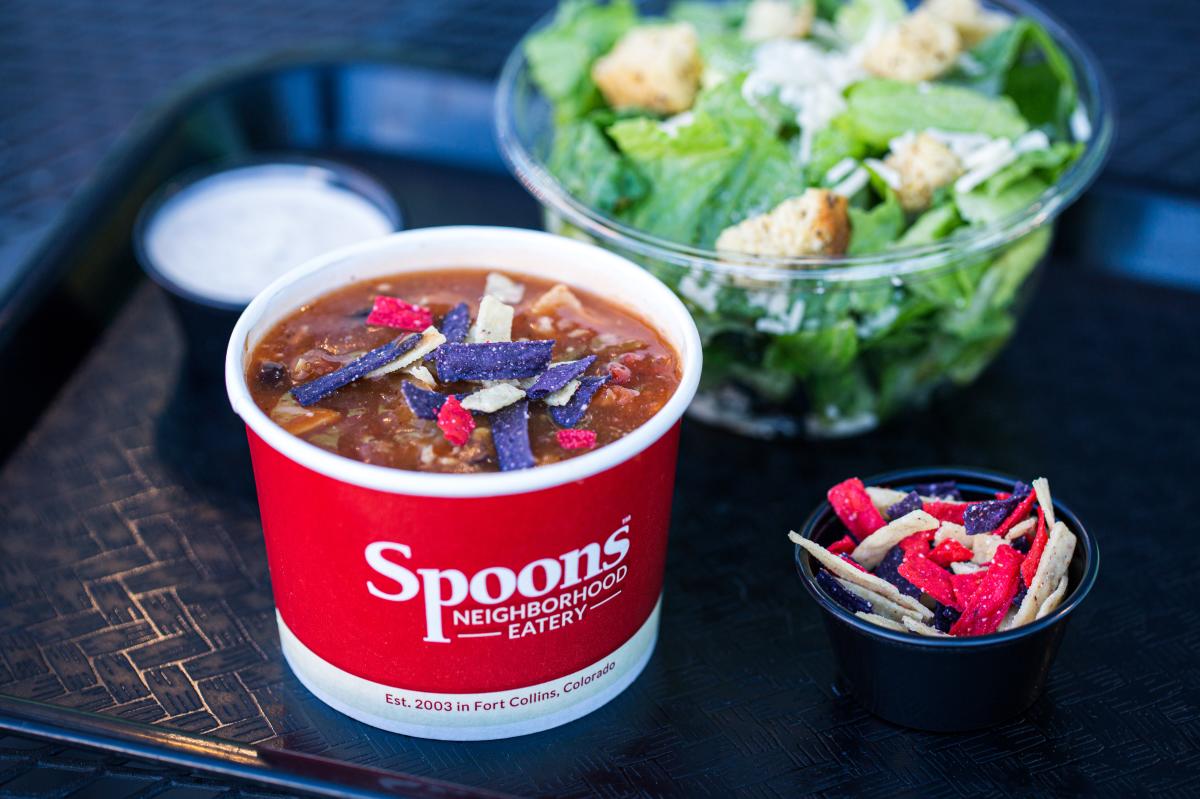 Photo Courtesy of John Robson Photography
Spoons
Spoons is a local favorite, and their passion for sustainable practices almost compares to how passionate the Fort Collins community is about their food! Spoons is a locally owned and operated family restaurant that originated in Downtown Fort Collins in 2003. Since they opened their doors, Spoons has partnered with local farms to provide the freshest ingredients. Everything is made fresh in their kitchen daily. Soups, dressings, bread, cookies; just about everything they sell is made on-site to help reduce their carbon footprint by limiting shipping and manufacturing (plus, it tastes better!) Spoons partners with the Food Bank for Larimer County and supports them whenever they can. Spoons' commitment to bettering Fort Collins can be highlighted in many of their efforts such as their Squash the Virus campaign, Stone Soup fundraiser, and Send 'em Spoons promotion which all have helped in fighting food insecurity here in Fort Collins. 
Spoons is committed to bettering Fort Collins by implementing sustainable practices. If you want to support the perfect local, sustainable, and tasty restaurant in Fort Collins, you definitely have to stop by Spoons! Try their Strawberry Harvest Salad, Potato Ranch Soup, or Pesto Goat Cheese Focaccia Sandwich and support this sustainable Fort Collins business.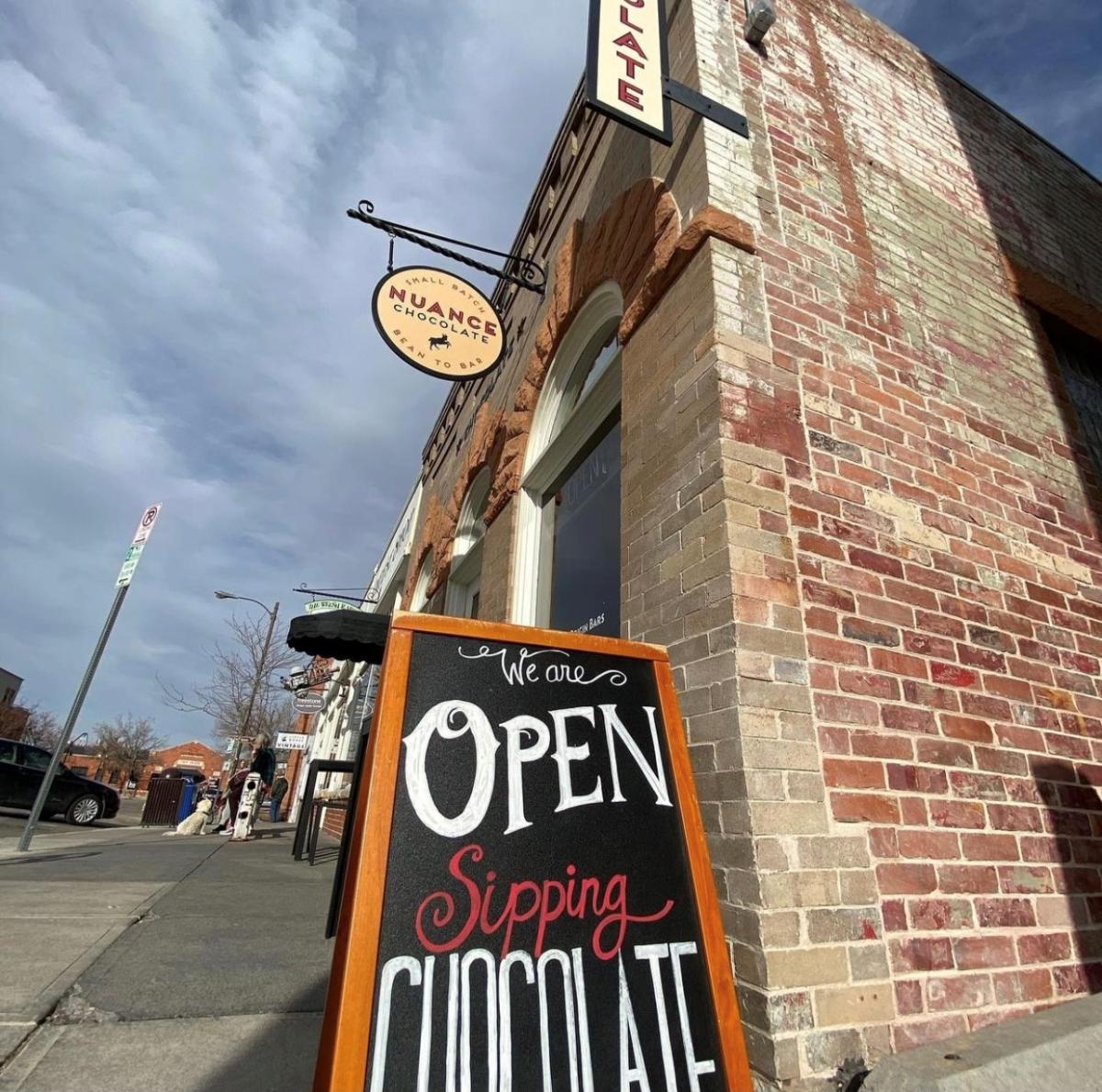 Photo Courtesy of Nuance Chocolate
Nuance Chocolate
Nuance Chocolate is a local delicacy that also has committed its business to support sustainability in Fort Collins. If you consider yourself a chocolatier, Nuance Chocolate is a must when visiting Fort Collins. They purchase many raw ingredients from local businesses, farmers, makers, etc. such as honey, coffee, and whiskey. Their cacao beans are sourced from around the globe and they ensure that the beans are responsibly and ethically sourced by taking into consideration the people who produce them and the lands that they are grown on. Owners Toby and Alix drive electric vehicles to limit their carbon footprint in their business operations. Additionally, Nuance Chocolate purchases green energy from the City and the Poudre Valley REA. 
Nuance Chocolate crafts authentic, honest, and spirited chocolate and is committed to making the world a better place. Stop by their shop in Old Town Fort Collins to try their wide variety of chocolate bars, truffles, or even their delicious French-Styled Hot Chocolate.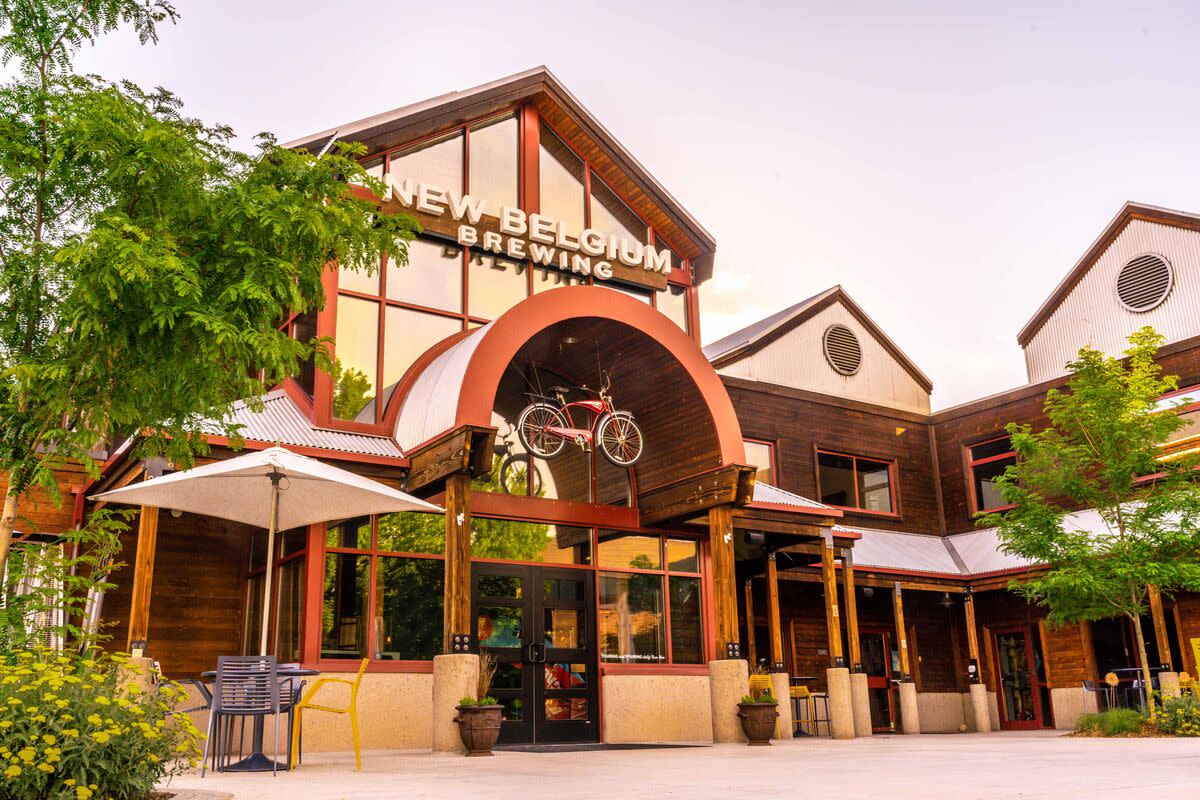 Photo Courtesy of New Belgium Brewing
New Belgium Brewing Company
New Belgium Brewing Company, our most famous brewery here in Fort Collins, exemplifies what it means to be sustainable and helps lead our community into a greener future. Their focus on clean energy, sustainable packaging, and support of biking makes New Belgium one of the top green industry-leading businesses in our nation. The brewery has implemented renewable energy practices (wind power, solar, etc.) to limit its carbon emissions. (Fun Fact: Fat Tire is America's first certified carbon-neutral beer!) New Belgium has also pushed for the City of Fort Collins to adopt a goal of 100% renewable electricity by 2030 too. New Belgium is one of the most biker-friendly businesses in the nation as they understand that biking improves physical wellness, mental health, reduces CO2 emissions, plus it saves money. They were ranked #1 in Bicycling Magazine's inaugural list of the 25 best companies for cyclists! New Belgium was born on a bike when a cycling trip through Belgium inspired a young couple to bring the flavors of centuries-old Belgian beer to Fort Collins. Since then, bikes have been a part of the heart and soul of New Belgium. 
New Belgium Brewing Company exemplifies what it means to be a sustainable business in Fort Collins. You can support their efforts by visiting the brewery and trying something off their Voodoo Ranger Series, or even buy some amazing merchandise to show your support for this sustainable industry-leading business!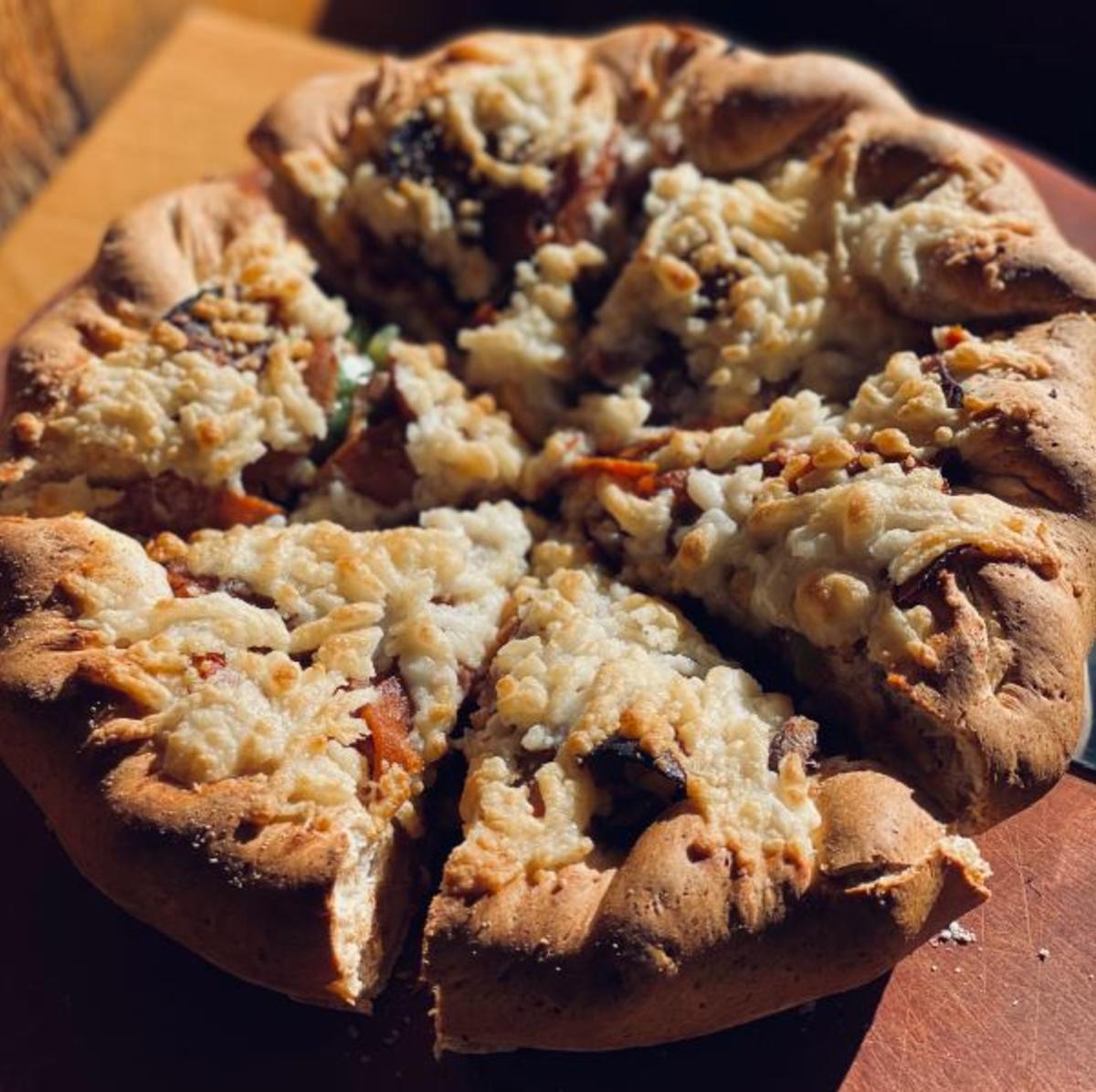 Photo Courtesy of Beau Jo's Pizza
Beau Jo's Pizza
If you are visiting Colorado, Beau Jo's Pizza is a must, their Colorado-style pizza is a delicacy! Beau Jo's undertakes several cutting-edge energy-saving measures that were implemented to lower their carbon footprint. At Beau Jo's, keeping the environment in good shape is a top priority. That's why they participate in local recycling programs, their uniforms are made from recyclable hemp and bamboo materials, use energy-efficient LED lighting, and all of their to-go boxes and containers are biodegradable. Additionally, all of Beau Jo's new construction makes use of Beetle Kill Pine in order to save new trees from being cut down. They are working towards the goal of filling all of our power needs with clean, renewable energy sources. Beau Jo's buys local produce, meats, cheese, and beer when available, minimizing their carbon footprint by reducing transportation. On top of all of these sustainable efforts, their Fort Collins location reduces water usage and promotes the use of natural Colorado plant life.
If you are looking to give New York and Chicago-style pizza a run for their money, you will have to stop by Beau Jo's Pizza! Try something off their Vegan Sausage Combo (pictured above) or one of their Mountain or Prairie Pies, just be sure to ask for honey to put on the crust (shhh... it's a Colorado secret!)
Snooze an AM Eatery
We all know that brunch is a big deal, and no one does brunch quite like Snooze an AM Eatery! Snooze has also dedicated the month of April to our Mother Earth and is conducting some amazing programs that deserve to be supported! For every "snoozer" that visits their restaurant on Earth Day, one tree will be planted in Guatemala at Godoy's Coffee Farm. They have planted 1,850 trees this year and 6,550 to date! This year, they are celebrating one year of carbon-neutral delivery. They support the Regenerative Grassland Project which transforms harmful carbon in the air into helpful carbon in the soil. Last year, Snooze offset nearly 1,000 tons of carbon in their delivery processes! Snooze also has partnered with the National Young Farmers Coalition with the mission to build a bright and just future for U.S. farmers through advocacy and education around climate-friendly practices.
Snooze's commitment to better the environment around them makes them a worthy spot to grab brunch before your day of exploring Fort Collins. Try their Sweet Potato Veggie Smash Up,  one of their many delicious benedicts, or their Pancake Flight! It's definitely a place you do not want to miss.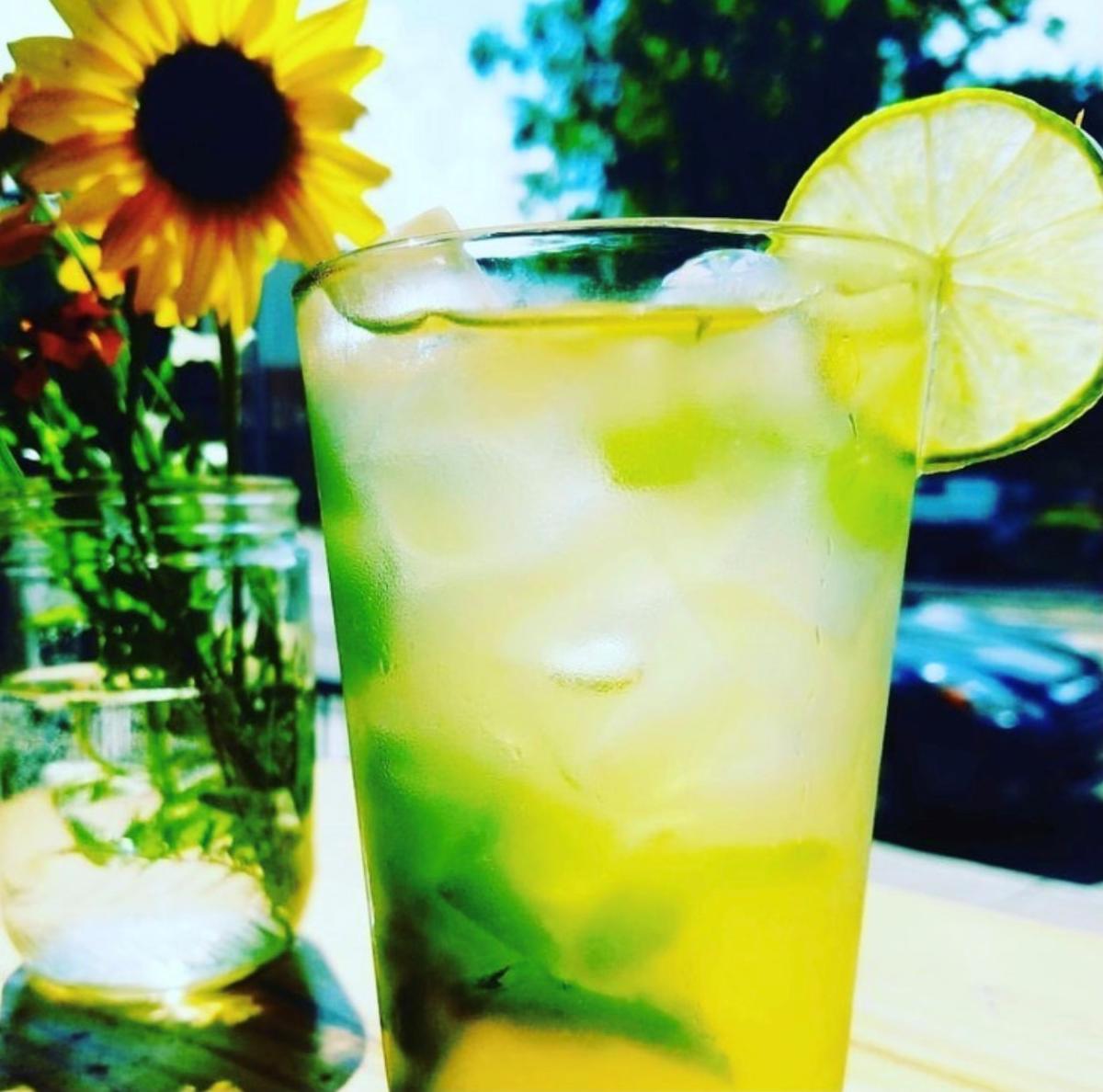 Photo Courtesy of Tasty Harmony
Tasty Harmony
Tasty Harmony is committed to providing the Fort Collins community with healthy, organic, plant-based cuisine. Their menu ranges from plant-based hamburgers, sandwiches, soups, salads, and so much more! Whether you are a vegetarian or not, Tasty Harmony has a range of dishes that shows customers delicious plant-based meals are always an option. By choosing a plant-based meal for dinner while visiting Fort Collins, you are actively bettering our environment by lowering your personal water usage and greenhouse gas emissions that a normal meat-based meal would contribute to. Come support this local business that highlights "being green" in every dish. One of Tasty Harmony's Owners, Jill, tends a large garden of about 1/4 acre that they use to supplement their restaurant during the growing season!
Tasty Harmony's commitment to providing customers with plant-based meals echos the Fort Collins community's commitment to a greener future. Stop in to try their Nachos de YNEZ with seitan carne asada, their Black and Blue Burger, or their delicious Nashville Chxn Sandwich.