1.       Catch the Pre and Kickoff Parties for FoCoMX
The FoCoMX (Fort Collins Music eXperiment) Pre Party will take place at the Ramskeller Pub located in the Lory Student Center at Colorado State University on Friday, April 15th from 3-6 pm. The FoCoMX pre-party will feature performances by CSU alumni Slow Caves and Write Minded. Cost to the show is FREE of charge.
The kickoff party will take place at Zwei Brewing on Saturday, April 16 from 3-6 pm. The FoCoMX (Fort Collins Music eXperiment) kickoff party will feature performances by Post Paradise Duo and Tallgrass. Cost to the show is FREE of charge. Zwei Brewing is located at 4612 S. Mason St., Suite 120. 
2.       Look for the Traveling Stage Pulled by Bike
New to the festival this year will be a traveling stage that bands can perform on while being pulled through the streets of Old Town by, what else of course, a bicycle. So, be on the lookout and take a picture and tag us with #VisitFtCollins on Instagram and we will share it, because you won't see this anywhere else!
3.       Catch one of the New Stand-up Comedy Performances at FoCoMX
Also brand new to the festival this year is the presence of a number of local stand-up comedy acts. The comedy acts will perform between the sets of the bands at several of the venues at the festival.
4.       Go to a Venue You've Never Been to Before
This can be creative due to the fact the festival turns restaurants, coffee shops, and even places such as the Museum of Discovery into concert venues. (The digital dome theater at the museum of discovery will serve as a unique venue to some acts for the festival!) So, put yourself out there and go see a band at one of the coffee shops or restaurants or any of the other unique venues in Fort Collins that will host these talented local bands.
5.       Get out and Watch Kids Programming at Everyday Joes
Youth programming will be introduced this year at FoCoMX. The Kids Programming will be showcased at Everyday Joe's Coffee House with performances happening throughout the lineup.
---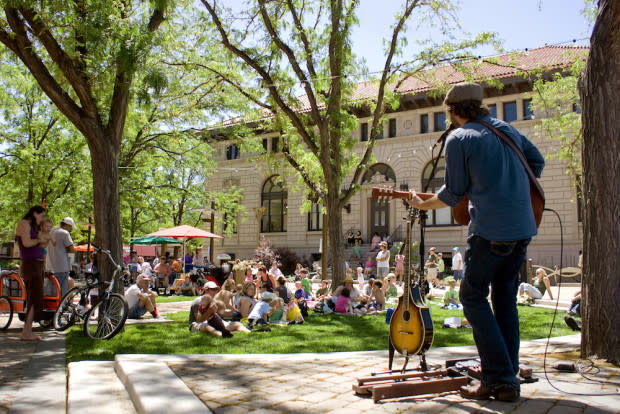 The eighth annual FoCoMX (Fort Collins Music eXperiment) will take place April 22 and 23, 2016. FoCoMX is presented by FoCoMA (Fort Collins Musicians Association) and sponsored by Odell Brewing Co.
This unique live music festival will showcase 250+ Northern Colorado bands and solo musicians at 25 Downtown Fort Collins venues. Over the years FoCoMX has garnered national attention and earned the unofficial title of "The Biggest Little Festival in America." Get your tickets HERE. (The Hilton Fort Collins partnered with Fort Collins Musicians Association to offer a special lodging deal. For other lodging options click HERE.
When: April 22 and 23
Where: Venues across Fort Collins
Cost: $35 for a wristband, which can be bought at FoCoMX.org or in person at Rock 'N' Robin's. The lineup of bands and schedule can also be seen at FoCoMX.org.