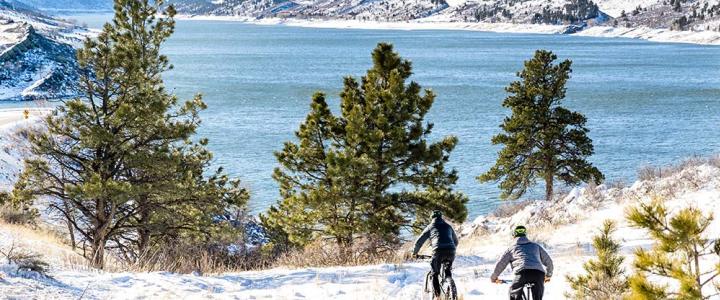 The winter season in Fort Collins is absolutely beautiful and truly is one of the best times of the year to plan a trip. Fort Collins offers a multitude of things to do during the winter season. From Fat Biking to the ultimate foodie escape and everything in-between, there are so many reasons to visit Fort Collins this winter! Which of the 11 reasons listed below is your favorite?
1. Winter Outdoor Amusements
Winter recreation is right at your fingertips when in Fort Collins. Not only are the outdoor activities as thrilling as ever in the winter, they also offer the same spectacular views as summer, but blanketed with the beauty of snow. Thanks to urban open space in the form of 48 Natural Areas, as well as city parks scattered throughout Fort Collins, cross-country skiers don't have to leave town to enjoy the tranquility and heart-healthy benefits of this winter activity.
2. Fat Biking & Snowshoeing
If you're yearning for the incredible scenery of the backcountry, look no further than nearby Cameron Pass or Lory State Park. Both offer amazing opportunities to experience snowshoeing or riding Fat Bikes. Have a blast spending the day riding or snowshoeing on snow-packed trails along the Front Range of the Rocky Mountains. These are some of the most unique ways to enjoy the famous Colorado snow. You get to experience the beauty of the Rockies while taking it all in atop two gigantic wheels or snowshoes. Fort Collins has amazing outfitters and guides, like Front Range Ride Guides, for both activities that can be found here. Some of the best hiking and biking trails during the winter can be found around Horsetooth Reservoir and in the Poudre Canyon as well.
*Lory State Park: Located just west of Fort Collins, Lory State Park offers tons of trails with beautiful views and ranging difficulty levels. Trails are open year round and are open to Hiking, Snowshoeing, and Cross Country Skiing. 
*Horsetooth Mountain Open Space: Located west of Fort Collins, Horsetooth Mountain Open Space is one of Fort Collin's greatest outdoor playgrounds and it is open year round. Choose from multiple different trails ranging in difficulty level and enjoy the snowy vistas.
Cache la Poudre River Canyon: The Poudre Canyon offers excellent winter recreation just outside Fort Collins. Enjoy beautiful views of the backcountry blanketed by snow.
Popular Poudre Canyon Trails
Mineral Spring Gulch:
Directions: 149-211 Crown Point Road, Roosevelt National Forest, Bellvue, CO 80512
Little Beaver Creek Trail:
Directions: 7311 North County Road 63E, Roosevelt National Forest, Bellvue, CO 80512
Big South Trail:
Directions: 48924 Poudre Canyon Highway, Roosevelt National Forest, Bellvue, CO 80512
Green Ridge Road:
Directions: 51561 Poudre Canyon Highway, Roosevelt National Forest, Bellvue, CO 80512
Blue Lake:
Directions: 51561 Poudre Canyon Highway, Roosevelt National Forest, Bellvue, CO 80512
Trap Park:
Directions: 51561 Poudre Canyon Highway, Roosevelt National Forest, Bellvue, CO 80512 
3. Horse and Carriage Rides
Horse and Carriage rides can be booked almost every night in Old Town. This is a chance to take in the beautiful scenery of Historic Old Town Fort Collins in a more intimate setting under the beautiful Holiday Lights, and maybe some light snow fall to make the experience ever more memorable. Envision you and that special someone cuddled up underneath a blanket while rolling along the historic streets of Old Town, soaking up that romantic moment. It doesn't get much better than that.
4. Craft Beer Seasonal Tastings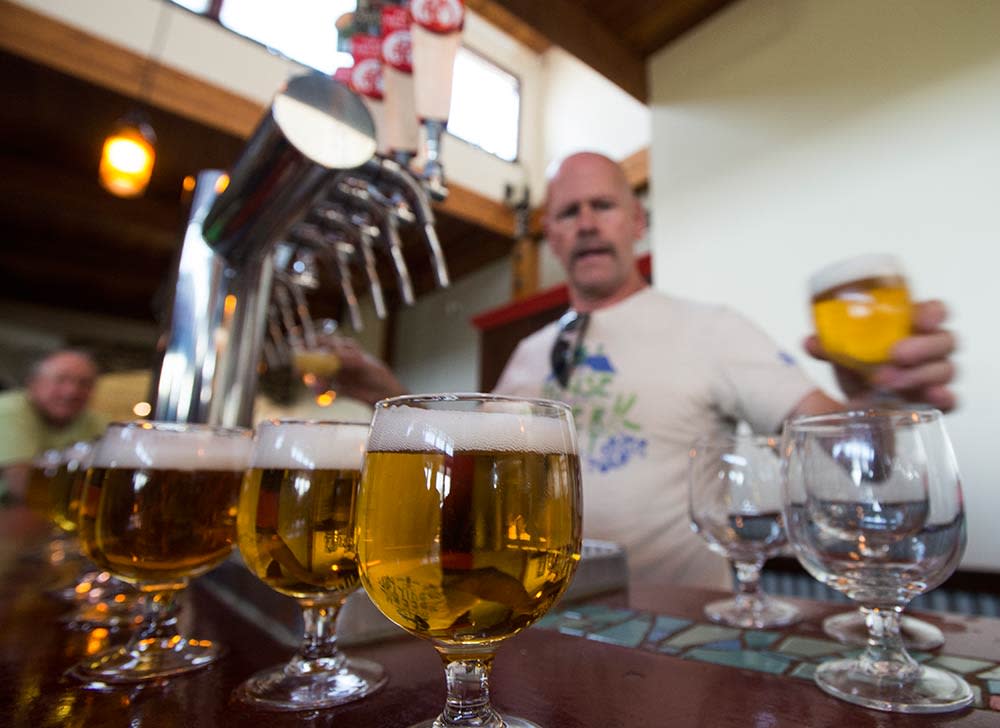 Currently, Fort Collins is home to more than 20 craft breweries, the most microbreweries in the state of Colorado. We must say the winter season is one of the best times to taste award-winning seasonal craft beer from each of the distinctive breweries in Fort Collins. Beers such as Accumulation from New Belgium Brewing, Mountain Standard from Odell Brewing Co., or H&D Snug Vanilla Caramel Double Cream Ale from Horse and Dragon Brewing just to name a few. Feel free to take part of some brewery tours and sample an eclectic array of taster trays, just remember to spend a few days to taste them all! Check out our Brewery Tours page for a full list of Fort Collins breweries. And don't forget to pick up your very own FREE Fort Collins Tasting Journal at our downtown visitors center.
5. Winter Events You Can't Miss
Summit at Block One (Valentine's Craft Beer Tasting Event)

This Valentine's Day, fall in love with the latest and greatest coming out of the Fort Collins beer scene! Enjoy an evening of rare and specialty beer, barrel-aged creations, and winter seasonals made in Fort Collins. 

Great Plates of Downtown

Downtown restaurants will be offering limited time $25 dinner specials from March 1st – 14th. After you dine, give back and make a donation to the Food Bank for Larimer County.

St. Patrick's Day Parade

Celebrate St. Patrick's Day at the annual community Parade and Irish Party in Historic Downtown Fort Collins. The parade features creative floats, performers, and family fun for all! 
6. Dining for the Ultimate Foodie
When you're in Fort Collins winter doesn't mean you have to leave dinner feeling like you're 10 pounds heavier. Fort Collins takes pride in its fresh dining scene and local sourcing, which means meals that make you feel good, and not only because they remind you of Mom's back-home cooking. Some of the local favorites during the winter are Austin's American Grill, RARE Italian, Jax Fish House and Nick's Italian due to their fresh meals that are indicative of the season. And, don't forget dessert or an after dinner drink! Nuance Chocolate and Kilwins make sweets that are to die for and Ace Gillett's and Social are the ultimate mixologists.
7. Unique Coffee Shops to Warm You Up
Fort Collins is known for its local craft coffee scene and each coffee shop offers a unique drink that is sure to warm you from the inside out. Check out one of the craft coffee brewers like the Bean Cycle, Harbinger, Downtown Artery or Mugs. Little Bird Bakery is perfect for a hand crafted hot beverage and a tasty bakery treat, or check out Happy Lucky's Tea House or Ku Cha House of Tea for that perfect tea to match your craving.
8. Winter Farmers' Market
Fort Collins offers the only Winter Farmers Market in Northern Colorado, featuring rows of beautiful winter produce like fresh greens, root vegetables, local mushrooms and soft cheeses from the Fort Collins-based MouCo Cheese Co. among other things. This winter market truly brings to light the craft culture in Fort Collins with tables of local homemade artisan crafts. The market is open on Saturdays throughout the winter and is located at Opera Galleria 123 N College Ave. (Every Other Sat thru April 7)
9. Monthly Art Walks & Foodie Walks
Downtown Fort Collins hosts a Art walk the first Friday of each month, and there's no better time to explore the art museums and local galleries than during the winter under the holiday lights. Walk from venue to venue and enjoy the local art scene that illuminates with life under the soft lit glow of the Old Town storefronts.
Downtown Fort Collins also hosts the Fort Collins Foodie Walk where some of the best culinary shops in town stay open late every third Friday of each month. Let yourself indulge in great seasonal flavors as you walk through Historic Old Town. This is a great way to let your inner foodie out while partaking on this self-guided tour where you'll get to try new and exciting tastes and flavors.
10. Museums to Explore
What better way to spend a chilly day in Fort Collins than staying warm while exploring our numerous museums around town? Start the day off at the Fort Collins Museum of Discovery where you can enjoy hands on exhibits exploring science and the history of Fort Collins. Plus, the museum is home to an incredible digital dome theater that offers a movie viewing experience like no other.  Next, you can check out the Center for Fine Art Photography where you can indulge in local and national photography set in different exhibition themes. If you haven't had your fill of arts and culture after that, head down the street to the Fort Collins Museum of Art featuring national exhibitions of beautiful artwork.
11. Live Music & Theatre
During the winter months in Fort Collins, music and theatre are booming throughout the community. Enjoy live shows from our multiple music and theatre venues including Washington's, Aggie Theater, Hodi's Half Note, Downtown Artery, the Mishawaka Amphitheater, Bas Bleu Theatre Co., The Lincoln Center, and the University Center for the Arts, or enjoy a play and a meal at one of our dinner theaters in town like the Midtown Arts Center or The Dinner Detective at Hilton Fort Collins.